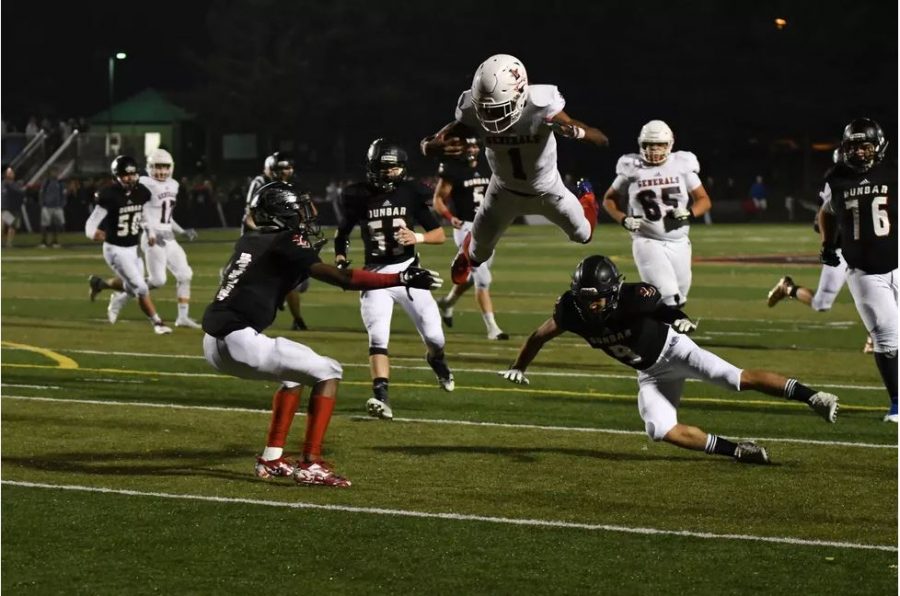 David Rearic/ David Rearic Photo
PREVIEWING: KNIGHTS VISIT GENERALS IN HALLOWEEN SHOWDOWN
This Friday night the Lexington Catholic Knights face the Lafayette Generals. The Generals (1-3) have had a rough start to the season, playing their first three games not only without a win, but without scoring. However, they finally walked away with a win two weeks ago in an impressive homestand against the Tates Creek Commodores, 22-16.
Keeping that in mind, the Knights (3-2) have had a more successful start to the season, winning their last two games including a solid win over Anderson County last week, 23-12 thanks to their surprisingly potent offense.
Led by starting quarterback Jack Gohmann, the Knights put up nearly 400 yards total offense against the winless Bearcats. Gohmann completed 12 of 21 passing attempts for 171 yards and a pick. However, the ball was mainly kept on the ground, as the team combined for 225 yards on 32 total attempts. Handling 21 of those touches was Darin Eldrige, rushing for 175 yards and a TD. The run defense in that game was weak, allowing 203 yards. Granted, the Bearcats mainly ran the ball for the whole game, but it is still concerning.
To say the least, the Generals' offense has not been as impressive with all points this season coming from the win two weeks ago against Tates Creek, mainly from the defense. In that game, the Generals snared three interceptions (one of those turning into a pick six), a fumble recovery to the house, and punt return touchdown. Lafayette passed a little more than the Cardinals did against Montgomery County, with starting quarterback Hayden Dawahare completing nine of 19 passes, but only netting 59 yards. The Generals rushed 34 times for an embarrassing -28 yards, but Noah Chapman and Jeawon Kendrick combined for 38 yards on 12 rushes. Most of the lost rushing yards actually came from Dawahare, as he rushed 17 times for -61 yards, in what will, hopefully, be the last time the Generals try the QB rush this season.
Despite the fact that Lexington Catholic is ranked much higher, an upset is looking like a genuine possibility for the Generals. The Knight offense is potent but their win against Anderson County wasn't impressive. In fact, it is concerning. Anderson County is arguably one of the worst teams in Kentucky this year, winless through seven games, and yet nearly half of Catholic's points came from field goal tries from kicker Max DeGraff, who was 3-3 and 2-2 on PAT's. Given how the General defense did against Tates Creek, if Lexington Catholic's offense struggled to find the end zone against Anderson County, then those struggles will probably show against Lafayette. If the Lafayette offense can step up and exploit the poor run defense that the Knights have, then the Generals can seriously pull off a shocker. Keep the Generals on an upset watch tonight.
Prediction: Lafayette 14, Lexington Catholic 10.