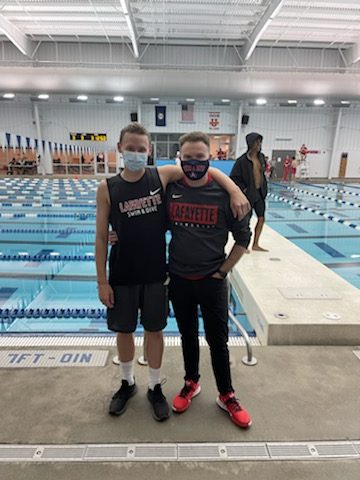 Cynthia Lowell
Lafayette High School's swim and dive team endured the brunt of the pandemic last year, but are left coachless and underwater this season. Coaches James Washbish and Daniel Fathergil both left the team at the beginning of the school year to pursue opportunities elsewhere without finding replacement coaches for the team. Now, the team is in limbo with no idea if they will have a season or not.
According to Cynthia Lowell, a swim parent and officer for the swim team, head coach James Washbish coached the swim team for two consecutive seasons and is now coaching for Ohio University. Daniel Fathergil coached for three seasons, and moved to Louisville to work for an engineering firm. Dive coach Ronni Trisko coached for one season is focusing on academics as she plans to graduate this year and will hopefully be back next season.
Both Washbish and Fathergil were contacted but did not respond immediately for a request for comment.
Lafayette's swim team is designed to coach swimmers of all abilities and skill levels, from beginners to year round club swimmers. Beginners are taught the four strokes from the ground up: freestyle, backstroke, breaststroke, and butterfly. Even swimmers from Kentucky Youth Aquatics, arguably the best swim program in Lexington, swim for the school. Club swimmers like them don't need to come to practice often since they receive instruction from coaches who know them better,so Lafayette coaches can focus on the exclusively school swimmers.
Last year, Washbish and Fathergil worked with Transylvania University to ensure Covid safe practices to keep the swimmers competition ready, and they attended several meets. However, with both coaches gone, the future of the team is uncertain at best, and Lafayette might not participate in any meets this academic school year. Coaches from the years before are so far unavailable to commit to the team this school year. If you or someone you know is interested in coaching the Lafayette swim team this year, please contact Cynthia Lowell at [email protected]
Over the years, Lafayette swim and dive has competed in regional meets and sent several swimmers every year to the state meet. It is a place for swimmers of all grades to go from teammates with a shared passion to a family. On the effect that the team has had on her and the possibility of not having a season, Senior Ally Curry expresses that, "Lafayette swim and dive has allowed me to form relationships with swimmers from other club teams at Lafayette, and given swimmers of all levels the chance to compete at regional and state meets. This program has given me the motivation to continue my swimming career throughout high school and potentially college, and not having a senior season due to the absence of coaching staff would be devastating." Her sentiment is shared by many swimmers, especially seniors.
Whether or not there is a season this year, Lafayette's impact has been felt by countless swimmers and will return, one way or another.