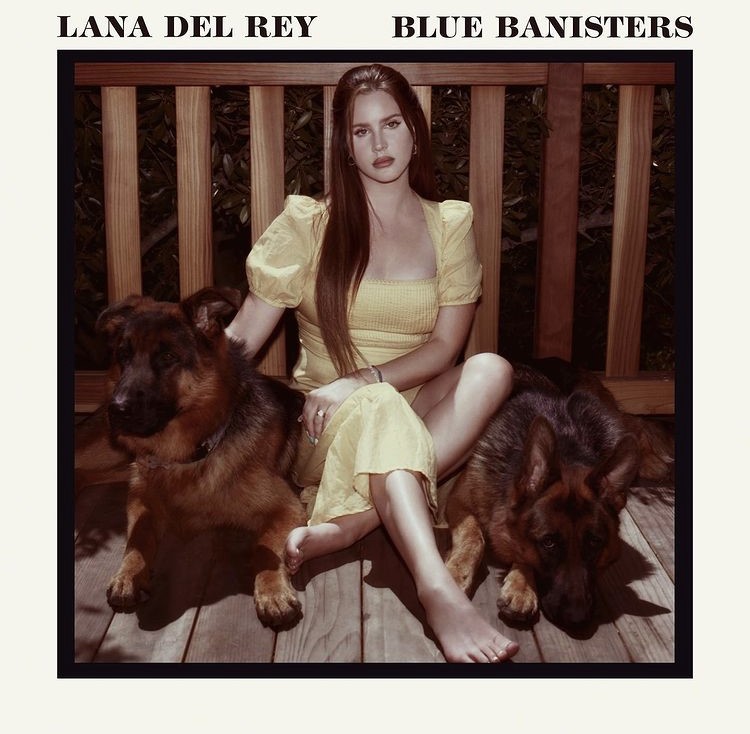 Neil Krug
After her Grammy-nominated album NFR!, American singer Lana Del Rey has continued the recent trend of back-to-back album releases. In March, Del Rey (born Elizabeth Grant) released Chemtrails Over The Country Club. Chemtrails, produced by Jack Antonoff (who produced NFR!, Taylor Swift's Folklore, Lorde's Melodrama and many other critically acclaimed albums), was met with mixed reactions. Many fans and critics loved the album, however, others thought that it was boring and uninspired.
Even before the criticism of Chemtrails, Del Rey was already working on album 8. On March 1st, a few weeks before the release of Chemtrails, she announced that Rock Candy Sweet would be coming out on June 1st, however, nothing came of that. She then confused fans by announcing Blue Banisters would come out July 4th on April 27th.
Back to back releases have become common recently with Folklore and Evermore by Taylor Swift, and Sweetener and Thank U, Next by Ariana Grande being four of the biggest albums of their respective years, however three albums within six months isn't a common occurrence, especially with mainstream artists. The album cover for Blue Banisters became a meme on TikTok and Twitter, with people making fun of her making the cover on a free photo editing app Picsart, and it not looking super good.
Despite the criticism, Del Rey released three singles from Blue Banisters (Text Book, Wildflower Wildfire, and the title track) on May 20th, and instead of releasing the album on July 4th she said that the single Arcadia would be coming out soon, the album was going to be out eventually, and she revealed a new cover for the album (which got much better reception). Arcadia was released on September 8th and the album was announced to be released on October 22nd.
A few weeks before the release, Lana deactivated her public social media to take a more private approach to life, and she said on a live stream on her private Instagram account (@honeymoon) that the album was not made for the charts or the critical acclaim. That it was made for her fans and herself only. The album was finally released on October 22nd to much praise from critics and fans alike.
Blue Banisters features some of Grant's best songs. Dealer, featuring uncredited vocals from Miles Kane, became an instant hit on TikTok. Dealer is a previously unreleased track that deserves the love it's gotten since its release, featuring some of her most impressive vocals and lyrics. Thunder is another previously unreleased song about ending a relationship with an unreliable man. When it was leaked years before, it became one of her most popular unreleased songs, with many begging for its release. The song starts as a piano ballad, but then turns into an NFR! styled song with more guitar, drums, and a choir for backing vocals.
In the closing track, she sings to her sister Chuck, who is about to have her first baby, on Sweet Carolina. The song sounds like a beautiful lullaby, and you can hear the love and care in her voice. With this song, she succeeded at making something for the fans, it's deeply personal and lovely. All three of these tracks make for some of the best songs for Lana's extensive career.
Banisters does have some forgettable tracks. Beautiful despite being a good song, sounds like a standard Lana Del Rey piano ballad, and "Arcadia" has the same problems. She never struggles with lyrics, but a few of the songs just sound too similar. The album's interlude The Trio is not a bad song, however, it just doesn't fit the vibe of the album, it might've fit better on Lust for Life or Paradise. The album does have a problem of having no coherent sound too, which would usually not be a problem with albums, but this album always sounds like a playlist on shuffle. Sometimes the piano ballads are right next to the standout, unique songs, which makes them way more forgettable.
Overall, the album is very deserving of the praise it received. It doesn't have a bad song, and it has some of the best songs released by Del Rey in her nine-year career. Lana effectively reached her goal of making an album for the fans and not for the critics or charts. I think the record is her third best, behind NFR! and Ultraviolence and will make for a fan favorite and fantastic album for many years to come.