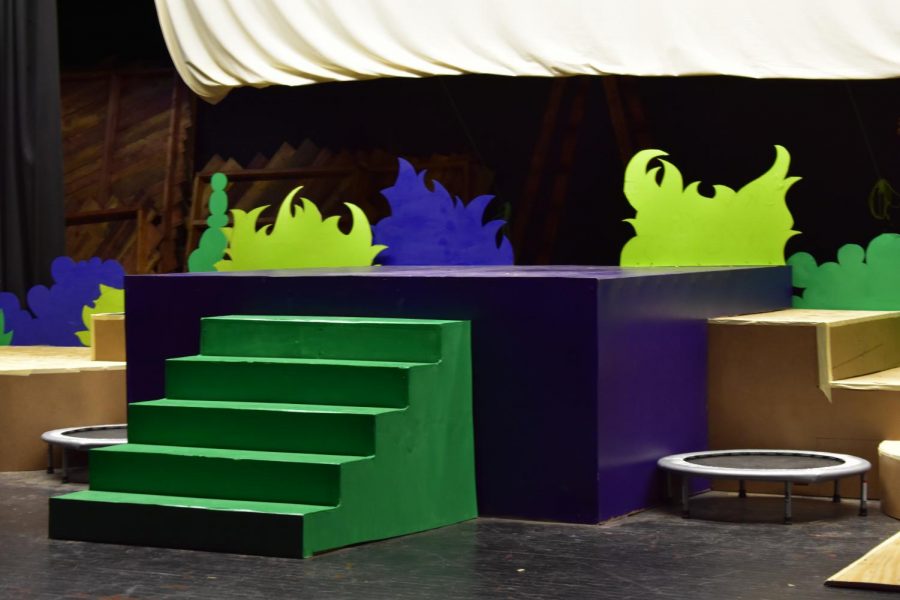 Bek Dunlap
The Lafayette Theatre will be performing Seussical the musical at Beeler Auditorium in Lafayette High School. The tickets are $10 for students, and $15 for adults. You can buy them online at 23961.smallvenueticketing.com . The dates of the performances are January 24th, 2019 at 7:oopm, January 25th, 2019 at 7:00pm, and January 26th, 2019 at 2:00 p.m. and 7:00 p.m.
On the 26th at 10 a.m., the cast will be holding a character breakfast where you will be able to meet all the characters in the musical and get to know them. There will also be games, activities, photos with cast members, and crafts. It's $10 per person to do all of these activities, so bring your family! It will surely be a blast. It's also important because it helps them earn money to go to nationals.
Aslyn Goodwind, who plays Noolian, said about the Lafayette's version of the musical "It's a great production, everyone in it is so friendly and nice. It's an over all good vibe. Our cast and crew are great!"
Seussical is a musical by Lynn Ahrens and Stephen Flaherty. It is based on the children's stories of Dr. Seuss, with most of the plot based on Horton Hears a Who! But other stories are in the mix, too. The musical's name is a portmanteau of "Seuss" and musical. After its Broadway debut in 2000, it has spawned two US national tours and a West End production, and has become a frequent production for schools and regional theatres.
Act One
Oh, the Thinks You Can Think – Cat in the Hat, Company
Horton Hears a Who – Horton, Bird Girls, Jungle Creatures
Biggest Blame Fool – Sour Kangaroo, Horton, Wickershams, Bird Girls, Cat, Gertrude, Mayzie, Jungle Creatures
Here on Who – Mayor, Mrs. Mayor, Grinch, Horton, Whos
Oh, the Thinks You Can Think (Reprise) – Cat
It's Possible – JoJo, Cat, Fish
How to Raise a Child – Mayor, Mrs. Mayor
The Military – Schmitz, Cadets
Alone in the Universe – Horton, JoJo
The One Feather Tail of Miss Gertrude McFuzz – Gertrude
Amayzing Mayzie – Mayzie, Bird Girls, Gertrude
Amayzing Gertrude – Gertrude, Bird Girls
Monkey Around – Wickershams
Chasing the Whos – Sour Kangaroo, Bird Girls, Horton, Wickershams, Jungle Creatures, Whos
How Lucky You Are – Cat
Notice Me, Horton – Gertrude, Horton
How Lucky You Are (Reprise) – Mayzie, Cat
Horton Sits on the Egg – Bird Girls, Horton
How Lucky You Are (Reprise 2) – Horton, Gertrude, Cat, JoJo, Company
Act Two
Entr'acte – Orchestra
Egg, Nest, and Tree – Sour Kangaroo, Bird Girls, Wickershams, Jungle Creatures
Circus McGurkus – Cat, Circus Members
How Lucky You Are (Reprise 3) – Horton
How Lucky You Are (Reprise 4) – Mayzie, Cat
Amayzing Horton – Mayzie
Alone in the Universe (Reprise) – Horton
Solla Sollew – Horton, JoJo, Mayor, Mrs. Mayor, Circus Animals
Green Eggs and Ham – Cadets, JoJo, Schmitz
Grinch Scene – Grinch, Whos
A Message from the Front – Cadets, Mr. Mayor, Mrs. Mayor
Alone in the Universe (Reprise 2) – JoJo
Havin' a Hunch – Cat, Hunches, JoJo
All for You – Gertrude, Cat, Bird Girls
The People Versus Horton the Elephant – Sour Kangaroo, Wickershams, Cat, Judge Yertle the Turtle, Bird Girls, Horton, Gertrude, Whos
Alone in the Universe (Reprise 3) – Gertrude, Horton
Oh, the Thinks You Can Think (Reprise 2) – Full Company
Green Eggs and Ham (Bows) – Full Company