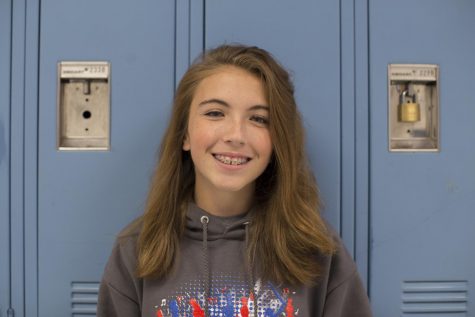 Maire Birdwell is a freshman at Lafayette and she is happy to say that she is the Design Editor.  She contributes to Lafayette by marching with our outstanding band, helping others, and giving our school a good atmosphere.
Her whole life is surrounded by music since her parents are both music professors, and listening to music is her favorite thing to do when she is bored. Maire is the writer of 
This Day in History. 
  When high school ends for Maire, she hopes to get accepted to University of Illinois at Urbana-Champaign and pursue a degree in  Meteorology.
Maire loves watching and talking about any type of weather; she wont stop talking about it. She also loves writing, which brought her to Journalism, then brought her to
The Lafayette Times.
 She is so excited that she is a part of the student news here at  The Lafayette Times and she is happy to be at Lafayette for an amazing future ahead of her.
Maire Birdwell, Design Editor
May 30, 2018

The Kentucky Teacher Achievement Awards

(Story)

May 14, 2018

This Day in History – May 14th

(Story)

May 08, 2018

This Day in History – May 8th

(Story)

May 02, 2018

This Day in History – May 2nd

(Story)

Apr 30, 2018

This Day in History – April 30th

(Story)

Apr 24, 2018

This Day in History – April 24th

(Story)

Apr 20, 2018

This Day in History – April 20th

(Story)

Apr 18, 2018

This Day in History – April 18th

(Story)

Apr 12, 2018

This Day in History – April 12th

(Story)

Apr 10, 2018

This Day in History – April 10th

(Story)

Mar 28, 2018

This Day in History – March 28th

(Story)

Mar 26, 2018

This Day in History – March 26th

(Story)

Mar 22, 2018

This Day in History – March 22nd

(Story)

Mar 15, 2018

This Day in History – March 15th

(Story)

Mar 13, 2018

This Day in History – March 13th

(Story)

Mar 07, 2018

This Day in History – March 7th

(Story)

Mar 05, 2018

This Day in History – March 5th

(Story)

Mar 01, 2018

This Day in History – March 1st

(Story)

Feb 27, 2018

This Day in History – February 27th

(Story)

Feb 23, 2018

This Day in History – February 23rd

(Story)

Feb 21, 2018

This Day in History – February 21st

(Story)

Feb 16, 2018

This Day in History – February 16th

(Story)

Feb 14, 2018

This Day in History – February 14th

(Story)

Feb 12, 2018

This Day in History – February 12th

(Story)

Feb 08, 2018

This Day in History – February 8th

(Story)

Feb 06, 2018

This Day in History – February 6th

(Story)

Feb 02, 2018

This Day in History – February 2nd

(Story)

Jan 31, 2018

This Day in History – January 31st

(Story)

Jan 29, 2018

This Day in History – January 29th

(Story)

Jan 25, 2018

This Day in History – January 25th

(Story)

Jan 23, 2018

This Day in History – January 23th

(Story)

Jan 19, 2018

This Day in History – January 19th

(Story)

Jan 04, 2018

This Day In History – January 4th

(Story)

Dec 19, 2017

This Day In History – December 19th

(Story)

Dec 15, 2017

This Day in History – December 15th

(Story)

Dec 13, 2017

This Day in History – December 13th

(Story)

Dec 11, 2017

This Day In History – December 11th

(Story)

Dec 05, 2017

This Day in History – December 5th

(Story)

Dec 01, 2017

This Day In History – December 1st

(Story)

Nov 29, 2017

This Day in History – November 29th

(Story)

Nov 27, 2017

This Day in History – November 27th

(Story)

Nov 20, 2017

This Day in History – November 22nd

(Story)

Nov 20, 2017

The Importance of High School

(Story)

Nov 20, 2017

This Day in History – November 20th

(Story)

Nov 16, 2017

This Day in History – November 16th

(Story)

Nov 14, 2017

This Day in History – November 14th

(Story)

Nov 10, 2017

This Day in History – November 10th

(Story)

Nov 08, 2017

This Day in History – November 8th

(Story)

Nov 08, 2017

This Day in History – November 6th

(Story)

Nov 02, 2017

This Day in History – November 2nd

(Story)

Oct 31, 2017

This Day in History – October 31st

(Story)

Oct 26, 2017

This Day in History – October 26th

(Story)

Oct 24, 2017

This Day in History – October 24th

(Story)