COVID-19: A Sad Goodbye For College Roommates
On Tuesday March 17th, the unofficial start of quarantine day two, I was actually fairly far from home. My brother Parker, attends the University of Alabama in Huntsville and like many college students around the country, had gotten the dreaded notification. It was time to move out of dorm life and switch to a more online and social-distancing aware campus that laid within the aluminum body of his MacBook.
This notification came somewhat as a shock, as he expected to have the full week to pack his room, say his goodbyes and take one last walk around campus. All of this before his college freshman year would come to a grinding halt. The students were originally given no true date to be off of campus, and they were only encouraged to leave, with no actual enforcement.
University Of Alabama Huntsville, is located in Huntsville, Alabama, a medium sized city with a population around 200,000 people. It is about a five hour drive from Lexington, so it's not just an easy pop down. The university itself holds about 10,000 students and is most notably known for their science and engineering programs, such as aerospace engineering, which is what my brother majors in. It's always a joke within my family to say it's not rocket science, but when it comes to my brother Parker, it actually is rocket science.
On that Tuesday, my mother and I drove the five hours straight to his dorm. When we walked into the building, it was a madhouse of suitcases, boxes, trash all around and the strange tension of something gone wrong. The students were not prepared in the slightest to be tossed from what had become their home, what had become a family, with little to no notice. Parker had tried his best to pack everything into boxes and old Kroger bags, but he was still a little frazzled by the whole situation.
Trip after trip, we heaved boxes and bags into the trunk of our Volkswagen, clearing out his home of about one year within an hour or two. The car was fully packed and the spring heat was starting to take its effect on us as he said his goodbyes, snapped some final photos and turned in his room key, finalizing the process. He was no longer a resident at North Hall.
Initially we feared getting a hotel, as COVID-19 was now spreading faster than ever within Kentucky and Tennessee, but Alabama seemed unaffected. Not only from the standpoint of the media, but from standing on the second story of our hotel balcony, overlooking the vast park, filled with couples walking, kids running and groups enjoying their first taste of spring weather. The Coronavirus had not hit this area, not physically, because they had cases of the disease, but in the spirit of residents. The people of Huntsville carried on with their lives, they ate at the restaurants, they gathered with friends and loved ones, they could not have a care in the world.
It was a different story when we checked into our hotel in the center of the city. The manager wearing a teal turtleneck, the neck pulled up as to cover her mouth, gloves masking her hands, as she informed us that we were only one of five parties checking into the hotel tonight. This came as a shock, compared to the joy and population we had just witnessed outside. The hotel was large, boasting a modern design and a great location, so that wasn't the problem. It was move-out week from the university, so many visitors are in the city. So what gives?
Even though the virus had not emotionally hit Alabamaians it was clear that visitors from out-of-town were skeptical. Some were too scared to even spend the night in a foreign room with moderate levels of cleanliness. They simply drove up, no matter the distance, and then turned around and drove home. They treated this like an evacuation, like every second was leading to impending doom and they would be at fault, if exposed to the virus. It's true that I too saw this as an evacuation. Rather than saying we're going to pick up Parker from college, I kept saying "We're going to evacuate Parker from his dorm," and while we weren't as pressed as many other families, the whole experience held the tension of a pandemic.
That brings me to a whole different point, and that of privilege. My family was beyond fourtunate given the scenario. Both of my parents have the ability to work from home and go to Alabama at a moment's notice. The drive to Alabama is only 5 hours, but that's by car, and not on a plane, with its luggage fees and complications. Parker was able to bring almost everything home with him, except for a large trash can, and that is still something that not every student was able to do.
I bring this point up, because within my quarantine boredom, I was avidly scrolling through TikTok, which yes is comedic and very much the opposite of a traditional education, but I learned something. It was a minute long video of this young college student who had received the same dreaded notification that it was time to move out. Except, she attended the University of Hawaii and was trying to go back home to Colorado. She had no help from her parents and was only given a moment's notice.
Within the sixty seconds of her video, I watched her sell off her clothes, donate her belongings to goodwill, and constantly repack her suitcase to get it under fifty pounds. She left her dorm and friends in a sad goodbye that concluded the video. Those sixty seconds made me realize just how fortunate my family was, given the whole evacuation scene.
On Wednesday March 18th, we arrived back home at five o'clock, meaning that we had spent just about twenty-four hours in Huntsville. Within these hours I was able to view the effects that a pandemic can have within a society, within a city and within a family of four college roommates.
From this experience, I have gathered that COVID-19 is not a joke. It has put millions out of work, separated thousands from loved ones, and forced many to make hard decisions. It's so vital to keep up our spirits, stay home and maybe enjoy this time off. Talk to your parents, pet your animals and value this time we get to just slow down and see what really matters within our lives.
About the Contributor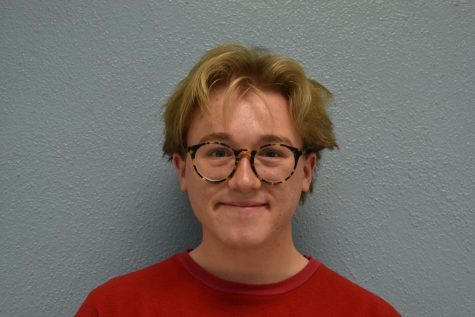 Noah Sprout, Copy Editor
Noah Sprout is currently a senior in the Times, and holds the position of Head Copy Editor. Noah is a proud member of the Bluegrass Youth Sustainability...