Kentucky COVID-19 Updates
Lexington, Kentucky is one of many cities with rapidly increasing COVID-19 cases. New precautions such as closing down private schools and malls, are being made daily to improve our safety as much as possible, and although the number of cases are going through the roof, colleges are still going to remain open as well as businesses so that the economy does not go down more than necessary. COVID-19 mobile testing has now been moved to in front of a CVS on New Circle Road, and is just one of many new testing locations. The more testing locations available, the more accurate the positive cases are going to be.
A large number of Lexington's cases have come from the thousands of students attending University of Kentucky. As a result, the UK and the Lexington Police, kicked off a partnership designed to hopefully fight off the rapid spread of COVID- 19. This partnership involving the police, Lexington-Fayette County Health Department and the city will be focusing on and step up to monitor efforts and to control pandemic related, off and on campus student code of conduct violations.
This has affected students at the University of Kentucky greatly. A former Lafayette student and a current UK junior, Katherine Wild, talked about this topic.
"I am currently a pre-vet major at UK. My course load is hard and I spend most of my time studying. With all of the COVID-19 precautions, it is hard to find places that are quiet to study. The library now closes at 5:00pm so that definitely limits places to go where I can be productive without distractions. The precautions have taken away some privileges but it is important to be more safe than sorry. A lot of my friends live in the University of Kentucky dorms and due to the precautions, they do not allow visitors. We always liked to get together in a dorm so we could study together. As of right now, we can no longer do that."
Kentucky governor Andy Beshear had a goal set with cases. He strived to keep the positivity rate of the Coronavirus under 5%. As of October 28, 2020, the positivity rate has now increased to 6.07%., with about 1,800 positive cases per day. There are also approximately 68 counties in Kentucky that are in the "red zone" which is considered critical care.
With the Halloween season right around the corner, many are curious what the COVID-19 guidelines entail. If children are going to Trick-or-Treat, they should do it with their family unit, not in large groups. For those going door to door, Governor Beshear is strongly asking Kentuckian children to wear masks under their costumes. Halloween is for both children and adults, however this year Governor Beshear is requesting that there be no adult gatherings of any sort until next year. Halloween of 2020 should be left for the kids during this rampant pandemic. There are still places everyone should be avoiding, like hayrides, haunted houses, costume parties, and trunk-or-treat events with large numbers of people.
There are much safer alternatives for Kentuckians to take for this year's Halloween festivities. Carving pumpkins for display, a virtual Halloween costume contest, drive-by costume or cart-decorating contests are many fun and safe ways to celebrate. It is important to avoid direct contact with Trick-or-Treaters by setting individually wrapped treats out on a table for children to grab themselves. This specific precaution is very important in order to avoid spreading the virus even more rapidly in Kentucky. As Governor Beshear put it, "It is not too much to ask, in a global health pandemic, to put a table out on your porch and stand on the other side of the glass door,"
In Kentucky, there are 120 counties. As of October 29th, 68 of the counties are in the red category which means critical care. There are still schools doing in person classes in the counties that are labeled red. Almost 5,000 potential positive cases are due to school Coronavirus outbreak, and this includes student and staff direct exposure, as well as student and staff positive cases. Those numbers are only going to increase if Kentucky keeps going at the same rate of increasing cases. As of October 29th, Andy Beshear is asking that everyone in the red counties, which is most Kentuckians, to reduce contacts as much as possible Monday through Sunday of the following week. Avoid going out unless it is absolutely necessary, and if possible, try curbside shopping rather than in person, and avoid gathering with other people. The situation Kentuckians are in with this pandemic, gathering with people is not safe.
As Governor Beshear says, "We will get through this. We will get through this together."
About the Contributor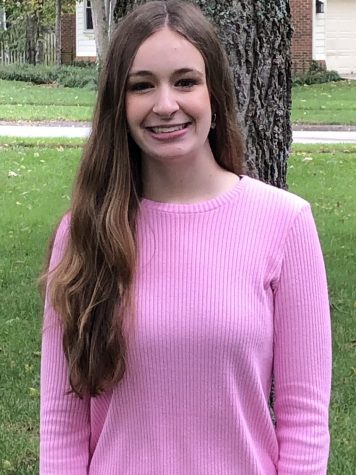 Kaitlyn Wild, Staff Writer
Kaitlyn Wild is a senior this year at Lafayette High School. This is her first year in the journalism environment and her first year of participating in...