Volleyball Update
The 2020 Lafayette volleyball season has come to a close. The team had a great season ranking, 10th in the state and 8-2 overall. The varsity team this season was very different due to COVID-19 guidelines.
Fans and players were expected to adhere to KHSAA's Healthy at Sports guidelines. For fans these guidelines included, wearing a mask at all times, getting their temperature checked when entering, and sitting with people of the same household. Seats were sectioned off, to help people spread out from one another.
All players were required to wear masks while sitting on the bench, but not while playing and also have their temperature checked upon entering the facility. Lafayette Volleyball coach Chris Langston states, "The decision not to wear masks was made because we had been working out and practicing without them for six weeks before matches started. Also several players expressed that they were having breathing challenges while wearing their mask during exercise."
Games and practices were different due to the COVID-19 restrictions, but our ladies were still able to play the sport they love, while having fun. With COVID-19, no one knew when the last practice or game would be, so they tried to enjoy the time they had.
Our team did not play a full season due to COVID-19 restrictions, so the season got cut in half. They went from 30 games in a normal season to 15 games this season. Despite the circumstances, the players and coaches made it a season to remember, by everyone showing up with a great attitude and giving 100 percent effort even though this was not the ideal season . Our ladies had so much dedication this season; they started working out in the green building in the middle of July with everyday temperature at average of 97, but pushing through and just hoping for a season.
This year the team did not get as close due to different practice times and not having team meals but this was a season no one will forget. With all the uncertainty of when the season would quickly come to a close, smaller practice groups and the new rules we had to follow, no one will ever forget the 2020 volleyball season. With COVID-19 restrictions only five family members per player were able to come to keep numbers down but other districts have different guidelines, so not everyone was able to attend all games but each game was one to remember.
We had five incredible seniors this year, Lane Jenkins is a setter, Halley Johnson is an outside hitter, Jada Thomas is a right side hitter, Morgan Drake is a middle hitter, and Anna Cason is a right side hitter. These five seniors have been the heart and soul of Lafayette Volleyball and will be greatly missed.
About the Contributor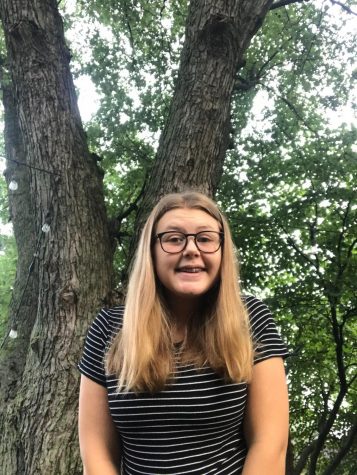 Rylie Miller, Staff Writer
Rylie Miller is a freshman at Lafayette this year, with no prior experience in writing.  Rylie plays volleyball for  both Lafayette and Lexington United....