National Honor Society
The National Honor Society (NHS) elevates a school's commitment to the values of scholarship, service, leadership, and character. These four pillars have been associated with membership in the organization since its inception in 1921.
Today, it is estimated that more than one million students participate in NHS activities. NHS chapters are found in all 50 states, US Territories, Canada, and around the world. Chapter membership not only recognizes students for their accomplishments but challenges them to develop further through active involvement in school activities and community service.
As such, NHS chapters and students are in schools that care not only about student achievement, but also community engagement.
NHS students and their peers volunteer in their communities at the highest rates and make connecting with and serving within the community a priority. The average chapter contributes:
· 1,000 hours of school/community service
· $26,000 in charitable donations
· 1,000 pounds of food to local, state, and national causes
· 100 pints of blood
The National Association of Secondary School Principals (NASSP) officially established the NHS in 1921. Though many local and regional honor societies existed prior to 1921, no nationwide organization had been founded. Under the leadership of Dr. Edward Rynearson, principal of the Fifth Avenue High School in Pittsburgh, the organization grew from the original Alpha Chapter at the Fifth Avenue School to more than 1,000 chapters by 1930. Equipped with a constitution, an emblem and motto, and a group of dedicated principals as coordinators, the new NHS organization quickly developed into one of the country's leading educational groups.
Lafayette's Chapter currently has 135 active members. Members are selected by a minimum unweighted unrounded gpa of 3.5 in the Spring of a student's junior year. All eligible students are sent an invitation in their Junior English class. Once a student completes their application, we review and accept all of those students who show characteristics of an honor student to represent Lafayette High School National Honor Society.
Our officers for the 2020-2021 are:
President: Helena Weiss
Vice President: Lindsey Long
Secretary Katy Cornish
Treasurer: Cooper Samuelson
Ms. Rachele Hardin is the leader of Lafayette's National Honors Society. She states,"We require students to maintain their GPA and complete community service hours. In addition to those 10 hours, we support Lafayette's Dance Blue Service Project. Last year we donated $2500 to this cause. All fundraising efforts that NHS participates in will go toward that large donation to Dance Blue. Covid has impacted our fundraising and service hours immensely. Many of the service hours that we have participated in the past include: Ronald McDonald House, Catholic Action Center, making blankets for UK Children's Hospital, collecting food for Food Pantry and Lafayette's Youth Service Center. We have participated in a Susan Komen Race for Breast Cancer and raised funds to donate to that philanthropy, as well."
You might be wondering how is the National Honors Society contributing to the community during this pandemic? Believe it or not, there are still multiple ways that various projects are being completed.
Lone Oak Community Gardens is one of the locations that NHS did service. This project was completed in one hour increments for three hours. Their immediate needs were pulling vines, turning the compost pile, and picking up trash. Some other volunteer opportunities are the Food Chain and God's Pantry. Those both involve giving and sorting food for those in need.
Although there are multiple services like working at Lone Oak Community Gardens and sorting food at the Food Chain and God's Pantry, some of the services that can be completed during Covid-19 don't necessarily require physical work from students. An example of this is the Carnegie Center. They are accepting donations of new or gently-used children's books, from picture books to chapter books to young adults. The books will be distributed to children at local schools, community groups, libraries, and elsewhere during the pandemic. All of the donations had to be in boxes and delivered in person to the back porch of the center. Books are being moved daily into the building by staff members.
The service not only benefits children and families all around the community but it also has the capability of benefiting the NHS students and their families by receiving a tax donation receipt. Joseph Beth and Kroger are also some places that NHS students are donating items to help those in need.
There is a pandemic going on all over the world, but that hasn't been stopping the Lafayette National Honors Society from helping and giving back to the community.
We are constantly looking for ways to serve the community in the midst of this Pandemic. If you know of a group that needs our assistance, please let us know.
About the Contributor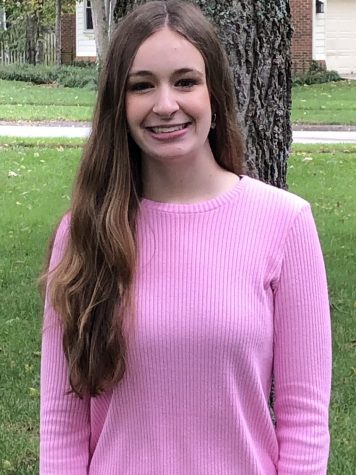 Kaitlyn Wild, Staff Writer
Kaitlyn Wild is a senior this year at Lafayette High School. This is her first year in the journalism environment and her first year of participating in...