OPINION: SHOULD THE BATTLE OF THE BLUEGRASS HAPPEN THIS YEAR?
If there is one thing that both Kentucky and Louisville football fans can agree on this year, it's that this football season has been rough. The Cats and Cards had four wins each, Kentucky with six losses and Louisville with seven. In any normal year, neither team would be able to qualify for a bowl, as to qualify a team must have six wins to be considered for a bowl game. However, the NCAA has lifted this requirement, as teams have opted for conference-only schedules, ranging from 7-11 games.
Kentucky has been included in various bowl projections, and head coach Mark Stoops has said that he and the Cats will accept a bowl bid, if invited. As for Louisville, bowl eligibility isn't looking likely. However, with the Cards' win over Wake Forest Saturday December 12th, that could potentially change. Remember, two ACC teams have opted out of the bowl season: Boston College and Pitt who are both ahead of Louisville in the ACC rankings.
11 bowl games have been cancelled due to COVID-19 related issues, costing the ACC five bowl bids, and the SEC one bowl bid. These cancellations significantly reduce the chances not only of Louisville making a bowl, but Louisville and Kentucky meeting in a bowl game, which has never happened in series history.
Series History
Kentucky leads the all time series 17-15, winning the two previous meetings and three of the last four. Before that, Louisville's winning streak of five in a row finally snapped in 2016. The Battle of the Bluegrass has been played every year since 1994 with Louisville leading the modern series 15-11. If the Cats and Cards do not play this year, it would be the first time since 1924 that the game was not played in consecutive years and breaking a 26 year long streak. The longest series winning streak is seven, held by Kentucky from 1912-15, 22, 24, and 94. The largest win by one team was also Kentucky, crushing the Cards 73-0 in 1922.
How Could The Game be Played?
The first option is for both teams to play each other in an FBS bowl game, and there are three possible games: The Birmingham Bowl, Gasparilla Bowl, and Gator Bowl. There is also the Outback Bowl, but that is contingent on whether there is a Big Ten team in the Orange Bowl. As it stands, Kentucky is slated to play in either the Liberty Bowl, or the Music City Bowl, meaning that the odds of a Bluegrass Battle in a Bowl is very unlikely.
The alternative solution is to just scrap the Bowls and play an exhibition during bowl season. This is also very unlikely given that Kentucky is slated to receive a bowl bid, and will likely accept.
But let's get hypothetical for a second here. What if Kentucky doesn't get a bowl bid, or declines it? Could the Cats and Cards still fight for another year of Bluegrass supremacy? The answer is yes, theoretically. The game would first have to happen in Louisville, as Kroger Field is playing host to the KHSAA Football Playoffs. It would also be slightly hard to make it happen on such short notice, although given the scheduling debacle that has come with COVID cancelations, anything can happen. For example, the BYU/Coastal Carolina matchup, one of ESPN's most viewed CFB games, was scheduled on the Thursday before the Saturday night kickoff. Keep in mind that these games are typically scheduled weeks, or months in advance. Television is another factor to think about as well, especially considering the lack of fans in the stands this year. It's all theoretically possible, but before either team would even think about scheduling this, after throwing out all of the probable realities coming with the waning 2020 football season, there's still one question left unanswered…
Should The Game Even Happen?
At first, it's easy to say no. Both teams have dealt with their fair share of COVID issues this past year, and adding an additional game to the schedule increases odds of injury, and another outbreak for one, or both, teams. Louisville has had several players opt out of the remainder of the 2020 season, including stars Tutu Atwell and Javian Hawkins, who have both signed with agents, declared for the NFL Draft, and foregone their NCAA eligibility. It's entirely possible that Scott Satterfield or even Mark Stoops wouldn't want to play this game, and given the risks that come with playing football during a pandemic, you can't blame either of them.
However, the answer to this question is yes. A thousand times yes. Not only would it provide people such as Landon Young, a Lafayette graduate, the opportunity to showcase their skills for one final time in front of NFL scouts, but the game would also bring in extra revenue that both schools need this year. The pandemic has cost both universities lots of money and by playing this game, you leave players and fans satisfied and happy, and get quite a bit of money from playing as well.
In Conclusion
If I got your rivalry juices flowing a little bit with all of these hypotheticals, it's probably best to take a deep breath. As a fan of the rivalry, nothing would make me happier than to see these two teams play this year, and it would probably be a close one too. However, I cannot overstate how unlikely it is for the game to happen this year (but not impossible), and for that, I guess Cats and Cards fans should start counting down for next year.
The next scheduled Battle of the Bluegrass football game is Saturday, November 27, 2021, 348 days away. Mark your calendars.
About the Contributor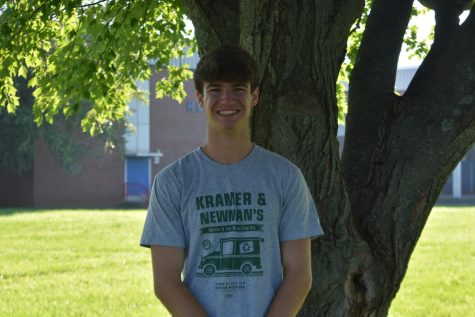 Josh Smith, Editor in Chief
Josh Smith is the Co-Editor-in-Chief of The Lafayette Times. Before heading The Times, Josh spent two years as the lead sports reporter. He has four younger...