Mr. McCurry High School Teacher of the Year
Lafayette's Christopher McCurry is the state's 2021 High School Teacher of the Year.
What does it take to become teacher of the year? We sat down with Mr. Christopher McCurry, a high school English teacher at Lafayette, to find out how he was selected for this amazing award, what it takes to be a great teacher, and what this award means to Mr. McCurry.
Mr. McCurry is in his 10th year at Lafayette. He teachers Dual Credit English, Sophomore English and Advanced African American Literature. Mr. McCurry created the African American Literature class at Lafayette, relating to issues surrounding race. Mr. McCurry teaches very differently from other english teachers, he uses poetry as an outlet while teaching. He is a big part of the Lafayette family.
Mr. McCurry is a Paris KY native and graduated from Bourbon County High School. He has been writing poetry for almost 10 years dating back to his time as an undergrad at the University of Kentucky. With his love of poetry when he graduated Christopher McCurry has both applied for fine arts for poetry and teaching jobs. Whilst being waitlisted for the poetry programs Lafayette brought Mr. McCurry in as an English teacher.
To be put in the process of winning the Kentucky's 2021 High School Teacher of the Year it is an anonymous nomination and each teacher will receive an email if they have been nominated. Each nominated teacher will have to submit five essays and a resume. Then if you advance you have an interview, and a presentation, revise your essays for a national focus. Then Mr. McCurry states, "Once all that is finished you cross your fingers really hard!"
We also sat down with Mr. McCurry and talked about what this award means to him. "More than anything, I feel like it is an honor. I love teaching, and I love my content. One of the coolest things to happen was my old teachers from middle and high school reaching out to me to congratulate me. They are the real Teachers of the Year in my book, because I know I wasn't always the best student."
He also states, "When you receive the email saying that someone has nominated you for an award, there's always the feeling that you aren't good enough or someone is better. The voice wants you to believe there's no way you'll win. Push that voice aside. Honor whoever believes in you by giving it your best shot. That's the real reward: the work and the gratitude."
About the Contributor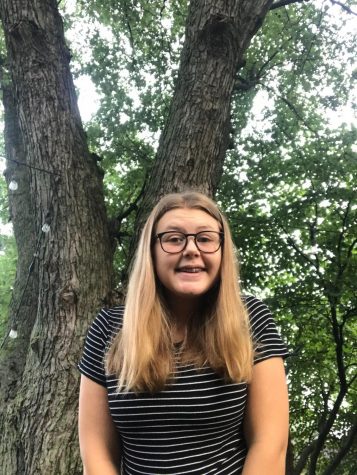 Rylie Miller, Staff Writer
Rylie Miller is a freshman at Lafayette this year, with no prior experience in writing.  Rylie plays volleyball for  both Lafayette and Lexington United....