Alabama Routs Kentucky; Worst Home Loss in Calapari Era
LEXINGTON, KENTUCKY
It was another ugly night in Lexington for the Kentucky Wildcats (4-7, 3-1 SEC) Wednesday, who have now dropped their seventh game of 11 this season and continue to watch their NCAA Tournament hopes slip away. This time the culprit was Alabama (10-3, 5-0 SEC). The Crimson Tide, the first team out of this week's AP Top 25, have now won their sixth straight game, and sit at the top of the SEC with a 1.5 game lead.
WHAT WENT RIGHT
While the game clearly didn't go as planned, it wasn't all that bad either. Kentucky managed to out-rebound Alabama by a margin of ten, 45-35. The Cats had 26 rebounds defensively and 19 offensive rebounds, compared to the Tide's 22 and 13, respectively. The Cats also netted nine blocks, seven of those from Isaiah Jackson, who also led the team in scoring with 14 points off the bench.
Fouling was another thing that went in favor of the Cats. Kentucky had no issue drawing fouls, attempting 24 free throws off of the Crimson Tide's 23 fouls and making 19 (79.2%), one of their better free throw percentage marks this season. Speaking of fouling, Davion Mintz did not foul in his 26 minutes on the floor tonight, and Olivier Sarr fouled once, playing 19 minutes respectively.
WHAT WENT WRONG
"We didn't see much," said head coach John Calapari, when giving his post- game comments on 630 WLAP. "…Absolutely not one guy, I looked at the coaching staff and it felt like we were watching [the team] from 3-4 weeks ago.".
Kentucky had an astounding and downright embarrassing 19 turnovers. Those turnovers came primarily from lazy passing. It seemed like the entire night the Cats found themselves making haphazard passes that would get picked off (the Tide had nine steals), passes that found the basketball socially distancing from a player on the floor, or occasionally even landing right in the hands of an Alabama player.
Beyond turnovers, it was a rough night for the Kentucky offense. The Wildcats found themselves settling for jump shots, finishing 21-61 on Field Goals (34.4%) and 4-18 beyond the arc (22.2%). The Cats also only finished with seven assists as a team, in line with their ball movement woes. Despite being able to draw fouls, most of those were not for and-one opportunities, as Kentucky found themselves missing several layups over the course of the game. Nobody could get the ball in the hoop, in fact, the trio of Olivier Sarr, Brandon Boston Jr., and Davion Mintz combined for less points (16) than the team's total turnovers (19).
It wasn't just the offense, but also the defense that also couldn't get anything done. Kentucky allowed Alabama to hit 14 of 30 attempted three point shots (46.7%) and 31 of 68 of total field goals (45.6%). John Petty Jr. and Jaden Shackleford combined for 41 of the Tide's 85 points, including Petty's four three pointers. It looked like all night Kentucky was beat and outplayed on the floor, and didn't seem to give Alabama much of an issue, allowing 85 points to the Crimson Tide. The Cats were unable to stay in front of the arc but also were unable to keep the lane shut. Alabama isn't just a physical team, but also doesn't run many offensive plays, primarily playing off the dribble. The Crimson Tide rank 15th nationally in pace (KenPom) and 22nd in average time of possession, at 15 seconds. The Wildcats were able to slow down the Tide's pace of play in the first 15 minutes, but found themselves playing catchup after Alabama began to pick up the pace, breaking the game open with a 10-0 run and finishing the opening half on a 19-8 run, despite losing starters Herbert Jones and Jordan Bruner.
CAN THE CATS RIGHT THE SHIP?
While there isn't much time to make the NCAA Tournament, Selection Sunday is still two months away and the Wildcats have a plethora of games to go. To right the ship, the Wildcats need to find ways to penetrate the lane and get in the paint, preferably through grad transfer Olivier Sarr. Not just that, but they need to move the ball efficiently, and limit turnovers. To date, Kentucky has a downright awful turnover margin of -2.3, good for 269th in the country. In terms of rebounding, while Kentucky did out rebound Alabama, it often found themselves beaten off the bounce by the Crimson Tide, very surprising for as long and athletic of a team as Kentucky is.
Speaking of Sarr, he had the least minutes of anyone on the floor Wednesday, which was super strange considering his starting role with the team. He finished second-to-last in total points scored (Boston, Mintz, Toppin each had five), but also had five rebounds. Sarr hasn't been the most consistent player on the floor either, combining for a mere three points and five rebounds (and five turnovers) in losses against North Carolina and hated in state rival Louisville. However, he combined for 34 points, nine rebounds, and four assists in wins against Southeastern Conference rivals Vanderbilt and Florida. Beating the Gators is probably to highlight to date for the Cats. Considering his aforementioned starting role within the team, and if the team is hoping to play through him, he will need to show more consistent performances on the floor.
Another player who has had a very disappointing season is star recruit Brandon Boston Jr. Boston has struggled with shooting this season, draining a single three-point shot of his last ten attempted in the last six games. In 30 minutes a game (second most behind Terrence Clarke) he is leading the team in average points per game, but with only twelve points. For reference, Louisville's backcourt in Carlik Jones and local product David Johnson are both averaging more than that, at 17.2 and 13.7 respectively. Boston shot under 30% FG against the Tide Wednesday, and is averaging a poor 32.6 FG percentage since the new year, and was even booed at home against Vanderbilt. The Cats need to simply see more effort and better shooting while he's on the floor, especially since past Kentucky teams have always had a star. Last year it was Quickley/Maxey, 2018 featured PJ Washington and Tyler Herro, and 2017 had Kevin Knox and Shai Gilgeous-Alexander. All six of these players are now in the NBA.
However, it isn't just the smaller things such as that where Kentucky found themselves regressing from their win over Florida. Put simply, the Cats could not get the ball in the hoop for most of the game, whether it was from range or a two footer in the paint. All night on Wednesday there were layups (sometimes uncontested) that simply had too much power on them and would rim out. Considering Kentucky sits at the top of 2020 rankings in their recruiting class, including several ESPN Top 100 picks, and was a preseason candidate to win their ninth championship, layups (contested or not) need to consistently fall if this team has absolutely any hope of even making the NCAA Tournament this year.
Kentucky can hope to rebound tomorrow, where they travel to Auburn and will tip-off at 2:00 PM EST, that game being televised on ESPN. The Cats have another shot at the Tide in Tuscaloosa on Jan. 26, giving them less than two weeks to right this sinking ship.
Final stats from Wednesday:
About the Contributor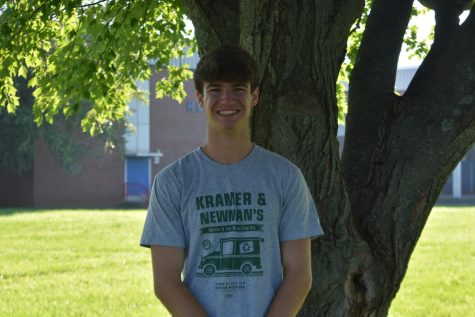 Josh Smith, Editor in Chief
Josh Smith is the Co-Editor-in-Chief of The Lafayette Times. Before heading The Times, Josh spent two years as the lead sports reporter. He has four younger...