A Big Blue Guide to the SEC Tournament
Kentucky's basketball season has finally come to a close, and it was one for the history books… for abysmally bad seasons. Luckily, Champ Week is here, and the Cats' have found themselves in a do or die situation for the SEC Tournament. Let's preview.
GAME 1- MISSISSIPPI STATE
To recall, on Jan. 12 UK won a thrilling 78-73 victory that went two overtimes. There are two important struggles in the rematch that Kentucky has remedied: Shooting and Toughness. Dontaie Allen had a career night, scoring 23 points and four rebounds, as well as seven threes. To date, Kentucky basketball still struggles from beyond the arc, shooting a not terrible but not good 33% on the season. Kentucky shot 52% from three in that performance, and to win again in the opening round, more of the same will be necessary.
Mississippi State is second in the SEC in rebounding/game behind Auburn at 38.85 boards per game, a mark good for 35th nationally. This effort is largely led by starting forward Tolu Smith, who averages nearly nine per game and had 12 in that January meeting against the Cats. Tolu also plays a supporting role in scoring, although that effort is led largely by the duo of D J Stewart and Iverson Molinar, who average a combined 33 points per game, and combined for 36 against the Cats in January. The Bulldogs can also shoot, ranking in the upper tier in FG% at 45.5% (Kentucky 41.7%). Another thing the Bulldogs can do is play defense, holding opponents to an average of 39% shooting, good for first in the SEC and 19th nationally.
For Kentucky to win this game, Dontaie Allen needs to see the floor. The Mr. Basketball product from Falmouth, KY scored 23 points against the Bulldogs, 14 points vs. Vanderbilt, and since then has sparsely seen the floor. Saturday's win vs. South Carolina was the first time he saw 10 or more minutes since the Feb. 6 home loss vs. Tennessee. If Allen plays at the two, he can space the floor and allow Kentucky shooters to get some quality looks, especially considering the Bulldogs' efficient shooting defense. We know the Wildcats can score inside (Toppin, Sarr, Jackson, Brooks) but the shooters (Mintz, Boston, Askew, Allen) must step up if the Cats want out of the first round, and that is the x-factor for this game. As for rebounding, as long as Toppin gets quality rotational minutes, Cats' fans shouldn't be concerned.
Prediction: Cats by seven.
GAME 2- ALABAMA
Unfortunately, the winner of this one would be pitted against top-seeded Alabama, which is No. 6 in the nation. UK has struggled with Bama all season, being swept for the first time in decades by the Tide, who continue to improve. What makes the Tide so great this year is their balanced scoring, with Shackleford, Petty Jr., Quinnerly, and SEC Player of the Year Herb Jones. All average in double figures. Alabama's offense is not only efficient, averaging well over a point per possession, but their breakneck pace of play yields them many possessions, which is why the Tide have had no problem putting up points all season.
Despite beating Kentucky twice and being a projected two seed in Joe Lunardi's bracketology, Alabama is a beatable team. However, it will take a high quality showing. To begin, Kentucky will have to find a way to slow down the Rolling Tide. By doing that, they'll force Alabama to work harder for each point and force them to run set plays. For reference, Kentucky plays slowly and usually runs set plays. The Wildcat defense will also have to step up. Alabama makes 43% of its shots, one of the highest marks in the SEC. This actually goes hand in hand with slowing up the Tide's pace, forcing them to slow down. Lastly, Kentucky will need to find a way in the paint and finish. Alabama is a small team, and actually lacks a true center. Kentucky is much larger, and if the interior duo of Isaiah Jackson and Olivier Sarr can get inside and take care of business, Kentucky can squeak it out.
Prediction: Cats by 2, at the buzzer.
GAME 3 AND 4- ???
This is where the unpredictable part of the tournament sets in. As of right now, it is impossible to forecast who the Cats will face in the semifinals and finals of the SEC Tournament, assuming they were to get past the first two rounds.
The third round is where rubber meets the road for UK. The opposition would be (barring major upsets) Florida or Tennessee. Both are in the same category — above average. Each split with Kentucky this year. Florida is definitely the preferable draw, as Tennessee is better than the Gators inside and it's larger. The Vols have made some great comebacks, including in the season finale against Florida. How ironic. To reach this level, UK would have to play its third game in three days. Enter fatigue, which means the buck will probably stop in the third round, fatigue will set in for the Cats, and the road will likely end here.
As for the SEC Final, if Kentucky shocks the conference and makes it that far, look for Arkansas, LSU, Ole Miss, or Missouri. Kentucky's thin rotation of seven or eight players would be a major factor at this point. To sum it up, Cats' fans should not count on winning the SEC Tournament, but we shall see.
About the Contributor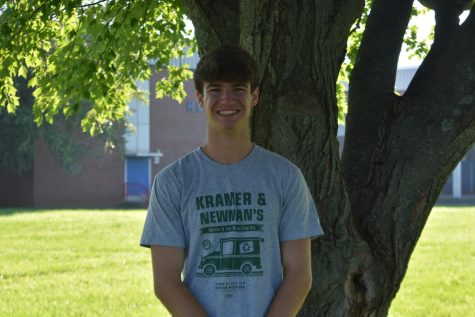 Josh Smith, Editor in Chief
Josh Smith is the Co-Editor-in-Chief of The Lafayette Times. Before heading The Times, Josh spent two years as the lead sports reporter. He has four younger...