Dance Blue 2021
Lafayette Dance Blue is one of the biggest events held during the school year. Dance Blue is a fundraiser for Kentucky Children's Hematology and Oncology clinics. Alex Francke, who is now Miss Kentucky, brought the idea up to the table back in 2015. That was the first year of Lafayette's mini marathon Dance Blue Event. Not many attended and about $10,000 was raised, but that one event brought the mini marathon to where it is today. The full marathons are held at the University of Kentucky for the UK students. The marathon is 24 hours long with no sleeping and no sitting, however, here at Lafayette we do a smaller version that only lasts six hours.
Lafayette has held Dance Blue for six years and the event is coordinated by the leaders of the Student Council; Coach Jesse Peter and Ms. Sophie Schwab as well as, students involved in the Dance Blue Committee on Student Council. Over the six years of holding the event, Lafayette has raised over $122,000 for Kentucky Children's Hospital. Dance Blue was originally scheduled for February 7, 2021 which would have made the seventh mini marathon at Lafayette High School. As to no surprise, the event has been cancelled due to COVID-19.
Even though Lafayette will not be holding an in person event, that will not stop the Student Council from coming up with ideas for ways to fundraise for Dance Blue. The council is also trying to coordinate a virtual event with the University of Kentucky Dance Blue Team over a potential platform like Youtube Live.
Decisions are still being made but as of now Student Council is still planning on designing a Dance Blue t-shirt and potentially a Dance Blue Comfort Colors sweatshirt since those two items raised almost $10,000. The plan currently is to open up t-shirt purchases and potential sweatshirt purchases at the end of February or the beginning of March before our virtual event is held. The orders will be through either a GoFundMe option or a Google Form. That decision is still in the works and has not been made final.
Since there is not going to be an in-person event, the total donation number is expected to be lower than years past. With that, Ms. Schwab is trying to host a couple more spirit nights at restaurants in the coming weeks to increase the donation amount.
The University of Kentucky has set their virtual Dance Blue event for April 10, 2021. That being said, we need to have a donation total to LHS Dance Blue by March 30th for us to present at their April event.
The following was an interview with Ms. Schwab:
What are the plans for the potential virtual Dance Blue Event?
Ms. Schwab: "For right now. Lafayette Dance Blue has been cancelled. What the plan is at the moment is we are trying to do some livestream event with the UK Dance Blue Team. We will be collaborating with them to see what that would look like, how we would set it up, what the best platform to use would be so on and so forth."
When would the event potentially be held?
Ms. Schwab: "It would probably be a mid March date."
What do you think about having to cancel Dance Blue this year?
Ms. Schwab: "It's a very bittersweet thing and it's kind of a heartache having to cancel an event that has been such a big deal at Lafayette for so many years and it is weird for especially Coach Peters and I because for the last seven years this is where our time is spent. This time of year we are just kind of twiddling our thumbs at the moment when it comes to Dance Blue. Obviously we are busy with other things but you know it's kind of bizarre not having Dance Blue stuff going on right now because at this point we would usually be right in the thick of it."
What platform are you planning on using for the idea of a Dance Blue virtual event of some form?
Ms. Schwab: "When we reached out to the UK Dance Blue Team we proposed the idea of doing a Youtube Live option with donations. If you've ever looked into the Youtube Live thing or if you have ever seen a Youtube Live stream, you can do donations through their platform. It is like Youtube Giving. They keep a small percentage but then the rest of the money comes back to us."
Since this is Lafayette's first year of having to hold a virtual Dance Blue mini marathon instead of in-person, there are still a couple details being worked out and not all of the decisions have been made final. But, as always, our goal is to raise as much money for the Kentucky Children's Hospital no matter the situation. The March 30th deadline for donations is getting closer and closer. Please continue to fundraise and share the word. There is a little over a month left to raise donations #FTK!
GoFundMe: www.gofundme.com/lhsdanceblue21
About the Contributor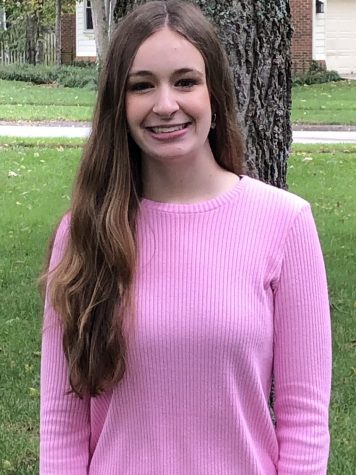 Kaitlyn Wild, Staff Writer
Kaitlyn Wild is a senior this year at Lafayette High School. This is her first year in the journalism environment and her first year of participating in...