LADY GENERALS CLAW AGAINST LADY EAGLES, ADVANCE TO REGIONAL FINALS
The Lafayette Lady Generals found themselves on the victorious end of a slugfest in Richmond, Kentucky Wednesday evening, defeating the Madison Southern Lady Eagles 51-40. Star Anaya Brown notched yet another double double, carrying the momentum from her 20/10 performance against Scott County earlier in the week by notching 16 points and 13 rebounds as well as 5 blocks. As for the Lady Eagles, Samantha Cornelison led all scorers with 20 points with Reece Estep leading the Eagles in rebounding with 12 on the evening.
"We got good looks – the right people – they normally make plays and that didn't happen tonight," is all Madison Southern head coach Allie Turley had to say about the Lady Eagles' offensive struggles. They opened the game dreadfully, making only one of 14 attempted shots. Luckily for them, things weren't much better for the Lady Generals, as they started only slightly better at two of 10, coming from a pair of threes from Brown and Gracyn Grantz. The Lady Eagles saw consistent offensive production all evening from star guard Samantha Cornelison who troubled the Lady Generals the entire evening, and had the only bucket of Madison Southern's in the first quarter.
The game finally began moving in the second quarter. The Lady Generals shot four of 11 and the Anaya Brown show rolled on. Brown dominated the interior on both ends of the floor entering the locker room with nine points, six boards, and an astounding, but unsurprising five blocks. As for the Lady Eagles, it was still Samantha Cornelison who led all scorers with 12 points at the break, six coming from the free throw line, without missing. All of Southern's other scorers had only two points to go with Cornelison's 12, but it was no bother to her, as she nailed a three point jumper to give the Lady Eagles the lead at halftime: 20-18.
"She's a great player," commented Lafayette Head Coach Allison Denton. "We said 'find her', it's very simple. Her number is 22, [and] she doesn't get anything wide open. Anything she makes better be contested and it better not be a three. And when she's driving, somebody needs to step up and help." That was Denton's response when asked about how the Lady Generals adjusted to Cornelison's scoring barrage.
To the Lady Generals' credit, Corneilson's well-known hot hand cooled down in the second half. Cornelison ended the game shooting under 30 percent, just 4/15 FG and 3/8 from beyond the arc. Free throws were no issue for Cornelison, however, as she ended the night missing just one, making nine of ten.
The third quarter was closely fought, concluding with the teams deadlocked at 28-28. Both teams exchanged blows throughout the period. The Lady Generals struck first, all thanks to an Olivia Cathers' mid range jumper. That blow was closely followed by another, this time from Lauren Walton to give the Lady Generals the lead. The Lady Eagles would finally snap out of it and land a punch of their own, with Lacie Parks drawing a foul off of a Brown personal foul. A pair of layups from Grantz and Brown would cap off an 8-2 run for the Lady Generals over the course of five minutes. However, a Cornelison three pointer and Flannery layup with seconds to go would allow for the Lady Eagles to draw close, tying the game heading into the final quarter.
The game took shape in the fourth quarter and Lafayette came out firing. Olivia Cathers and Lauren Walton hit back-to-back threes to give Lafayette a six point lead. This, however, was cut to four by a layup from Cornelison. After a Madison Southern timeout, the Lady Eagles came out firing with a 6-0 run to tie the game at 34 a piece. It was then Lafayette calling a timeout.
"We changed a little bit of our defense. We did something different with our bottom people on [our] zone… and tried to play it as more of a matchup- [man to man]," said Denton. And those adjustments worked, as Lafayette closed the game on a 17-8 run to ultimately seal a hard-fought victory–51-40.
"That was the swing of the game," said Turley. "We knew Walton was a shooter. Our post player switched on to her and she came at her with her hands down. Walton hit the three. On the other end our post player fell down, got hurt… we were playing five on four and we couldn't rotate over to Brown in time and so she hit another one, and those six points are ultimately what did us in," added Turley when asked about how Madison Southern came out of the Lafayette timeout. When asked about Anaya Brown's stellar performance, Turley said that he thought Southern "defended her pretty well," but that Walton ultimately ended up being the silent killer in the game, who finished with 12 points.
Lafayette will return to Richmond this Saturday, to face the Franklin County Lady Flyers in the Regional Final. The Lady Flyers automatically advanced to the finals game when the Tates Creek program had to bow out due to a player testing positive.
About the Contributor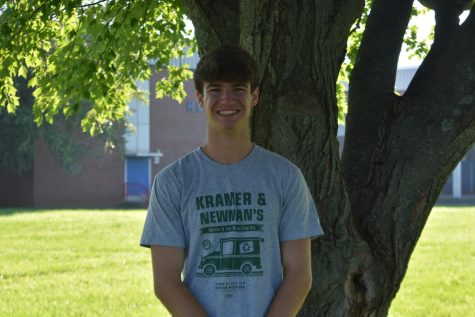 Josh Smith, Editor in Chief
Josh Smith is the Co-Editor-in-Chief of The Lafayette Times. Before heading The Times, Josh spent two years as the lead sports reporter. He has four younger...