Lafayette evacuates after reports of bomb threats
Students were told to evacuate the school today during third block, shortly before third lunch. Lafayette principal Mr. Jacobs came over the announcements, telling teachers to withhold students from going to third lunch. Minutes later, students were told to evacuate the building.
In a state of confusion, students quickly evacuated the building and gathered in the green areas surrounding the school, such as the areas in front of the school on Reed Lane.
At 12:43, students' families received an email from the district's new superintendent, Demetrus Liggins. The email said that four of six public Lexington high schools have been evacuated after receiving bomb threats against the facilities. These high schools include Lafayette, Henry Clay, Dunbar, and Frederick Douglass.
As of 1:17, students were evacuated from the front lawn to the football field.
Ten minutes later, a secondary email was sent to families informing them that searching each building will take several hours. As a result, students will be on the football field until the end of the school day at 3:15.
Despite a message from Superintendent Liggins urging families not to come to campus, concerned parents have been arriving to the gate of the football stadium, frantically calling and yelling for their students.
Around 1:45 this afternoon, students began dismissing one by one over the stadium's intercom as their families picked them up.
The Herald Leader reported that Henry Clay had released all of their students from the football field by 2:20, and the PLD Lamplighter reported via Twitter that many Dunbar students were leaving campus.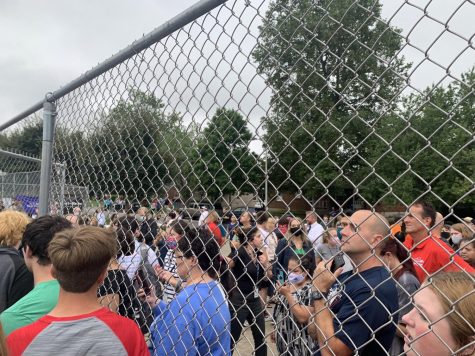 Students were released for regular dismissal at 3:15. Many students left the school without being able to retrieve their items from the classroom. All after school activities have been cancelled.
In an email from Superintendent Demetrus Liggins at 6:31 p.m., school will "resume a normal school day tomorrow" September 22, 2021.
Students will go to their B3 class when they arrive at Lafayette tomorrow morning to collect any belongings they had to leave behind during the school's evacuation.
All schools received a cleared status by 10:00 that night, and students at all four high schools returned to the building for normal instruction the following morning.