Lafayette Book Club Open to Students
Lafayette High School has most any club you could imagine. One of those clubs is the Book Club, which has been around since about 2012. The Book Club is a fantastic way for students to get involved and find where they truly fit in. It is open to any grade level and consists of every genre imaginable.
High school can be a scary place. Fear can often lead to students feeling like they do not belong. The Book Club is one of the great ways to find your safe place at school. Books are a great way to escape from the world, especially when times get tough. Often people feel like they are in the book living like the characters when they read the book.
Stephanie Schoff has been the librarian at Lafayette for the last three years and is also the sponsor of the book club. Her first year was 2019 which allowed her to start renewing and creating a book club, but unfortunately Covid-19 hit. She explained that it was hard trying to run and renew a library while the world was crashing in front of us. During 2020 they had meetings during the time that they could be in-person. Mrs. Schoff explained that the turnout for last year was about a dozen, and that was a lot for a pandemic going around. She hopes that the turnout this year is better and is excited to be in person for the Book Club.
The club meets once a month and will typically read any books from the same author. You are free to choose any book you like and discuss your favorite things about it during each meeting. Mrs. Schoff loves to hear about books that she has never read and also enjoys recommending books if you want to try something new.
The Book Club is often run by the students discussing books and authors. The meetings are pretty flexible and set around the members' schedules, often in the mornings and sometimes evenings. This meeting is usually around 30 minutes long and sometimes longer.
There are about 15 members this year, and there will most likely have more as the year goes on. If you, or someone around you, is interested in joining the Book Club, you can talk to Mrs. Schoff in the library. You never know. You might end up with a new obsession with books.
About the Contributor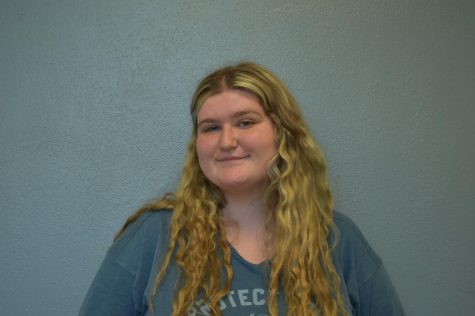 Katherine Lovelace, Staff Writer
Katie Lovelace is a sophomore at Lafayette. This is her first year writing for Lafayette Times, and her first year writing for a newspaper. She has previously...