10 Best Movies From 2021
2020 was a hard year for everybody, and the movie industry is no exception. The majority of movies were released on streaming platforms such as Netflix and Disney Plus, and those that went to theaters tended to not make any box office money. Luckily, with a covid vaccine and case numbers dropping, 2021 is looking like it's a great year for movies. The domestic highest grossing movies(Shang Chi and the Legend of the Ten Rings have already made 198 million dollars, and it's still in theaters. Because so many amazing movies have been released this year, here are ten of my personal favorites in no particular order:
The Mitchells Vs The Machines is an animated film that was released to Netflix on April 23rd. It currently sits with a 98% critics review and an 88% audience review on Rotten Tomatoes. The movie was created by the team from SpiderMan: Into The SpiderVerse. The movie follows a teenage girl, Katie, and her quirky family trying to save the day from evil robots. It won Best Screenplay at the 2021 Hollywood Critics Association Midseason awards. The film was super popular on Netflix, and became widely talked about with teenagers who related to the characters. Rather you're old or young though, almost everyone thought this film was super fun.
Cruella is Disney's most recent live action adaptation of their iconic works. The film, starring Academy Award winner Emma Stone, is a prequel/reimagining of 101 Dalmation's iconic Cruella DeVil's backstory. Both Stone and co-star Emma Thompson give fantastic performances, and bring so much life into both new and old characters. The part that seems to be the most praised is the costume design. Costume designer Jenny Beavan tried to make Cruella's costumes showcase the 1970's time period, while reflecting modern styles of Camp fashion. The style of the film is very unique too, it follows a similar structure to director Craig Gillepsie's Oscar winning film I-Tonya. The editing is fast paced, flashy, and creative. Overall, every part of the film makes a very entertaining and rewatchable experience.
The Suicide Squad is Guardian of The Galaxy director James Gunn's new movie, thats sort of a follow up and sort of a reboot of the 2015 film of the same name. Gunn had a very hard task, fixing a film that wasn't very critically received when it was released. And he succeeded. He turned a badly executed, poorly written superhero film into a funny, gory, well developed superhero film. The characters are about as obscure as the characters from Guardians of the Galaxy, including characters such as Polka Dot Man and King Shark. The original "Suicide Squad"'s iconic character, Harley Quinn (played by Margot Robbie) returns, and she remains a scene stealer. The movie didn't do amazing at the box office, but it became a rightful hit on HBO Max.
Coda starring Emilia Jones and Marlee Matlin, premiered at the 2021 Sundance Film Festival to rave reviews. The film follows a young girl Ruby who is the only member of her family that can hear. She works at her family's fishing business in the morning, but discovers after joining her school's choir how talented she is and how much she enjoys singing. The film was bought for 25 million dollars by Apple TV, which is a Sundance Festival distribution tights purchasing record. At the festival, it won the U.S. Grand Jury Prize, the U.S. Audience Award, the Special Jury Ensemble Cast Award, and the director Sian Heder won best U.S. director for a drama film. The film debuted on Apple TV on August 13th. It sits with a high 94% audience score on Rotten Tomatoes and many people who have seen it consider it the best independent movie of the year. Despite it being a typical coming-of-age story in the plot, the representation of deaf characters (played by deaf actors) and just how much love and heart is in the story set it apart. It is a wonderful and heartwarming time.
A complete opposite of Coda in many ways, Black Widow, one of two Marvel movies on this list, is an action packed, funny, always entertaining flick. After being announced, having a set release date, and having a trailer, and then being delayed multiple times it had a lot of hype and expectation to live up to. Many people were worried it wouldn't be as good because of all the wait. For some people, it was not, but many fans really enjoyed it. The movie follows the Marvel Cinematic Universe's iconic Black Widow or Natasha Romanoff (played by Scarlett Johannson), and her unconventional family. The new characters, her sister Yelena (played by Florence Pugh), and her parents (played by David Harbour and Rachel Weisz) steal the show and become some of the most fun to watch characters in the MCU. Like a typical Marvel Movie, the film has a lot of humor and action, but it also has a lot of heart and charm to it. You feel for the characters in more sad scenes and root for them always. Seeing this film in theatres on the Thursday night previews was an amazing experience. The fans were so excited, cheering and screaming at everything, and people were gasping and shouting at the end credit scene. Even without the experience, it's available for no extra cost on Disney+ and is still a fun time and enjoyable movie.
A sequel to the hit first movie, A Quiet Place Part II holds up quite well compared to the first one. Reviews for the film call it, "wonderfully acted and intuitively directed." And the thriller and action sequences have been praised for being more creative than other modern horror movies. It became a hit when it was released in the box office, becoming one of the first films to show the box office revival. If you enjoyed the first movie, definitely give this a watch.
I Care A Lot stars Rosamund Pike doing what she does best, playing an unhinged woman. The movie and Pike's character are both very interesting. She plays a woman who scams elderly people out of money and gets herself caught up with a mobster. Critics raved about Pike's performance, so much that she won the Golden Globe award for best comedy/musical actress. The film had its flaws, as critics pointed out, the script was a little messy, and it did struggle knowing what it was at some points, but that didn't harm the movie from being good. It's really a fun movie to watch, and Pike's stunning performance makes for a wonderful dark comedy.
Free Guy is a movie that could've been a total disaster. It could've come across completely as an older person's take on video games, and the humor could've fallen flat. But it totally did not. When released, the film did better than everyone expected, making 28.4 million dollars in its opening weekend, it became an instant hit with audiences, and has gone on to become the 6th highest grossing movie of the year. Critics called Free Guy a combination of the Lego Movie and the Matrix, and said that star Ryan Reynolds was perfectly cast. For a movie about video games, the movie has a lot of heart, and the humor is perfectly self aware.
Would it be a list without a Pixar movie? Nope. As their second straight to Disney Plus release, Pixar released Luca. It became one of the most popular movies of the year on social media, many people were making TikToks and edits about how much they loved the movie. Like every Pixar movie, it's heartfelt and super sweet. It might not be as "deep" as Soul, but it gets all the heart and warmth right.
Finally, the highest grossing movie of the year is Marvel's Shang-Chi And The Legend of The Ten Rings. Many fans were skeptical about this movie, people thought that it wouldn't do well in the box office because "no one cares about the new heroes," or that it wouldn't be good because "origin stories are hard," but it clearly proved them wrong. Box office success aside, many fans and critics have called it one of, if not the best Marvel movie. There is so much praise for every part of the movie, from Simu Liu's great introductory performance to the MCU, to the unique fight scenes, to the themes of family and love that really tug at your heartstrings. Shang-Chi was also Marvel's first asian led superhero film, a very important step for the Marvel universe. Audiences have said that it understands Chinese culture very well, and how important it is for them and their kids to have this hero. Shang-Chi overall, is the perfect movie to be the number one (in the box office) of the year.
If you haven't seen any of these movies, I highly recommend you do. Check them out and have fun.
About the Contributor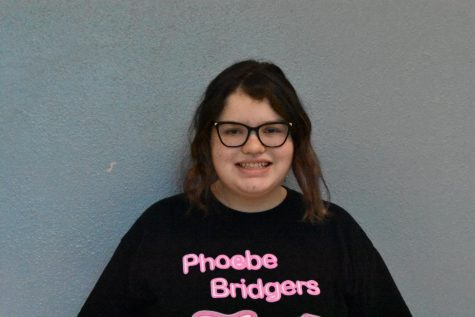 Raya Isenstein, Staff Writer
Raya Isenstein is a freshman at Lafayette High School. She is involved with the theatre, as well as writing for The Times. She is interested in pop culture,...