PREVIEWING: GENERALS HOMECOMING DATE WITH DUNBAR
After much anticipation, Lafayette's homecoming date with Dunbar has arrived in a continuation of one of Lexington's great athletic rivalries. For Lafayette, this is the Generals' final game of the season, and their culminating opportunity to secure victory before the KHSAA Football playoffs. As for Dunbar, despite a rollercoaster of a season, the Bulldogs have one more game next week against a scorching Bryan Station squad. The game is set to kickoff at 6:30 on Friday at Lafayette's own Ishmael Stadium.
Rocky would be the way to describe the Generals opening part of the season. The Generals fell to Connor 35-12 in their season opener: the Mingua Beef Jerky Bowl, in an 0-6 start to the year. However, the Generals have shown that every game counts to them, picking up steam lately and winning two of three on their district road trip. The Generals picked up convincing wins over George Rogers Clark and Henry Clay but had a dish of humble pie last Friday when they fell to Tates Creek 42-6.
In consolation, Dunbar hasn't had a much better start to the year either. After romping Breathitt County 69-28 to start the season, the Bulldogs lost four straight games. The Bulldogs got blown out by 5A and 6A heavyweights Woodford County, Frederick Douglass, and Scott County by a combined score of 173-25. However, the Bulldogs are turning their season around, winning their homecoming game vs. Russell, handling Tates Creek, and soundly defeating Henry Clay last Friday to win their third straight.
In terms of the rivalry, Dunbar has had complete control of the Generals in recent years, winning each of the last three matchups between the two schools by double-digit margins.
GROUND GAME
It is well-known that Lafayette has found themselves shorthanded on offense due to injuries, requiring the Generals to adjust their offense from pass-first to run-first. However, run-first is a concept that is nothing new to Dunbar. Through eight games, the Bulldogs have run the ball on every two out of three plays. The run-first offense is an accent to a simplistic but also complicated offensive scheme. The Bulldogs run the ball using a myriad of formations, but they keep it simple from there. They play downhill, sending men forwards instead of backward after the snap, gaining an advantage using numbers, and creating space for star RB Kamarion Robinson to go to work. Robinson leads the team in rushing and in touchdowns, finding the endzone 12 times this season and racking up an impressive 704 yards against opponents. The Bulldogs will play through him, as he averages nearly two touchdowns a game, but we could also see Cole Colony taking a lot of the workload, who is second on the team in rushing behind Robinson with 538 rush yards and nine rushing touchdowns.
As for the Generals, instead of relying on star talent, they split the workload among a few players. Starting quarterback DJ Walker has taken off 95 times this year, but Dez Hanley is the Generals top running back out on the field and has found the endzone twice this year. Lafayette primarily opts for shorter, screen-like passes to receivers like Tanner Pace and Lucas Doneghy, who have combined for nearly 600 receiving yards on the season. While this isn't to say that we won't see DJ Walker take a couple of deep shots downfield, the Generals will likely use the squad of Pace, Doneghy, Hanley, and Walker to charge upfield little by little, and bit by bit. Fans can expect a methodical offensive approach from the Generals.
A GAME OF THE MIND
While the rushing attack the Bulldogs bring may seem intimidating, Lafayette Head Coach Eric Shaw says that stopping the run is an attitude.
"Stopping the run is a playing-every-week-thing. Stopping the run is about being in position and doing it with a lot of aggression. Stopping the run is an attitude'" he commented in an interview. "There is no schematic thing that you can do, it is an attitude."
The Generals have done a nice job of stopping the run in victories, only ceding 142 rushing yards. However, the Generals have given up 1,276 rushing yards through their seven losses, an average of 182 per game. Stopping the run is easily a key to the game when considering how often the Bulldogs run the ball, but Shaw says that complacency has been another mentality issue.
"We still [have] work to do, Friday was an example of that. Learning how to truly overcome the mentality of not being successful. We still have to overcome that because that showed back up Friday. That's where that complacency came from. When I talked to them in meetings on Friday, I said 'Did y'all just think you were going to come out and beat them?' and all of them said 'yes'. [We have to] match that level of competition."
FINAL THOUGHTS
You only need two words to describe this matchup: Trap game. While Kamarion Robinson has undeniable rushing talents, coupled with Cole Colony and his dual-threat abilities of 600 rush yards and 1,000 pass yards seem intimidating, The Generals are capable of coming away with a victory.
Dunbar brings a smashmouth offense that has proven they can run the ball effectively and sling it when necessary. However, the Generals have shown flashes of brilliance against out-of-district heavyweights such as Scott County and Frederick Douglass, even in blowout losses. More importantly, both of the General's wins this season featured them stymying potent air and ground attacks from GRC and Henry Clay. The game Friday night is a matchup of the Bulldog offense and the General defense.
The one thing that has consistently held the Generals back is their mentality. Their dejection in defeat and complacency in victory hasn't just held them back this year, but in prior years as well. Lafayette must be prepared to make adjustments since it is likely Dunbar will get the early jump, but also must be prepared to make stops defensively, especially if the Generals find themselves striking first. There can be no mental mistakes, sideline dejection, or missed assignments for the entire game if the Generals want to finish the season triumphantly. The Generals are not outclassed, but it will take 110% out of every man on the roster to get the job done. Lafayette may not be the favorites to win, but don't be surprised to see the Generals on top.
PREDICTION: Bulldogs 34, Generals 24.
About the Contributor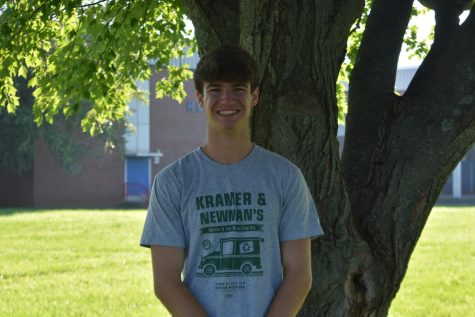 Josh Smith, Editor in Chief
Josh Smith is the Co-Editor-in-Chief of The Lafayette Times. Before heading The Times, Josh spent two years as the lead sports reporter. He has four younger...