Most Anticipated Movies of 2022
2022 will be a year of many things. Everyone can hope that the pandemic is finally coming to an end, the Winter Olympics are happening, and, of course, some great movies will be released. Out of the movies to be released,below are some of the most anticipated. Of course take the release dates with a grain of salt, there is no knowledge of what will happen with Covid and other issues.
Marry Me
Take back everything that was said about The Bob's Burgers Movie, this is the silliest movie on the list. Marry Me sounds like it shouldn't work, but it also sounds really funny and good. Marry Me is a film that looks like a cheesy 2000s rom-com, in the best way possible. In the time of all these dark, serious films, we're in need of a more lighthearted movie. A-listers Owen Wilson and Jennifer Lopez will play a singer who gets engaged to a fan, a premise that sounds both impossible and possible in the times of stan Twitter. However it turns out, Marry Me will be nothing but fun.
The Batman
Another superhero movie coming out, The Batman is a new take on the titular character, starring Robert Pattinson as Batman. The trailers have been out for a while, and they look great. Everyone in the cast (Robert Pattinson, Zoe Kravitz, Paul Dano, etc.) looks phenomenal, the vibes look dark and creepy, and the almost three hour runtime all add up to make this very anticipated. The Batman comes out on March 4th, and you can already feel the great reviews coming in.
Dr Strange in the Multiverse of Madness
Everyone and their grandmother's dog's best friend has seen Spiderman: No Way Home and probably the same number of people are excited to see the second Dr. Strange movie. It will continue storylines brought up in both WandaVision and Spiderman No Way Home, and could potentially have cameos from new/old Marvel characters. From the trailer, it seems insane with the multiversal and horror themed plot lines, and of course really good. If you're a fan of Sam Raimi's Spiderman movies, then you are in luck, because Raimi is directing it. This movie really has everything going for it, and you can bet the theaters will be packed on May 6th.
The Bob's Burgers Movie
A sillier addition to the list, iconic TV show Bob's Burgers is getting a movie adaptation. Coming out on May 27th, the film is about a giant sinkhole that opened up in front of the restaurant, causing potential doom. The Bob's Burgers Movie will be a fun time full of laughs and cheer. If you're a fan of the show or just need a giggle, this movie is for you.
Don't Worry Darling
The first real horror/thriller on the list, Don't Worry Darling will come out on September 23rd. It will be Harry Styles first lead acting credit, Booksmart director Olivia Wilde's second film, and another starring role for Oscar nominee Florence Pugh. The hashtag #Dontworrydarling already has over 200 million views on TikTok and people cannot wait to see it.
Spiderman: Across the Spider-Verse Part One
The sequel to 2018's Oscar winning movie Spiderman: Into the Spider-Verse is coming out on October 7th. The first movie is one of the most loved animated films of the past ten years, if not of all time, and fans are just as excited for the second movie. As the title suggests, this movie is a part one, meaning a 3rd Spider-Verse film will be coming soon as well. The film will follow Miles Morales and some of the other familiar Spiderman variants, as well as new foes and heroes. If the first movie was any indicator, this movie will be fantastic.
Hocus Pocus 2
Another big sequel coming out on Halloween is the classic film Hocus Pocus. The story will follow the three iconic witches from the original film, as well as a couple new additions (Lilia Buckingham, Hannah Waddington, Whitney Peak, and Froy Gutierrez) on a new journey. Sure to be just as funny as the first one. No major plot details have been revealed, but that really doesn't matter with this being a sequel to one of the most iconic Halloween movies of all time.
I Wanna Dance WIth Somebody
In recent years, there's been a biopic for about everyone. Just in 2021 there were biopics about Aretha Franklin, Lucille Ball, Tammy Faye, Princess Diana, Venus and Serena Williams (and their dad), and the Gucci family. It's honestly shocking that just now a Whitney Houston biopic is coming out. Naomi Ackie is starring as the award winning singer and many are anticipating her to be an early Academy Award contender. If the media has taught us anything, it's that Houston had a pretty crazy life which might translate really well into movie form. It comes out right before Christmas, and you can be sure your mom probably will want to see it (if you don't).
Asteroid City
Little is known about Wes Anderson's new film, other than the cast and that filming has wrapped, but based on his track record, it will be great. From what people have heard/seen, it is described as a romantic comedy, and will be coming out in the second half of the year. The cast includes some of Anderson's regulars (Tilda Swinton, Bill Murray, and Adrien Brody), and new stars to his films (Margot Robbie, Scarlett Johansson). With a stacked cast and a talented director, this movie is anticipated for a reason.
Babylon
Heralded as an early frontrunner to win best picture, Babylon is Oscar winning director Damien Chazelle's (La La Land "and Whiplash) new film about classic Hollywood and the times of silent films. Babylon has a fantastic cast, starring Margot Robbie, Brad Pitt, and Tobey Maguire. With the overall concept, cast, and director people are very excited to see what happens in this, and they obviously think it will be good.
Of course there are more movies coming out, but these are just some of the films that a lot of people are hyped to see. With those mentioned and more, 2022 is going to be a great year for film and for everyone who loves watching them.
About the Contributor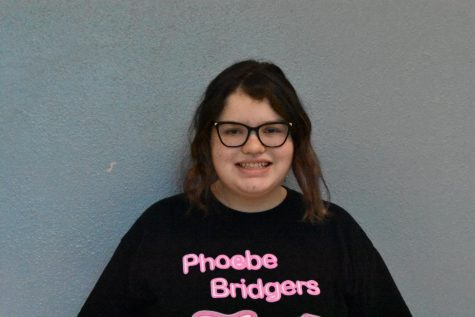 Raya Isenstein, Staff Writer
Raya Isenstein is a freshman at Lafayette High School. She is involved with the theatre, as well as writing for The Times. She is interested in pop culture,...