LADY GENERALS SPARKLE IN SENIOR NIGHT SHOWDOWN
The Lafayette Lady Generals had a dominant showing last night against the Bryan Station Lady Defenders, coming away with a 66-50 win. Lafayette grabbed the early lead and held it for most of the first quarter, but a 15-4 run in the second quarter by Bryan Station gave the Lady Defenders the lead with 2:08 left in the half. After a free throw from Anaya Brown, Olivia Cathers put the Lady Generals back ahead 27-26 thanks to a layup seconds later, and the Lady Generals never conceded from that point.
"I am overjoyed that things are coming together right now…things seem to be clicking like they need to right now," commented Lafayette head coach Allison Denton postgame. Denton said that her primary focus all season has been getting her team ready for the postseason.
"We still have a lot of things we can always improve on, but the emotion at the end of the season- there's always extra adrenaline, extra focus, and extra energy put into it. Tournament time is a lot of fun, and these girls have experienced it before, so they're ready."
Last night's Senior Night was also filled with lots of emotion.
"Last night was really special for Lauren Walton- to get out there and score her first two points on the court. It was emotional for her, but I told her that her best basketball is yet to be played. She's got a lot to look forward to with that," continued Denton. Walton has missed the entire season due to an ACL tear.
Lafayette's two senior stars— Olivia Cathers and Anaya Brown, also had fantastic nights on the hardwood. Brown had 22 points and 9 rebounds, while Cathers had 13 points in addition to snatching a game-high 11 rebounds to complete the double-double. Senior Cat Jacobs also added seven points in a start to round out the night.
"It's kind of surreal. All of the hard work we've put in over the course of five years for most of these seniors all coming together— we're all focusing on one goal and that's winning regionals this year," said Cathers. "We hit a slump in the middle of the season, and for us to get out of that and deal with injuries and other circumstances throughout the year [has] really made us grow as a team."
From here, Lafayette will compete in the 43rd District Tournament to qualify for the 11th Region Tournament, with the winner of that qualifying for the KHSAA Girls Sweet 16 State Tournament. The Lady Generals will play the winner of Tates Creek and LCA on February 23 at 6 PM at Lafayette High School.
About the Contributor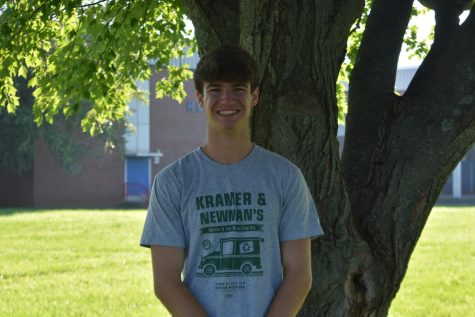 Josh Smith, Editor in Chief
Josh Smith is the Co-Editor-in-Chief of The Lafayette Times. Before heading The Times, Josh spent two years as the lead sports reporter. He has four younger...