The Evolution of Makeup
Just as fashion trends come and go, makeup trends are constantly evolving. Over the past 100 years, society has changed its idea of what the ideal face of makeup looks like. We also have evolved our technology, so the type of makeup has changed in a positive way, with more advanced makeup products and new skincare tools.
Between 1900 and 1910, makeup may have still been a questionable subject, but most women did something to enhance their personal beauty: Glossing lips, rouging cheeks, and powdering skin were performed by most young women on a daily basis. The reasons for makeup had little to do with advancing feminism. The classic 1920s makeup look has a smooth, natural complexion with a rosy cheek. Lipstick created a dainty lip shape, and thin eyebrows. Women wore obvious makeup during the day.
The classic 1950s makeup look consisted of red lipstick, with obviously made-up yet elegant eyes. It was essential to emphasize eyes while retaining a natural glamor. Eyeliner and mascara created the definition of the eyes. Eyeshadow was simple, with only one color worn. In the 1970s black mascara, black eyeliner, and shimmer eye shadows made the eyes very dramatic.
During the late '70s, softer looks became more fashionable and replaced powders with soft foundations that provide sheer coverage. The eyes are kept neutral for daytime with mascara used on the top and bottom lashes.
As we get into more relevant styles in makeup, the 80s makeup bag contained a tube of paste-like cover-up, a bottle of heavy foundation, a pressed-powder compact, eye shadow (in an array of luscious colors), a few eyeliner pencils (blue, purple, teal), a couple of blush compacts, an entire mascara collection, and a bunch of bright lipsticks in shades of bright, bold colors.
There are many great makeup looks from the 90s that we still want to recreate today and others that we would rather forget. Grunge eyeliner on the bottom and upper lash lines were popular, creating a messy yet edgy look. The 2000s makeup trends were very distinctive, think heavy pink blush, ultra-thin arches, body glitter, and high-contrast lip liner. Between 2000-2020 we see a lot of sequins and glitter come into play as well as gloss and shiny lips take a stand to the trends.
Currently in 2022 we see trends being influenced from social media. The soft, diffused eyeliner trend bumped liquid liner from the top spot of popular eye makeup trends this year. Overall, eye makeup in 2021 was less about sharp, precise cut creases or bold cat eyes, and instead more about soft, seamless shadows and lots of blending. As we see makeup trends have evolved drastically. From being bold and colorful to enhancing personal beauty. What will the next generation's makeup be?
About the Contributor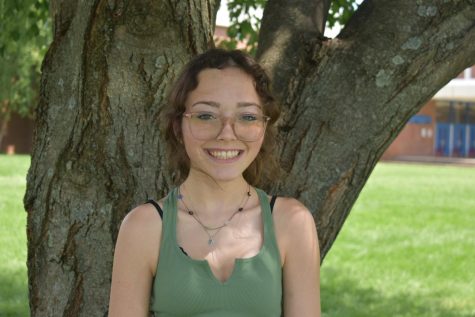 Addison Trimble, Staff Writer
Addison is a junior at Lafayette. This is her second year in journalism. Addison loves to
read and write, mainly fictional and opinion pieces. She has...