Best Summer Jobs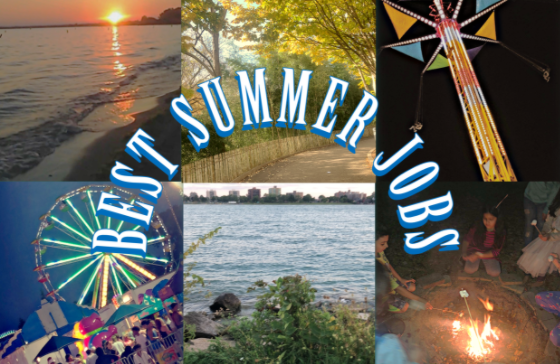 The most common time for teens to get a job is during the summer. Teens want to make money so they can do more things with their friends. They have more time to work since schools are out. Also, they may be bored with nothing to do around the house. Overall, summer is the best time for teens to work and make some extra cash. So, what jobs are the best for teens during the summer?
The first job that comes to mind for most teens is to be a lifeguard at your local pool. Lifeguarding is a fairly easy job once you go through all the necessary training. Working as a lifeguard gives teens a great opportunity to get a tan and hang out with your friends while still making some money, as long as you continue to do your job. The youngest you can be to become a lifeguard is 15 years old. You will also have to complete a swim test, have the right mindset, and be ready to save lives. However, if you do not feel like you would be the best qualified lifeguard out there, don't fret. You could still work at the pool. Maybe at the concessions or even in the front, welcoming all the guests. Overall, it would be a great opportunity for teens to work at their local pool during the summer.
Another popular job for teenagers to work is at an ice cream shop. During the summer ice cream shops get a lot of business due to the summer heat and kids being out of school. There are many different ice cream shop options if one doesn't work with your schedule or if it is not close to your house. The most popular ice cream shops include Baskin Robbins, Cold Stone, Orange Leaf, Dairy Queen, Graeter's, Bruster's, Crank & Boom, and many more. Working at an ice cream shop may have more hours than intended for a week in the summer, but it would give you a higher paycheck and more opportunities for when you do go out.
What if you don't want to go out into the world and apply for a job? No worries, as babysitting is always an option. Babysitting can vary in price on how long you work and how many kids you are watching. Babysitting can be fairly easy depending on if you know the family and their kids. However, you may not know any families with children who need to be watched for an extended period of time. If that is the case you can post things on FaceBook and different babysitting websites such as Care.com, Urbansitter.com, and more which you can find on healthline.com/health/best-babysitting.
Before you start applying for any of these jobs however, you need to know your interview etiquette. Interviews are one of the most crucial parts of any sort of job. This is when your employer meets you and gets to know how you work with others and how you would be for the job. But, how do you know if you're ready for an interview? The first step is to go over any common questions that are asked at most interviews. These include, "What makes you qualified for this position?", "Do you work better independently or as a team?" and, "What is one skill you have that sets you apart from other employees?"
After going through these questions, think on your own that you think they would ask. The next important thing is to be aware of your body language during the current interview. Meaning, no slouching, no fidgeting, maintaining eye contact, and presenting genuine interest.
As always, be yourself and make sure you are doing the thing that makes you happy. Interviews and trying for a new job can be scary and stressful, but think of the outcome. Working during the summer gets you extra cash and new friends along the way. Have fun and keep your summer bright.