LADY GENERALS SURVIVE OVERTIME SCARE, ADVANCE TO REGIONALS
The Lafayette Lady Generals qualified for the 11th Region Tournament with an overtime win over the Tates Creek Lady Commodores, 55-53.
After a scrappy first half ended with the Lady Generals down by three, Lafayette went on a 14-2 run to end the third quarter up by six, 38-32. However, Tates Creek answered with an 11-1 run, and neither team led by more than three for the remainder of regulation.
In overtime, all of the points came from free throws. Anaya Brown hit two to push the Lady Generals to a 54-53 lead, which they would never relinquish over the remaining minutes of the game.
"After halftime, we knew to keep Maddie Kauffman off the three-point line… we had to rotate and communicate a lot on defense," said Brown after the game. "We had to find a man and just try not to leave anybody open… It's tournament time, everything's at stake now," she continued. Brown had a tremendous night, scoring 30 points and snatching 13 rebounds. For the Lady Commodores, Kauffman had 16 points. Joyce Mukalamsi and Ashton Harris also scored 12 points each.
"We just said [Kauffman] better not get a shot off. She didn't make a three in the second half," commented Lafayette head coach Allison Denton following the game.
Tates Creek head coach Matt Yates saw a thriller like this coming.
"We expected to be in the game, it just kinda came down to who made the last play, and we just didn't make that play," he said after the buzzer sounded. "I'm proud of [the team], if you're gonna go out, that's the way you want to go out: Fighting as hard as you can."
Not only was the game filled with electrifying moments, but a raucous Lafayette student section assisted the Lady Generals to victory.
"We don't win that game without them. Their energy brings energy to my girls, and it brings confidence… Not only does it support my girls, it demoralizes the opposing team," commented Coach Denton. "We have never, in my 23 years of coaching, had a turnout like we had tonight, even when we were in the Regional Finals, even when we went to the state tournament."
A fan was ejected for heckling a referee.
"What I said was 'Call the damn moving screen.' That is it. I mean, I was loud, and I wanted [the referee] to hear me… but it is what it is… I'm glad the administration let me stay and watch [the game] on the TV. They weren't calling stuff and I wanted them to hear it, and evidently, when I left, it turned into a foul-fest," said the fan.
The ejection occurred late in the first half. Coincidentally, there were around 20 fouls called in the second half.
"[If I could do it again] I'd probably say it again because that's my nature… I regret that it became about me. The student section was yelling my name… I didn't want it to be about me, I wanted it to be about the game, but at the same time I believe that you should speak your mind, and I spoke my mind," the fan continued.
Lafayette has qualified for the 11th District Tournament with the win. They will compete for the 43rd District Championship this Friday at 6 PM at Lafayette against Lexington Catholi.
About the Contributor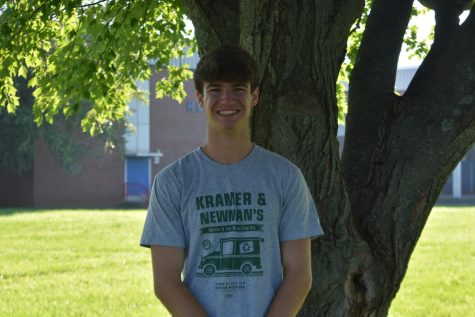 Josh Smith, Editor in Chief
Josh Smith is the Co-Editor-in-Chief of The Lafayette Times. Before heading The Times, Josh spent two years as the lead sports reporter. He has four younger...