LADY GENERALS WIN DISTRICTS; DENTON WINS 400TH GAME
After a six-year drought, the Lafayette Lady Generals have secured the 2022 KHSAA 43rd District Championship by defeating the Lexington Catholic Lady Knights 50-41.
The game started with a bang when Cat Jacobs hit a catch-and-shoot three-pointer on the opening possession for Lafayette. Gracyn Grantz scored on the second possession to give the Lady Generals a six-point lead in the first 42 seconds of the game. That six-point lead would soon swell to 12 by the end of the first quarter, as Lexington Catholic did not make a shot for the first six minutes of the game.
"We had a tough shooting night. We got some open looks on our offense, but you've got to hit some open shots and some of them didn't fall for us tonight," commented Lexington Catholic's head coach Lee Tegt after the game. "I'm proud of them because we didn't quit- we didn't quit one bit."
After a back and forth second quarter, Lafayette blew the game open with an 8-2 run in the third quarter to take a 19 point lead. The Lady Knights whittled away at Lafayette's lead in the fourth, but it ultimately wasn't enough. Lafayette never surrendered their advantage at any point in the game.
"I just had a really good feeling driving over here- I knew these kids were going to do it," replied Lafayette head coach Allison Denton postgame. "They decided to come play. Our crowd was amazing, and as soon as that first three went up, I knew it was good. I knew the next one was going to be good because our kids were doing it in the stands. They were a huge factor tonight."
The Friday night win also meant a little extra to Coach Denton, who secured her 400th win as a Lafayette coach.
"I had no idea it was my 400th win," Denton conceded. "This is what Lafayette is. There is no better high school in the city than Lafayette High School. These kids are phenomenal, and that's a testament to how much they love our girls… I could not be more proud to be a General," she declared.
Despite ending the first half with only one bucket, Katherine Truitt led all scorers with 16 points and ten rebounds for the Lady Knights. Anaya Brown led Lafayette with 12 points, six rebounds, and three blocks, while Olivia Cathers had nine points and eight rebounds in 31 minutes. Savannah Simpson and Gracyn Grantz scored 15 points together in the winning effort.
"After losing last year, this was a revenge moment. This was ours; we wanted it," commented Olivia Cathers postgame. "Having that crowd here, cheering us on- that's what did it [for us]. We carried [their] energy throughout the course of the game… Sunday we're going to come in and we're going to work hard and we're going to prepare- just like we have been the whole year. We are all so excited to be back at regionals, and this year we're hoping to get that championship win."
In addition to the win, Anaya Brown, Cat Jacobs, Tess Nelson, and Olivia Cathers also earned All-District honors.
Lafayette will continue their "Road to Rupp" Monday night in the Region 11 Quarterfinals. The game will occur at Lafayette, with the opponent to be announced.
"It's not over, and they better bring it more on Monday night," was Coach Denton's final message to fans.
About the Contributor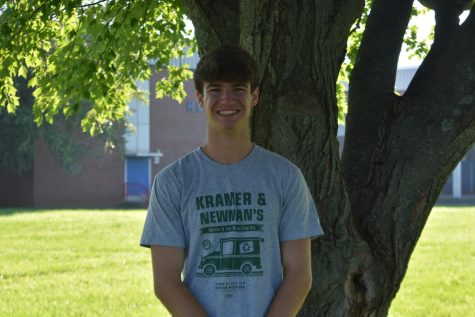 Josh Smith, Editor in Chief
Josh Smith is the Co-Editor-in-Chief of The Lafayette Times. Before heading The Times, Josh spent two years as the lead sports reporter. He has four younger...