LADY GENERALS CRUISE BY BEREA IN REGION OPENER
The Lafayette Lady Generals dominated the Berea Lady Mountaineers in the KHSAA Region 11 Girls Basketball Tournament quarterfinal Monday night, 46-26.
The Lady Generals had a brilliant defensive start. After giving up a three point shot in the first 24 seconds of the game, the Lady Mountaineers failed to even score a point for the next 14:41 of the game. The marathon scoring drought was finally broken up by a pair of free throws from Chesney Lovins. Lafayette held Berea to one shot made in the first half on their way to a 20-5 halftime lead.
From there, the Lady Generals simply pulled away. Despite a scrappy game, the lead was blown open to 20 points by the end of the game. Anaya Brown had 11 points and six rebounds in a start, Olivia Cathers had eight points and four steals, and Savannah Simpson led all scorers with a double-double: 13 points and 10 rebounds.
"Savannah played the best game she's played all year," commented Lafayette head coach Allison Denton following the game. "THE BEST game she's played as a whole- defensively and offensively… she put it together tonight, she's a baller," Denton continued.
"I got a lot of rebounds, and I penetrated inside [to] get a lot of shots," was Simpson's simple sentence about her performance. However, she had more to say about the energy the Lady Generals had before the game.
"We wanted it so bad for [the seniors], and we pray before every game. We were just hyping everybody up, and we were singing in the gym before the game," Simpson commented.
For the Lady Mountaineers, Mati Stepp led the team with 10 points. Chesney Lovins had five points in a start, but led Berea with seven rebounds. Nobody else on the Lady Mountaineers scored more than three points.
"I've gotta say, as good as [I thought] Lafayette's zone was… they pose a unique challenge that other teams in this region don't pose," said Berea head coach Damion Stepp. "Whoever [plays Lafayette in the Regional Tournament] will have to contend with Lafayette's zone, and tonight just wasn't our night, we just couldn't solve it," he continued.
Stepp was also appreciative of not only Berea's student section, but Lafayette's as well.
"Over the long haul, women's basketball is certainly on the rise, it's moving in the right direction… I have to commend Lafayette for their support of girl's basketball… [Lafayette] does it the right way, your fans and community support were certainly a force to contend with throughout the game as well."
Lafayette will battle Henry Clay in the KHSAA Region 11 Semifinal on Thursday, March 3rd at McBrayer Arena at Eastern Kentucky University's campus. The game is set to tip off at 6:15.
"[Principal] Jacobs already has buses ready to go to Richmond… if I could feed [Lafayette's student section] I would. I love 'em. As big as that crowd was, they need to bring it more, they need to be louder at EKU and they need to have the support that they've always had for us," was Coach Denton's final message to fans Monday night.
About the Contributor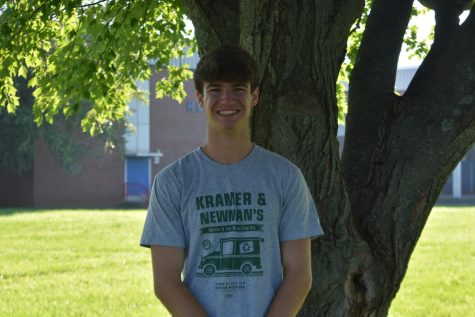 Josh Smith, Editor in Chief
Josh Smith is the Co-Editor-in-Chief of The Lafayette Times. Before heading The Times, Josh spent two years as the lead sports reporter. He has four younger...