BROWN'S 23 POINTS LIFT LADY GENERALS TO REGIONAL FINALS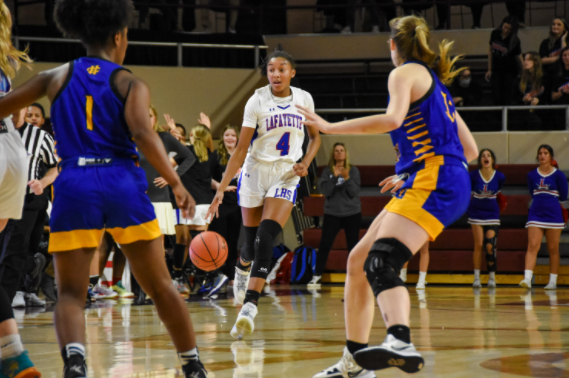 For the second year in the row, the Lafayette Lady Generals have advanced to the KHSAA Region 11 Finals, this time with a 38-33 triumph over Henry Clay. Lafayette star and UT-Martin signee Anaya Brown guided the Lady Generals with 23 points, eight rebounds, and seven blocks.
No, that was not a typo. Seven. Blocked. Shots.
"[I] just moved my feet and stayed straight up on defense," commented Brown.
Lafayette stumbled out of the gate, allowing five consecutive points to start the game. Nonetheless, the Lady Generals took control and answered with a 7-0 run to take a 7-5 lead. The first quarter was back and forth, concluding with a Tess Nelson midrange buzzer-beater to put Lafayette ahead, 16-13. That lead would stretch into a 26-20 lead by halftime. Anaya Brown had 16 of the Lady Generals' 26 first-half points.
"She said she was gonna put [the team] on her back and go," remarked Lafayette head coach Allison Denton with a chuckle. "So what can you do? A little bit of experience out here helps. Makes my job a lot easier," she continued.
Experience would become a critical factor, as the Lady Blue Devils held Lafayette scoreless for most of the third quarter to start the fourth quarter down by only one point: 29-28.
"We're young. It's a learning experience. Kudos to Lafayette because they've been here before, so they have kids that understand [the environment]," commented Henry Clay head coach Ashley Garrard. "I have kids [that haven't] experienced this. So this is new for them- learning the environment."
Lafayette fostered a 7-0 run to take a 36-30 lead late. The Lady Blue Devils pulled within three- but failed to overcome the deficit when the buzzer sounded.
"We had a lot of wide open shots that we couldn't knock down… It's about making the little plays," said Garrard. "We missed four crucial layups, and [committed] turnovers at crucial times."
The Lafayette student section–The Regiment–has been essential to the team's postseason success. They swayed the game in favor of Lafayette Thursday night.
"I mean, they gave [Lafayette] energy," commented Henry Clay's Lydia Vanmeter postgame. "It's really embarrassing. We [didn't] have one person [supporting us], and I mean, it's ridiculous," she lamented. Vanmeter led the Lady Blue Devils with 10 points, while Kennedy Williams had nine.
Players weren't the only ones frustrated.
"The student section rocked," commented Garrard. "Kudos to them, kudos to [Coach Denton]… I think it's sad [that Henry Clay lacked a student section]. At least [Lafayette] still has school spirit. I mean, I don't know where my student section was," commented Garrad.
Once again, Coach Denton was delighted to see fans in the stands.
"Phenomenal. When those kids came in, the looks on Henry Clay's faces- it was like the blood was drained out of their face. Depleted," said Denton with a smile. "We don't win this game if they're not there, I'm not kidding… If we didn't have them backing us and cheering us on, I don't know if we could've done it. I'm serious."
Now, the only beast standing between Lafayette and a trip to Rupp Arena is the daunting Franklin County Lady Flyers. The Lady Flyers snatched the Region Title from Lafayette last year. The title tilt is set to tip-off this Saturday at 5:00 at Eastern Kentucky University's McBrayer Arena.
About the Contributor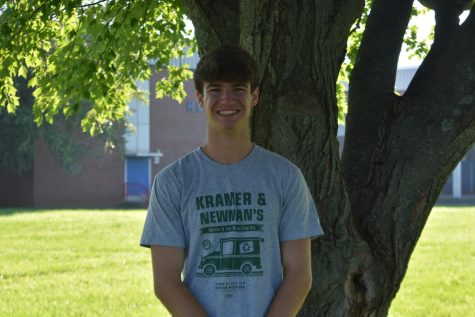 Josh Smith, Editor in Chief
Josh Smith is the Co-Editor-in-Chief of The Lafayette Times. Before heading The Times, Josh spent two years as the lead sports reporter. He has four younger...