Lafayette Track and Field Debuts at the UK Invite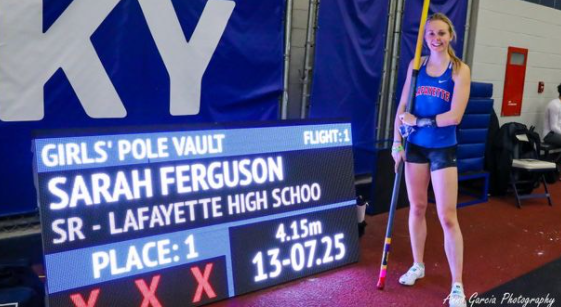 On February 19, Lafayette Track and Field brought ten athletes to their first meet of the 2022 season, hosted at the University of Kentucky. Facing off against some of the best competition in the country, such as Cade Flatt from Marshall, and Jimmy Mullarkey from Fern Creek, the team performed extremely well. Multiple records were broken, and many more were left ready to be surpassed.
Lafayette had a great start, led by Javon Adams and Holland Kantar in the Triple Jump, and Sarah Ferguson in the Pole Vault. Adams won the event with a new school record of 44'7" and Kantar set a personal best of 30'11.25". Ferguson broke her own school record with a 13'5.25", securing her victory and ranking her fourth in the nation. Both Adams and Kantar went on to compete in the 60m Hurdles, finishing in 8.99 and 10.46 seconds respectively.
Lafayette's Distance team was kicked off by freshman Sophia Cahill in the mile, setting a personal record of 5:45.83. Next up, Daniel Whitaker ran the 800m race, setting a school record and personal best of 1:59.00. The individual races were finished off with Morgan Remley and Madeleine Lepley in the Two Mile, running a close 12:54.75 and 12:54.99 respectively. Finally, the running events were closed out by Lafayette's 4x800m relay team, consisting of Reed Richardson, Keisuke Kikumoto, Bryant Carpenter, and Daniel Whitaker. The final time was 8:53.21.
Lafayette ended the meet with one of the best competitions in school history. Their next meet will be in Louisville for the indoor state meet. The next step is getting ready for a great outdoor season, facing off at some huge events, such as the Eastern Relays and the State meet at the end. Lafayette has only good things yet to come, and we could not be more excited!