LAFAYETTE FOOTBALL'S HEAD COACHING DEBACLE
Disclaimer: This article was edited on March 12, 2022, for accuracy.
Less than a month after being announced as the next Lafayette head football coach, Ethan Atchley has stepped down from the role, citing personal reasons.
WHAT HAPPENED
Per Principal Jacobs, Atchley's exit began shortly after his arrival.
"About a week after we did the press conference (Conference occurred January 27), Mr. Atchley called me and said there were some things that had been going on personally. He didn't elaborate on a lot of the details, but he was having second thoughts about taking our position," detailed Jacobs during the interview. "I said 'I'll give you a little bit of time, because I don't want you half in; I need you all the way in….' He said it would take a little bit of time but would give me an answer quick… [A week later] he said 'Mr. Jacobs, I don't want to give you a lot of the details, but I'm not in.'"
Atchley confirmed his resignation with a letter to Principal Jacobs and other media outlets, which was obtained by the Lafayette Times on February 25. The full letter is below:
Principal Jacobs and the Lafayette Football Hiring Committee,
I want to begin by expressing my appreciation for the opportunity to interview, and your recommendation to have me lead your historic football program. After much discussion with my family and loved ones, I regret to inform you that I am withdrawing my name from consideration for this position. This is a personal decision and one that was not taken lightly. I would ask that you and your school please respect my family's request for privacy during this time.
The appreciation Emily (Atchley's Wife) & I have for Lafayette is immeasurable. I stand by what I said during our initial meeting, regarding my feelings for Lafayette High School and the people that make up your community. Your school is full of amazing students, teachers, and leaders, and I know this decision will not change the relationships I forged with your school community years ago as a brand new teacher. I think the world of General Nation, and wish you all nothing but success in finding your next football coach.
I do not know what the future holds for me, but I have faith there is a plan. Thank you again.
Sincerely,
Coach Ethan Atchley
Atchely was contacted by the Lafayette Times for comment, but did not respond to either request.
For the 2022-23 football season, Lafayette has named Associate Athletic Director Jon Lawson as the Interim Head Coach. Lawson, who has been involved with coaching a number of Lafayette sports over nearly the last 20 years, met with families on March 2, and spoke with the Lafayette Times on March 4.
"At the parent meeting, the [main] things I expressed were that we are going to be more disciplined, we are going to be a hard working team, we're going to have a lot of integrity- we are going to lead the school and this community based on how we act," Lawson described.
When asked about the interim status, Lawson seemed to be much more focused on what stands in front of him, rather than what lies down the road.
"I'm excited for the opportunity I have right now. I have a lot on my plate at this point- to try and get things worked out, so I'm just going to take this season, run with it, look forward to what's going on; what's next, and have fun while I'm doing it," he expressed.
"[Rebuilding] starts with being a good-charactered individual. It starts with being somebody who can make the best version of themselves. Part of what I want to do is to make sure these individuals are the best versions of themselves, so my expectations for each one of these young men has something to do with how their life is going to lead long term. Football is just extra," commented Lawson about the task of rebuilding.
THOUGHTS
Yikes.
It's never good to see your new head football coach step down before a single snap is taken. However, if Lafayette wants to rebuild the program, it's going to have to start with a culture change. While Atchley failed to fit the mold, I am very excited to see Coach Lawson prioritize character and culture.
Sure, you can't win a game without X's and O's. You can't win a game without talent or good coaching either. While it will certainly take more than character to get back in the win column, we will never win another football game until we are able to get 110% out of every person on the field.
Lawson is a man that lives and breathes Lafayette, and while the word "Interim" does lie before his name this season, I am confident that it won't affect his performance as a coach. I still don't expect Lafayette to end the season at Kroger Field, but building a rich culture and putting the pieces together for our 2023 Head Coach to hit the ground running is one of the best things we can do.
In Coach Lawson we trust.
Go Generals.
About the Contributor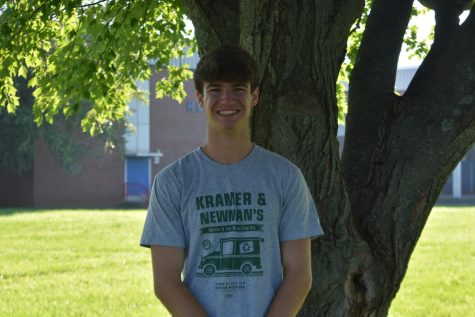 Josh Smith, Editor in Chief
Josh Smith is the Co-Editor-in-Chief of The Lafayette Times. Before heading The Times, Josh spent two years as the lead sports reporter. He has four younger...