LADY GENERALS PUMMEL LADY EAGLES: 15-0
Fresh off their seven-game road trip to Gulf Shores, Alabama, the #8 Lafayette Lady Generals Softball Team returned in dominating fashion, trouncing the Madison Southern Lady Eagles 15-0 in only four innings.
After retiring Madison Southern's first four batters, Lafayette got the early jump at the start of the first inning thanks to outfield shots from Kalleigh Brooks and Madison Johnson. Nora Mack continued the rally with a shot to the centerfield wall, and after batting through the entire lineup, the Lady Generals were up 6-0 at the end of the first inning.
From there, starting pitcher Trinity Bridges took over. On her way to a no-hitter, she struck out the side in the second inning and retired each batter that came her way in the third and fourth inning before the Lady Eagles were finally down for the count, succumbing to the mercy rule.
For Bridges, it was simply a matter of having fun.
"I went in there thinking 'Just have fun'," commented Bridges after the game. "[I was thinking] 'I'm not going to be perfect, I'm just going to go out there and have fun and be there for my teammates."
The Trinity Bridges clinic continued in the third inning when she blasted a 220-foot bomb to left-center field to extend Lafayette's lead to 13.
"[The pitcher] left [the ball] over the plate and Trinity really made her pay for that one," said Lafayette head coach Dan Grantz after the game.
"She's been swinging the bat well lately and I'm really proud of her and her effort there, especially with baserunners on."
Coach Grantz was most proud of the energy and effort from the entire team on Monday night.
"People take [the] dugout for granted. Since that's been a focus for us, our girls have really rallied and helped keep the energy up, both on the field and off the field. So they don't let their spirits get down, girls are picking each other up and being positive, and that mindset is a winning mindset. I love it, they really brought the energy today and I'm impressed with them."
In the beatdown, there was no shortage of hitting for Lafayette. Eight Lady Generals scored at least one run, and seven Lady Generals had at least one hit. Bridges led the way with three hits, while Aniyah White and Nora Mack had two each.
Lafayette will return home Thursday night for the first installment of the Battle on Clays Mill against Dunbar on April 7. Both games will start at 6 PM.
About the Contributor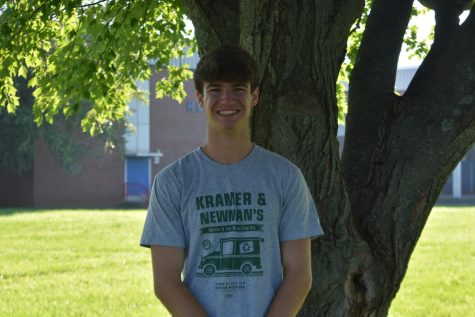 Josh Smith, Editor in Chief
Josh Smith is the Co-Editor-in-Chief of The Lafayette Times. Before heading The Times, Josh spent two years as the lead sports reporter. He has four younger...