Three New Movies to Watch This Fall
Fall break is just around the corner, and what better to do than sit back, relax and enjoy a good movie? With so many great movies already released this year, it's no surprise that this fall's lineup of amazing movies will be no different. This new school year has already come with some great movies like Top Gun: Maverick, which is already grossing an astonishing $1.4 billion worldwide, and Minions: The Rise of Gru, with a smaller but impressive $900 million worldwide. So, grab your popcorn and get ready for my top three movies to watch this fall:
Do you like the idea of the multiverse? Then Everything Everywhere All at Once, starring Michelle Yeoh and Ke Huy Quan, is the perfect movie for you. This beautifully confusing and unpredictable masterpiece of a movie has been able to secure an IMDb rating of 8.2 and a 95% critics review and an 89% audience review on Rotten Tomatoes. This movie follows Evelyn Wang, a Chinese immigrant who runs a laundromat and is dealing with a failing marriage, some major financial problems, and a midlife crisis. One day at a meeting with their IRS auditor, Deirdre, played by Jamie Lee Curtis, some strange things happen to Evelyn that send her on a journey to discovering a multitude of other universes where she lives different, better lives. This movie has the perfect mix of action, suspense, and just the right amount of comedic relief, with some of the funniest scenes I've ever seen.
This wouldn't be a fall movie list without a scary movie for Halloween, and Nope is just the right one for the job. If you scare easily, I recommend you stay far away from this movie as it is the fourth film in Jordan Peele's amazing horror collection, including movies like Get Out, Candyman, and Us. Nope, starring Daniel Kaluuya and Keke Palmer, has earned a rating of 7.0 stars on IMDb and a Rotten Tomatoes score of 82% and has already grossed over 160 million dollars worldwide. Nope follows brother and sister OJ and Emerald Haywood, who run a black-owned horse ranch in Hollywood that has just been handed down to OJ after his father tragically died due to unexplainable events. After OJ's first movie audition goes wrong when his horse has a freakout on set, he and his sister Emerald start to have some creepy close encounters with unwanted neighbors of the third kind.
Unless you've been living under a rock for the last few years, you probably have heard the name Elvis Presley, and you might have also heard about the new hit movie/biography about "The King" himself, called, you guessed it… Elvis. Starring Tom Hanks and Austin Butler, Elvis is currently sitting at a respectable 7.5 stars on IMDb and an audience review of 94% on Rotten Tomatoes. The film has grossed an impressive 280 million dollars worldwide. Elvis is a movie jam-packed with nostalgic songs, including Hound Dog and Can't Help Falling in Love which are both introduced with an astonishing recreation of an Elvis Presley performance in which Austin Butler's lip singing is almost indistinguishable from a real performance. This movie follows the lives of both Elvis Presley and the man who discovered him and later became his manager, Colonel Tom Parker. Elvis is the longest movie on this list at two hours and 40 minutes, so you better get ready for the long hall, because once you start watching this, you won't be able to turn it off.
If you're looking for a movie to watch, then I'm sure there is something here for you, whether you are looking for a movie that you can cry to, or something that can get a real scare from, I highly recommend watching one of these.
About the Contributor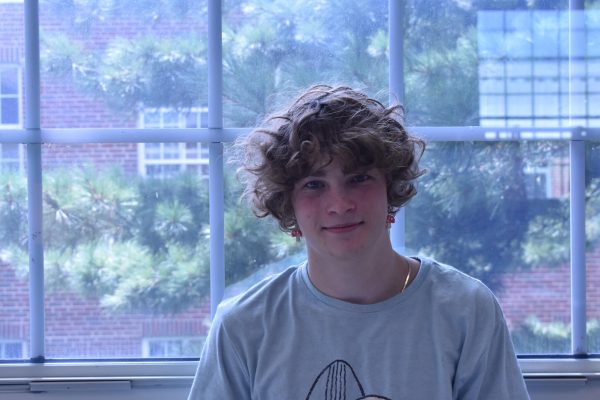 Isaac Critchfield, Photography Editor
Isaac Critchfield is a sophomore at Lafayette High School enrolled in the SCAPA program, majoring in visual arts. This is Isaac's second year in Journalism...