The Old Man and The Old Moon: Behind the Scenes
For this year's fall play, the Lafayette Theatre Program performed The Old Man and The Old Moon. This play was about an old man whose job was to fill the moon with light, because the moon had a crack and leaked light. After the old man's wife feels called to adventure and leaves without telling him, the old man has to go on his own adventure to find her. The Moon becomes more dim by the day because the old man is not there to fill it. As this happens you see the good times, and struggles throughout his adventure.
The Lafayette Times conducted an interview with Mrs. Kisling, the Lafayette Theatre Director, several weeks ago during rehearsals. Despite the program only holding four performances of The Old Man and The Old Moon, months of preparation went into performing the show.
Times: Do you feel like your time has been well managed with the deadline of the play and the work that has been or needs to be done?
Kisling: "Ooooh, there's always more work that needs to be done, but the cast has worked really hard. We have students who've learned entire instruments that they've never played before. We have singing that we've learned, as well as the play and blocking. It's also a very movement-based piece that has a non-literal set. So the movement of all of that… it's been a lot, but they have definitely risen to the occasion."
Times: How has the show improved since the first rehearsal?
Kisling: "The first rehearsal is just the read through right, so it's everybody getting excited, and then we go into the blocking process, just like learning staging. Then they get off book, and now we are really diving into 'why are you saying that, what does that mean, what is the context of that line?' As well as all of the logistics."
Times: What challenges have you faced so far?
Kisling: "In this play there are moments where it says things like, 'Via theatrical sequence, another ship is created, two rebels are on board.' Like well, here we go let's figure this out, but the coolest part is seeing them (the cast) kind of figuring out how it all works."
Times: What are you most excited about for this play specifically?
Kisling: "Oh, seeing it! I'm excited to see it come together because right now it's in that like, when a baby starts to kind of walk and they get really confident and then they fall on their face. We're in that phase right now, which is very normal. But the good news is babies are bouncy and they get right back up and they keep going. And there are tons of times where we go back and fix this moment or do this thing, so yeah I'm excited to see it come together and become a full grown toddler that doesn't stumble."
The Times also spoke with three theatre students and performers, William Briggs as Perry, Ayla Nelson as Barley, and Nora Mack as Soloman.
Times: How have you seen improvement among yourself and others during rehearsals?
Ayla: "I think we've all grown to learn our characters better, which has helped us get more into the play, cause it's kind of a funky little world. So, I think seeing all of the different sets and props, and how we are making everything happen has really helped us dive into those characters."
Times: Are you nervous about the time you have to perfect the play before it is performed?
William: "Yeah, even though we repeat the show tons of times, over and over, there's still a big fear that you're going to mess up and something is going to go wrong. And usually at least one thing always goes wrong."
Times: Mrs. Kisling said she was most excited about seeing the final result of the play when it is over and being able to watch it. What are you most excited about for this play?
Nora: "Oh for sure, definitely that. I want to see it all come together, all this hard work that we've put in. The fact that we're going to be staying at school until 7:30 for a week."
William:" I just hope the audience likes it and it's not just dead silence the whole time. Hearing the audience's response is one of the biggest reasons I do theater, and I'm sure a lot of people do theater."
Mrs. Kisling, Ms. Gorrell, and all of the students in theatre worked hard to put together this year's fall play and have greatly appreciated all of the support. If you haven't seen the play, make sure to check out Lafayette Theatre instagram to see behind the scenes photos of the play and images of all the people who have worked hard to make this wonderful form of art.
About the Contributor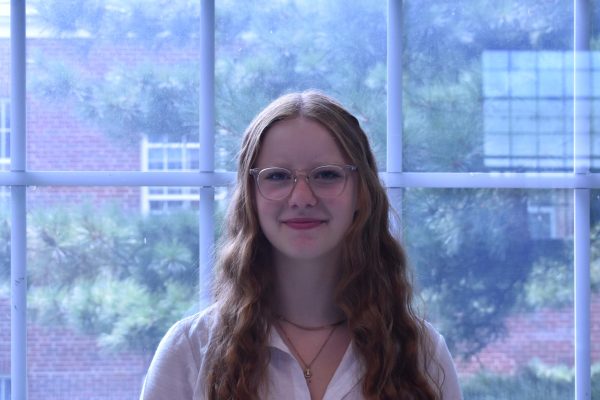 Mirabel Anderson, Staff Writer
Mirabel Anderson is a sophomore at Lafayette and is writing for The Times for a second year. Her favorite genre of articles to write are arts and features....