LGBTQ+ Pride
For the past three years, I've been trying to figure out who I am. Coming out to the world is difficult. There is a lot of judgment in this world that I and others struggle with.
With coming out, you have to worry about who will support you or who will judge. Nowadays, schools are filled with children that are a part of the LGBTQ+ community.
Here at Lafayette High School, I know many amazing people who are a part of the LGBTQ+ community, and we are judged by some and accepted by some.
LGBTQ+ people should be treated as who they are, just like others who are not LGBTQ+ are treated. We shouldn't have to feel different about who we like. As we continue throughout the years, it gets tougher and tougher, and us LGBTQ+ community will always be looked at as people who date the same gender and never looked at as normal. There should be changes in this world where LGBTQ+ shouldn't worry about judgment. We aren't even allowed in certain countries because of how different we are looked at–no matter if you are trans, lesbian, queer, gay, bisexual, etc.
In Lafayette High School, some LGBTQ+ students don't feel as welcome. We should help students come out and express themselves and at least show their sexuality at school if they can't do that around their home. To make LGBTQ+ people more accepted in schools, we should put up supportive posters, stickers, etc. We need to start standing up to homophobia. Being homophobic shouldn't be acceptable.
As members of the LGBTQ+ community, we should start making changes in this world, be more upfront with what we allow, and stop caring about what others think.
In our current world, more generations will come, and I hope there will be more freedom within the LGBTQ+ community. I want to feel a change. I want others to feel a change. I don't want to see anyone struggling anymore. There needs to be more representation like clubs or posters around the walls here at LHS to make the LGBTQ+ community feel more welcomed.
My name is Nevaeh Gray. I'm a student here at Lafayette High School, and I wrote this story for people to be aware it's okay to love who you love; if you ever need help, we have wonderful staff members you can talk to. You can always feel comfortable around me. Talk to me if you ever see me. Here at LHS, we want you to feel comfortable being at school.
About the Contributor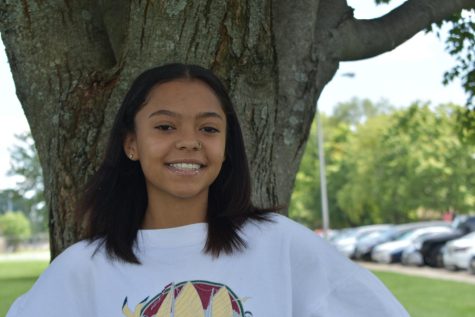 Neveah Gray, Staff Writer
Nevaeh Gray, a student at Lafayette high school, is a very caring person with many great personalities. A story writer for Lafayette's journalism class....