Activities for Fall Break
Fall break is right around the corner. Students will get a full week off this year instead of the usual three days. For the 2022 school year, fall break will be the week of October 3rd through the 7th. Here is a list of fall activities you can check out over break!
Check online for local fall festivals. Bi-Water Farm and Greenhouse in Georgetown, Kentucky, is hosting AutumnFest. AutumnFest is a festival that centers around agriculture and horticulture. Guests can walk through the shop and buy plants, fresh fruits and vegetables, baked goods, and lots of pumpkins. Bi-Water Farms has a large selection of pumpkins perfect for carving, baking, and decorating. Other activities include a five-acre corn maze, Spooky FarmHouse, a petting zoo, jumping zones, and much more. Tickets range in price from $14- $25 for one-day admission.
For anyone interested in something artsier, a good indoor activity could be pottery painting at The Mad Potter. The Mad Potter provides various pottery pieces in different sizes and prices. You'll surely find something you like, from piggy banks to plates and bowls. This activity is perfect for friends who enjoy painting in a nice, calm environment.
If you're more interested in spending time at home, baking could be a good way to occupy your time. There are endless fall desserts to try, and eating them makes it much better. Some good recipes to try might be pumpkin pie, apple pie, apple strudel, and tons of other great ideas. All these recipes and so many more can be found online. You can buy a boxed mix or make them from scratch, it's up to you. Bake with a friend or by yourself; either way, it's a great way to get into the fall spirit.
And what better way to eat these desserts than a movie night? The final fall activity is one you can do anytime, with anyone. All you'll need are some blankets, pillows, and tons of snacks (Your homemade desserts would be perfect for this). Then, you have to find a bunch of good Halloween movies. For something a little less scary, try It's the Great Pumpkin, Charlie Brown or Hocus Pocus, but horror movies work perfectly too. Just throw on your favorite films and stay up late with friends or yourself! There's no wrong way to throw a movie night.
If you're a Halloween lover, you probably can't wait for fall, so I hope this list helps you get your fall started or perhaps helped you add a few things to your fall bucket list. Have a safe fall break Lafayette.
About the Contributor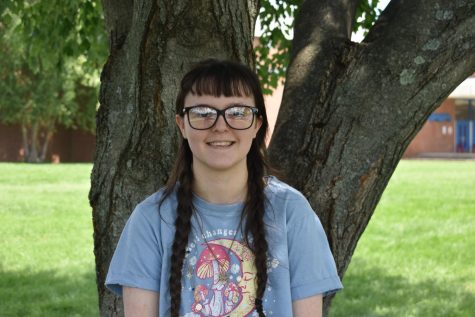 Sasha Jacobs, Staff Writer
Sasha Jacobs is a sophomore at Lafayette and a returning writer for the Times. She enjoys reading and writing both fiction and current events within the...