Halloween Safety Tips
With Halloween approaching right around the corner, parents and children are getting ready for the spooky holiday. Buying costumes, watching scary movies, eating sweet treats, what's not to love about the holiday?! With so much fun and festivities around the corner, everyone needs to stay safe while having some fun this year! Whether your plans are for adults or kids, there's plenty to learn and think about before choosing your costume, putting on makeup, and eating a bunch of candy. Here are some simple safety tips to be reminded of to help you and your loved ones stay safe for the holiday!
First and foremost, for costumes, it is recommended to wear very bright and reflective ones or reflective tape if you know you'll be out at night. This can be applied to your costume or your bag for collecting candy. This helps you be more visible and prevent accidents while crossing roads. Also, it is advised to wear costumes that are flame resistant. If you are making your costume at home, use materials such as polyester or nylon.
On the topic of crossing roads, ALWAYS put your phone away when crossing the street, and try to cross at corners when possible. Always use crosswalks and make eye contact with drivers before crossing. Ensure your costumes are short enough to prevent tripping and entanglement when walking.
If you are wearing makeup with your costume, test the makeup you plan to use at least a day or two before Halloween to ensure it will not irritate your skin. If using colored makeup, check the FDA's list of approved color additives to ensure they are safe for your skin, especially if used in spots like your eyes or around your mouth! Always check the ingredients in makeup if you have any skin allergies.
Be very wary of colored contact lenses. Always check for safety when buying them. Colored contact lenses can be dangerous, especially if not worn correctly, and have been known even to cause permanent eye damage in some extreme cases. Make sure when using colored contact lenses that they are of good quality and that the lens is intact and doesn't show any signs of chipping away or being fragmented.
For pumpkins, consider using a flashlight, glow stick, or battery-powered candle instead of lit candles. This prevents a risk of people in costumes accidentally having contact with the open flame, especially small children. If you want to use real candles, please keep an eye on your pumpkins at all times! Do not place candlelit pumpkins on your porch or any path where visitors may walk close by.
For your home, remove any objects that could be a tripping hazard for trick-or-treaters trying to get to your porch, such as large tree limbs, bicycles, etc. Sweep up any wet leaves or debris on your sidewalk and porch to prevent slipping, and most importantly, keep your pets restrained so that they don't jump or try to bite a trick-or-treater.
But who can forget the candy? Eating sweet treats is a big part of Halloween fun, but you should always wait until you're home and inspect your candy before eating it! Check for any signs of tampering, such as discoloration or torn packaging and pinholes. Throw anything away that may seem suspicious!
In conclusion, it's best to have safety in mind no matter what you're doing this Halloween. Take care of yourself and the people you're with to ensure everyone has a fun and safe night!
About the Contributor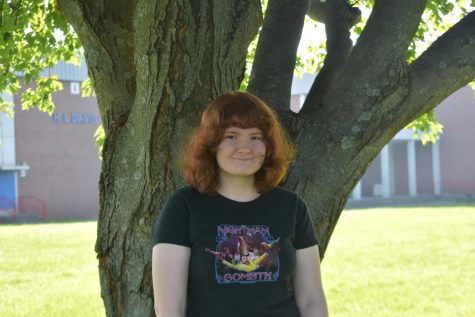 Emma Hacker, Staff Writer
Emma Hacker is a junior at Lafayette High School; she loves to draw and write and has since she could hold a pencil. She has been taking drawing classes...