Backroads Bakery Review
What Is Backroads Bakery?
Backroads bakery is a business here in downtown Lexington that sells cheesecakes, tea, cookies, and cupcakes. They also have bite-sized cheesecakes, perfect for an afternoon snack or a breakfast treat. It is owned and operated by Ruth Ralph.
What Is Her Story?
Ruth started as a baker at Backroads in 2019. When the original owner decided to close the shop, Ruth convinced him to sell it to her.
It was a long-standing dream of Ruth Ralph to create a homely cheesecake and tea shop to bring to life some of the tastes of her home state. Where the kindness and hospitality of small-town Kentucky can shine bright in the city lights, this was the foundation of Backroads Bakery.
Her passion is exploring our countryside's unique flavors and creating edible art for all to enjoy. Cheesecakes are handmade with locally raised eggs, fresh fruits, and love.
​It has been a long, strange trip through unforeseen and unpredictable times throughout those thirty years that Backroads Bakery is open. She thanks and appreciates everyone for the love and support and those friends she has yet to meet. You should check out this bakery because there are many flavors,
Are Their Baked Goods Affordable?
They are pricey. For example, the cheesecakes range from $20 – $58 for three slices of cake or a full box. Their cupcakes are $36 each for one cupcake. That is a lot of money for one cupcake. The cookies are $26 for a dozen cookies. Lastly, the small cheesecakes are around a smaller price of $8. As you can see, you would spend more than you would like, but in the end, it's worth it because it is delicious. Backroads Bakery also has an area where you can sit, drink tea, eat small cheesecakes and work on schoolwork.
Here is a sampling of their menu:
Vanilla with optional fruit toppings – cake layered cheesecake, red velvet, German chocolate, strawberry shortcake, carrot cake, brownie, gingerbread.
Floral- honey rose, lavender honey, lavender lime, lemon hibiscus, lemon basil, honey ginger
Rich flavors – triple chocolate, chocolate orange, hazelnut, rose peanut butter, buckeye, black forest, cookies and cream, cookie dog, cappuccino, snickers, Butterfinger, salted caramel, turtle, almond joy, Andes mint.
Fruity – pineapple mango, mango honey, white chocolate raspberry, blueberry trestle, black cherry, cherry almond, orange creamsicle, lemon curd, blueberry lemon, apple crumb
Signature- maple bacon, matcha pistachio, masala chai, honey ginger, pumpkin praline, sweet potato, pumpkin pie, peppermint, bark birthday cake, tiramisu, basque burnt
Seasonal availability – Paw Paw fruit and black walnut, orange cranberry,
When I first walked into Backroads Bakery, I thought about how considerably calming the space was, and I was shocked by the desserts I saw. I wanted to try them all, but I could only afford one, so I bought a small cheesecake with a vanilla oreo, which was creamy and delicious.
I wanted to buy another. That day I also got a free one because it was one of a clumsy batch, and I thought it was good.
My visit to backroads bakery was a ten out of ten, and I hope others enjoyed it.
You can visit Backroads Bakery at 109 W. Sixth St., Lexington, KY 40508. It is open Tuesday-Saturday, 10 a.m.-6 p.m.
Ruth Ralph is the owner of Backroads bakery at 109 W. Sixth St., Lexington, KY. Ruth opened just before the covid pandemic had started and had a stressful time because of it but she made it through and now backroads bakery has a proud name.
About the Contributor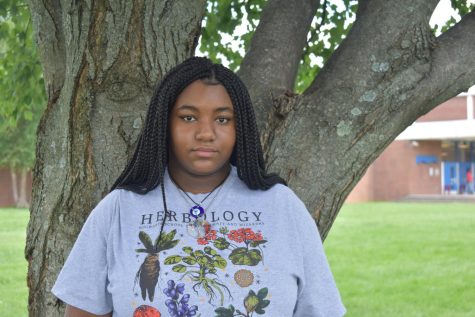 Meonna Holloman, Staff Writer
Meonna Holloman is currently a freshman at Lafayette High School. She attended the Living Arts and Science Center to learn about animals and art activities....