Which One is Better: Universal Studios Orlando v. Disney World
Orlando, Florida, is an excellent place for vacations. There's warm weather, palm trees, tourist locations, beaches, and Disney World and Universal Orlando Resort. This article will give you all the information you need to choose where to go.
Which Park is Bigger and more Accessible?
Both parks are very big. Disney World is 27,000 acres of land, while Universal is 541 acres of land. There is a significant difference between both parks. Disney World consists of four parks, while Universal has two.
Disney World's four parks are Magic Kingdom, Animal Kingdom, Hollywood Studios, and Epcot. Disney also has a vast shopping area called Disney Springs with fun things to do, such as boat rides, dining, and entertaining activities. These activities include Goofy's Candy Company, the Lego Store, the Aerophile (a giant hot air balloon ride), and many other fun things. Along with their four theme parks, they also have two water parks, Typhoon Lagoon and Blizzard Beach.
Universal Studios Florida and Islands of Adventure are Universal resort's two parks. They are in the progress of an upcoming park, Epic Universe, estimated to open around 2025. Along with Universal's two theme parks, they also have a very big waterpark named Volcano Bay. Universal has a big shopping area which is called CityWalk. It consists of stores and food and is the entrance to both parks.
Of the two, Disney World has more parks and the space to keep growing, but Universal being smaller and more compact, helps with not traveling as far. At Disney, all the parks are spread out. Disney Springs and the waterparks are far away from their four main theme parks. At Universal, both park entrances are in Citywalk, which helps with traveling and transportation. So overall, Disney gets the point for size, but Universal receives the point for accessibility.
How Much Money is it to Visit the Parks?
A big part of choosing where to go when on vacation is the price of the location. Each park has its highs and lows, but you have to see what park has better perks with its price and if it's worth it.
Disney World's daily tickets for each park are $109 for a single admission. The waterparks are $69 for a single admission. Disney Springs is free to get into and is open to the public. An annual pass at Disney World is roughly $1300, but they come with restrictions. There are multiple tiers for their annual pass, each increasing in price and perks. There are many bundles you can get to help make your trip cheaper. There is more information on ticket prices and more on their website. Disney has many more things to find out on their website that will help you plan your visit.
Universal's daily tickets are also $109 for single admission to each park. Volcano Bay, their waterpark, is $80 for a single admission. Citywalk is free to enter and open to all guests and the public. Their annual pass is roughly $325. Their annual passes also have multiple tiers with increasing prices and perks. There is more information on ticket prices and more on their website. Universal has much more information on everything you need to know to help make your trip successful.
Both price points are very similar, but it all depends on what you are looking for, how long you are going, the experiences and themed lands you want, and how many people are coming with you on your trip. Even though the park tickets are similar, Universal is a better price overall due to the ticket packages. Universal Orlando gets the point for price because of their better prices on food, hotel rooms, and tickets.
Where Should I Stay?
The tickets aren't the only thing you have to spend a lot of money on, but a place to stay can be costly, especially when going to a mainstream theme park such as Disney or Universal.
Disney World has around 40 resorts, including Disney Springs resorts and villas. At Disney, the more grand the resort, the more you pay. For example, the most expensive resort at Disney World is The Grand Floridian. But they have some affordable ones, such as the All-Star Resorts (All-Star Music, All-Star Sports, and All-Star Movies), the cheapest being All-Star Sports. There are also Disney Springs resorts with companies like Hilton and DoubleTree. Disney's resorts are accommodating and have great perks, pools, restaurants, and themed areas. One of Disney World's resorts' perks is when staying at one of their resorts, you can get 30-minute early admission into any park.
Universal Studios has eight resorts, including Hard Rock Hotel ® Orlando, Loews Portofino Bay Hotel, Loews Royal Pacific Resort, Loews Sapphire Falls Resort, Universal's Endless Summer Resort-Surfside Inn and Suites, Universal's Endless Summer Resort-Dockside Inn and Suites, Universal's Aventura Hotel, Universal's Cabana Bay Beach Resort. All of their resorts are also very well-themed, accommodating, and extensive. Universal's resorts have great perks. For example, if you stay at one of Universals Premier Resorts (One of the two Loews resorts or Hard Rock Resort), you will get a free, fast pass for every day of your trip.
Out of the two parks resorts, Universal's is cheaper, but Disney World has way more resorts. Universal's resorts get the point because their theming is just as detailed and impressive as Disney World's. Universal has excellent restaurants, reasonable prices, incredible perks, and huge resorts.
Which Park has a Better Environment?
When talking about the environment of amusement parks, it doesn't just come down to lands within the parks. When visiting parks, you want a place with friendly staff, cleanliness, and the lands that best fit your interest.
Disney World's environment is excellent and is helped by the tremendous janitorial staff and trash cans everywhere, which helps with their cleanliness. The few times I have visited, I have never seen much trash on the ground and have never been inconvenienced by throwing something away.
Disney World's staff is always accommodating and takes time out of their day to improve your day. You might think it's because it's their job, but Disney hires kind-hearted people who can improve your day.
Disney Worlds' lands include some of your favorites like Star Wars, Avatar, Toy Story, Muppets, and others. They also have different countries in multiple parks to make you feel like you're traveling worldwide.
Universal Studios has a very different environment than Disney World. They are still a very clean place, but they don't live up to Disney's standards. When walking around the park the few times I have been, I didn't see as many janitors walking around and as many trash cans. But they are still very sanitary compared to other theme parks that aren't as big as Disney and Universal.
Staff at Universal aren't as caring and passionate as Disney's, and you can see the difference in how the staff acts towards guests. Lands at Universal include Harry Potter, The Simpsons, Curious George, Jurassic Park, Dr. Suess, and others like different cities to make it feel like you are traveling around the U.S.
Disney World's environment is better because of the cleanliness and staff. Even though Universal has plenty of amazingly detailed lands within its parks, Disney gets the point overall. They have lands within their parks that people know and love that are just as detailed and cared for as Universals.
Where should I go for the better Rides?
Both parks have very different ride themes and thrill levels. When looking at attractions at each park, it depends on the family and what attractions accommodate their needs.
Disney Worlds' attractions are all mostly family-friendly besides their high thrill rides such as Tron (Upcoming in 2023), Space Mountain, Guardians of the Galaxy: Cosmic Rewind, Rock n' Rollercoaster, Tower of Terror, and Expedition Everest. Of course, all rides depend on the person and what they are prepared to ride, but all their other rides are little kid accessible. There are around 173 rides in all of their parks and many different shows throughout all the parks.
Universal Studios has around 48 rides. Most of them are thrill rides, but they have family-friendly rides such as Despicable Me Minion Mayhem, Caro-Seuss-El, E.T. Adventure, Kang and Kodos Twirl 'n' Hurl, Pteranodon Flyers, The Cat in the Hat, The High in the Sky Seuss Trolley Train Ride. There are quite a few rides for every person in your group, but Universal is more of a thrill seeker's park than Disney World.
They both get the point because you can't decide which park is better for attractions. At Disney, you pay for great, entertaining, and interactive rides that immerse you in some of your favorite movies.
At Universal, you are also paying for that experience, but you also get some more thrills along with the immersive rides. So it is tough to give one point to one of the parks.
Which Park is better Overall?
Both theme parks in Orlando are top-rated. Universal has the most points out of the categories of parks, accessibility, price, rides, size, and environment. Universal has the best accessibility, price, and resorts and is tied with Disney World in rides.
Just because Universal won the overall comparison doesn't mean Disney World isn't worth visiting. Universal Studios won because it all boiled down to what you get for the price you pay.
You can observe this research and decide which is best for you and your group.
About the Contributor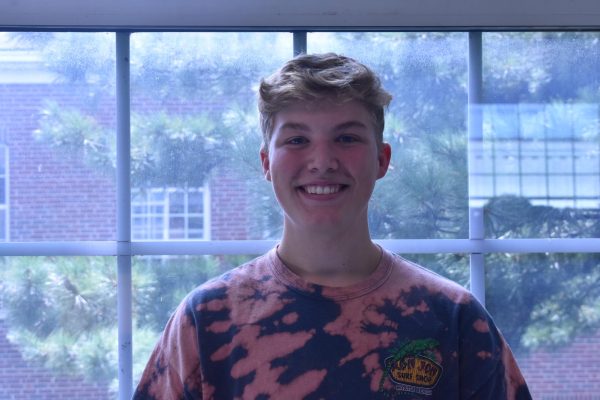 Logan Gwynn, Staff Writer
Logan Gwynn reprises his role at the Lafayette Times as a Sophomore. He enjoys spreading important news and information to his fellow peers. Logan enjoys...