November Book Releases
November is a notoriously big month for book releases as summer winds down, and people begin looking forward to the holidays, and this year is no exception. Let's go down a list of some of the most highly anticipated new reads of this November.
Bloodmarked by Tracy Deonn
Avid readers will remember Legendborn as one of the best books of 2020, and the long-awaited sequel hit the shelves on November 8, 2022. The first book follows a young girl who is coping with her mother's death as she attends a summer college program. Suddenly, she's looped into an underground world of secret societies, magic, and danger, all based on the legends surrounding Arthur and his Knights of the Round Table. Along with its incredible plot, worldbuilding, and writing, this story carries heavy themes of grief and race, exploring generational trauma in a fantastical sense.
Jasmine Zumideh Needs a Win by Susan Azim Boyer
Set in Southern California in 1979, this coming-of-age novel follows an Iranian teenager in her quest to win senior class president. Jasmine Zumideh is desperate to leave her boring small-town high school and attend NYU, studying Journalism to cover the New York music scene. However, due to the deadline for the application, she wrote that she won senior class president— before the election took place. Now she's standing in the face of massive anti-Iranian sentiment at her school while her brother loudly advocates supporting Iran and their shared heritage. Jasmine is now torn between abandoning her heritage and her brother's or abandoning all hope of winning the election and her dreams of journalism. The book was released on November 1, 2022.
How to Excavate a Heart by Jake Maia Arlow
Also released on November 1 is the sapphic enemies-to-lovers rom-com How to Excavate a Heart. The story begins when studious intern Shani accidentally hits May with her car. Shani has been throwing herself into school, trying to keep her mind off of a messy breakup just before winter break, but somehow she and May keep ending up in situations that put them together. First, a minor car accident, then a dog-walking gig, and then being snowed in together on Christmas Eve, when Shani is forced to confront her feelings about her breakup and whether or not she is ready for another committed relationship.
House of Yesterday by Deeba Zargarpur
House of Yesterday is a unique blend of themes, from coming-of-age to dealing with grief and the passage of time, to uncovering family secrets and delving into the mysteries behind ghostly apparitions. Sara is fifteen, struggling both with her parents' impending divorce and her aging grandmother slipping away from the person Sara has known all her life. To cope with this, she immerses herself in her mother's current renovation project– only to uncover an ever-deepening well of family secrets and the faces and names behind them. Overall, this novel is about heartache and coming to terms with the fact that things will never again be how they were before. It will be released on November 29.
We Deserve Monuments by Jas Hammonds
Another November 29 release is We Deserve Monuments, a family-driven story of generational trauma around racial bias in the United States. Avery's life is uprooted when she and her mother move back to their small southern town of origin to take care of her terminally ill grandmother. As she tries to uncover the source of the hostility splitting her mother and grandmother apart, she finds friendship with her next-door neighbor and the daughter of the town's most prominent family— whose mother's murder is still unsolved. As Avery finds herself drawn even closer to the girl next door, prejudices in the small town reach a climax, challenging her race and sexuality. Avery is forced to question if uncovering the truth of her family's past will be worth the loss of the relationships she has built.
Tread of Angels by Rebecca Roanhorse
Rebecca Roanhorse has been hailed for her Indigenous American-inspired stories and now hails with her original dark fantasy world. Celeste, a fierce protector who only knows how to get herself into trouble, is delighted to be reunited with her long-lost sister. Still, it quickly turns for the worse when her sister is accused of murdering someone from the Order of the Archangels. Celeste is forced to ally with a former leader of a rebel group—who just happens to be her ex-boyfriend—to gather information to prove her sister innocent in the secretive high courts. But she is up against more enemies than she knows, and her sister's secrets may be the biggest. Tread of Angels hits the shelves on November 15.
We Are the Light by Matthew Quick
Majestic, Pennsylvania, is a town torn apart by tragedy, and the only one who does not see Lucas Goodgame as a hero is Lucas. He spends all of his time writing letters to his former Jungian analyst detailing nightly visits he receives from his wife in the form of an angel. After an ostracized eighteen-year-old named Eli begins camping out in his backyard, the two become unlikely allies and guardians of one another as they embark on a healing journey. This raw and soul-baring novel was released on November 1.
The Cloisters by Katy Hays
Lovers of Dark Academia, look no further than this November 1 release. It follows Ann Stilwell, who arrives in New York City to work at the Metropolitan Museum of Arts but is instead assigned to The Cloisters, a gothic museum of medieval artwork full of eclectic researchers studying divination. Ann allows herself an academic interest in their work if only to escape bad memories of her recent breakup. Still, it quickly becomes an obsession when she discovers a tarot deck from the fifteenth century that may hold the key to predicting the future. In the middle of this, the atmosphere at The Cloisters turns deadly, and the academic game Ann has been playing turns into playing for her life.
The Luminaries by Susan Dennard
Similarly dark and also released on November 1 is The Luminaries. Hemlock Falls is a small town filled with dark magic and darker secrets, where phones don't work, and the forest might kill you. Winnie is desperate to join the secret order that protects the town from what stalks the forest at night despite her family being shunned for her father's betrayal of the town. As the day she can win her entry draws closer, Winnie enlists the help of her "bad boy" ex-boyfriend to learn more about the monsters in the forest and how to fight against them. Together, they discover a previously unknown horror building up, ready to wreak havoc on their small town. Winnie discovers her ex has darker secrets that lend to his incredible knowledge of the forest.
Cursed by Marissa Meyer
Last but certainly not least is the sequel to Gilded by Marissa Meyer, released on November 8. Gilded is a dark reimagining of Rumpelstiltskin, marked by haunted castles, undead riders, and dark fae creatures who hold no allegiance but their own. Serilda is a miller's daughter with god-marked gold eyes who loves to tell stories. When her house is targeted by the Hunt, including an undead king hungry for revenge, she lies to distract them, creating a story in which she was gathering straw to spin it into gold. Before she knows it, she is swept away to their magical castle filled with monsters and ghouls, relying on the help of a mischievous ghost who calls himself Gild to keep her lies hidden from the king. To keep him company, she tells him stories and soon learns that he is very different from the other ghosts here and that he has something to do with the hidden past of the castle itself and why the Hunt rides. The sequel focuses on Serilda as she tries to escape the castle she has become trapped inside and save her friends who got drawn in with her.
November promises to be an incredible month for new reads, fantasy and otherwise.
About the Contributor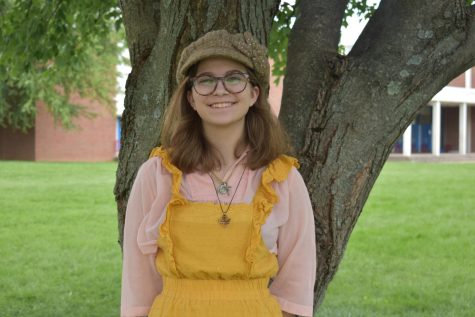 Claire Cornett, Staff Writer
Claire Cornett is a junior at Lafayette interested in student-led stories and events. She's involved in choir and history club. She is also heavily involved...