When is it Appropriate to Start Celebrating Christmas?
Over the years, there has been much debate about when Christmas music should start to play, when the Christmas tree should go up, and when Christmas festivities should start.
Many say that these holiday activities should begin on the first day of December, but others agree that the start of this season should happen the day after Halloween.
Why would people start celebrating Christmas the day after Halloween if the holiday isn't for another month and a half? Is it because Thanksgiving isn't as big of a holiday? Are people so excited about Christmas that they want to start the holiday as soon as possible?
Regardless, enough people have started Christmas festivities in early November to the point that it has caused radio stations to start playing Christmas music on November 1st.
Around Mid-November, local stores and grocery stores start selling Christmas decor and decorating the store for Christmas. Everyone knows that if you want something specific for Christmas, you better buy it early, or it will sell out when you need it. Stores have been known to be empty by Christmas day, with people buying last-minute gifts and stores sometimes needing more time to restock.
A thought process for some may be that since they have to start Christmas shopping so soon, they may as well decorate early and embrace the holiday in full.
On another side of the argument, some agree that it does matter when you start to decorate.
Many start putting Christmas decorations up around Thanksgiving, and many have the tradition of watching the Thanksgiving Day parade while putting up the Christmas tree.
Many teenagers, influencers, and more start posting pictures of Christmas trees up the first day of November. They're saying how "it's time for Christmas to start" and "for all the festivities to begin," but many adults and children would beg to differ with these statements.
Even with all of these disagreements, one of the biggest debates is when Christmas music should start to play on local radio stations. Local stations all over the state have taken it upon themselves to begin playing Christmas music on November 1st.
But what about Thanksgiving Day? Because there's not much to celebrate for Thanksgiving and not many decorations, can people skip over it? So why do people like the Christmas holiday so much? Is it because they get gifts for something other than their birthday, give gifts, or because they get to decorate and enjoy the warmth of the season? Or because for those religious, it gives them the time to celebrate Jesus's Birthday?
Whatever it is that people believe, everyone has their own opinion on when to start celebrating the holiday. Nobody is right or wrong on when to start decorating, whether from the start of November to the end of January or the start of December to the end. Everyone is entitled to their own time to celebrate this Christmas season.
About the Contributor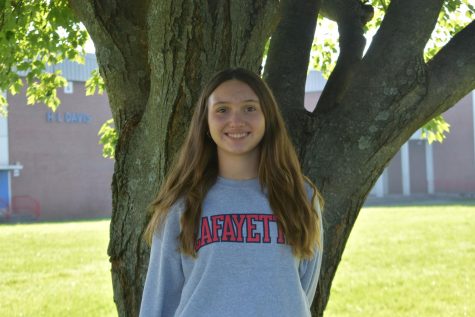 Madi Hatfield, Staff Writer
Madi Hatfield is a freshman at Lafayette. She is on the Lafayette Bowling team. She enjoys bowling, drawing, and journaling in her free time. When Madi...