Lafayette's Film Fanatics
Room 210. By day, it's a bustling English classroom, with classes taught by the infamous Mr. Joe Gross. But every Tuesday afternoon, it becomes a place of laughter, knowledge, and, most importantly, movies. It became a Film Club.
Film Club (and under it, Film Making Club) is just what it sounds like; it's Lafayette's film and movie club. It is a group of like-minded individuals with a particular interest in any type of movie, film, or cinematic arts. Any student is welcome to join and learn or show their movie interests.
"We create a tight-knit group of students who can enjoy and experience here regularly, with their friends, with the movies we watch, with the things we discuss," said English teacher and club sponsor Joe Gross.
Activities in Film Club vary, but club meetings mainly consist of slideshow presentations from members and open group discussions on certain topics.
Film Club started in 2018, making this school year its fourth year. It's mainly student-run, led by President Frankie Moore, senior officers Cameron Simpson and Clay Gregory, junior officers Creed Taylor and Mya Anderson, and sophomore officer Stone Kacmarcik. They lead club and film discussions and plan activities for the club.
Film Club encourages members to speak on their favorite movies, genres, or special interests surrounding the film world.
"It's an open space for you to give your opinion on literally anything, music, films, people. It's a really open community," shared sophomore officer Mya Anderson. Students have made presentations on their favorite movie soundtracks, how color is used in the film world, and some of their favorite movies or series, like the Scream franchise, a particular club favorite.
The club is a very open environment, with discussions open for all students to join in on and show their love for Hollywood. It is for all types of interests in the film world, from writing screenplays to hyper-analyzing horror movies.
"Talking and having these discussions, that are stupid and irrelevant and not at all on topic, those are the best conversations to have," remarked Anderson. Group discussions are regular in Film Club, with a leading theme, like favorite directors and their trademarks or something as basic as favorite movies.
The club usually has a monthly movie theme, with November being Foreign Films month. Dani Crosby, a sophomore and 2nd-year member, recently educated the club on one of their favorite Korean T.V. shows Alice in Borderland.
Every month, Film Club hosts a free afterschool movie screening for all students to join in on. They play a movie about the month, like "The Fantastic Mr. Fox" for September's fall aesthetic and "Beetlejuice" in October for Halloween.
"We've tried to do monthly film viewings open to all students. It's usually something that tries to give people an entry point, to get them more involved with the club, or express any interest. They're also welcome to come out and just view things as entertainment," Gross told the Times.
There is also free popcorn and drinks for everyone. If you are interested, keep your ears open for future movie screening dates next semester.
Under the Film Club, there is also the Film Making club.
"After the second year, we expanded with a filmmaking club, which is kind of all under Film Club now," Gross added. They work together on scripts, filming, and directing with their own personal or group projects.
"I was originally here for filmmaking first because I like the behind-the-scenes acting, but I also attended Film Club, and I enjoyed talking about movies and sharing my opinion," Anderson shares.
While the club's highlights are about the film world, their gorgeous meeting space makes you feel like you are in the land of movies and art. Room 210 is decked out in Hollywood memorabilia, from Funko Pops to varying movie posters and mugs featuring Black Panther and Boba Fett. Every inch of its walls is filled with iconic actors, MCU art, and even skateboards featuring David Bowie. It is truly the attention catcher of the club, drawing you in to examine the best-decorated classroom in the English department.
President Frankie revealed that "The first week of sophomore year, I saw the Harry Dean Stanton poster on Mr. Gross's door, and I came in, and I was like 'Yo, is this your classroom?' and he was like, 'Yeah?' and I was like 'I like your Harry Dean Stanton poster'. He said, 'You should come to the Film Club if you know who he is.' and that's how I'm here."
Film Club is one of the newer clubs at our school, starting with the initiative of Mr. Gross. You may know him as the Freshman/Senior English and African-American Literature teacher, but he is also the teacher advisor for Film Club.
"I teach a lot of film components within my classes, in terms of how we look at the film as texts," Mr. Gross explained. "In doing that, several students and former students kind of came to me with the idea of why don't we start a film club."
Mr. Gross has a passion for the world of film and movies.
"I'm more on the storytelling side, as an English teacher, so it's always interesting to me how film adds additional layers to how a story can be told with the different techniques. That came out of better understanding things, like Shakespeare, through the film when I was in school and then doing some film study courses at the University of Kentucky."
Mr. Gross has truly made a space for all students to feel welcome. He has opened up his room and the club for students of all grades and backgrounds to come together and discuss the wide world of movies. His hard work and dedication to the club have created something where every member can openly share all their film-related interests.
"I was trying to find a space for film, and I was talking to my government teacher about trying to make that space, and then she led me to Mr. Gross, and I came in here and had a conversation with him, and I met him and how much he loved the film and it felt like a place at home that was really safe for freshman year, getting to know people," shared Gregory.
"I was really the only person in Mr. Gross's freshman class that participated, and so I ended up just talking to him about movies and stuff sometimes, and he told me that I should come to Film Club when it started. I've been here since the first meeting of freshman year.", adds Simpson.
The Film Club has become more than a club to many students. It has become close friends, family, and perhaps even a home. It might even kickstart careers in the film and filmmaking world, urging students to pursue their dreams of being on the big screen or even behind it.
Gregory remarks, "I think we really make a safe space. A lot of students aren't necessarily comfortable when arriving at the school, or they need somewhere to try and express themselves, get into this new environment, and be able to come here and express their opinions. I think we really contribute to that, to have that for the students here."
Film is a passion for many people, with many things to see, learn about, and experience. Film Club is here to watch that one movie you've been dying to see, discuss the latest and oldest films, and bond with people over your favorite actors.
As the Film Club President says, "We have cool posters, cool opinions, and cool people."
About the Contributor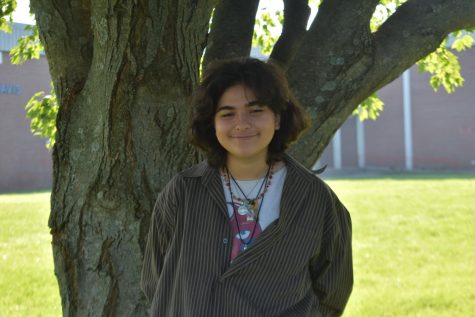 Eva Alcaraz-Monje, Staff Writer
Eva Alcaraz-Monje is a sophomore at Lafayette. This is Eva's first year at Lafayette and with the Lafayette Times. They moved from Indianapolis, Indiana,...