EXCLUSIVE: The Man Behind The Sign
DISCLAIMER: The quotes in this article have been edited for brevity and clarity only. These changes are noted in brackets.
If you ignore the fact that the second-winningest program in college basketball history was losing by double figures to the worst team in the SEC, Tuesday night was like any other at Rupp Arena. The doors opened, the stands filled, and while it may have been ugly, the initial 20 of the night's 40 minutes of basketball had been played in one of college basketball's most iconic venues. 
But as the buzzer rang and halftime began, things took an intriguing turn when members of the Big Blue faithful noticed one of their own holding a sign directed at Kentucky Head Coach John Calipari that read "Please go to Texas."
Moments later, as captured by WKYT's Samantha Valentino, the fan was seen leaving alongside an usher, sign in hand.
However, it didn't end there. After Kentucky Sports Radio icon Matt Jones shared a photo of the incident, seen by 1.2 million people according to Twitter, photos and videos of the sign and scene were soon all over social media.
But as local and national media outlets like AP, Barstool Sports, Sports Illustrated, and Fox News got wind of the incident, one thing that all of the stories about the incident had in common was that the fan did not wish to be named.
But, as revealed in an exclusive interview with The Lafayette Times, the man behind the sign that night is a chemistry teacher by day, at nowhere else but Lafayette High School in Lexington, Kentucky.
And his name is Tate Renzenbrink.
"I've been a UK fan for basically my whole life," Renzenbrink told The Times. "It was integral to my bonding with my dad. The earliest memory I have is the Patrick Sparks shot… which was in 2005."
The shot that Renzenbrink is referring to occurred in the 2005 NCAA Tournament Regional Final (better known as the Elite Eight), where the second-seeded Wildcats met the fifth-seeded Michigan State Spartans in Austin, TX. Down 75-72 with 12.4 seconds left, Sparks attempted a three-pointer that fell short. The shot was rebounded by Kentucky's Kelenna Azubuike, who missed a three-pointer of his own with 2.8 seconds left. Then, Sparks rebounded Azubuike's missed shot, and hurled a second three-pointer that bounced on the rim twice, the backboard once, and then the rim twice more before miraculously falling through the hoop as time expired, sending the game to overtime and momentarily saving the Wildcats' season. However, the Wildcats would eventually fall to the Spartans in double-overtime: 94-88.
Renzenbrink primarily teaches Sophomores and Juniors at Lafayette and is the Co-Head Coach of the Generals' esports team. On the esports team, Renzenbrink heads the Madden and Rocket League squads.
Renzenbrink tells The Times that this wasn't the first time he's brought a sign into Rupp Arena.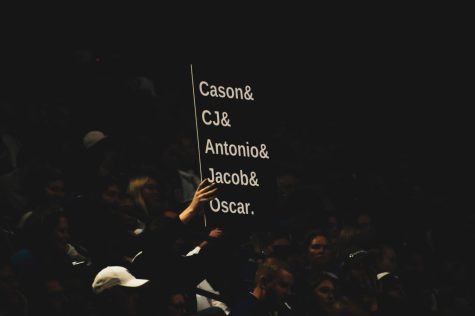 "Early on, there were criticisms of the lineups Coach Cal was using for Kentucky. So the first poster I took had a picture of the lineup that I believed (and the consensus on social media) would make the team better. So it wasn't negative, it was 'Please play this lineup,' (in the style of an ampersand shirt)," Renzenbrink said. "It's in that format because Coach Cal had that in a tweet using that for recruits for next year, and so it's kind of like a parody of his own format. So I'd gone with that, which was the same [size] poster. [Rupp Arena] had no problem with it.
The tweet Renzenbrink mentions was posted by Coach Calipari on November 10th, ahead of the Wildcats' marquee matchup with Michigan State in the ESPN Champions Classic. In the video, Calipari sports what is known as an ampersand shirt, with the first names of some of Kentucky's incoming recruits, while asking his fanbase for patience. The Wildcats ended up losing to the Spartans 86-77 in double-overtime on November 15th.
For reference, Renzenbrink first brought the ampersand sign to Rupp Arena on November 23rd, where the Cats drubbed North Florida 96-56. He refers to the five names listed as "The Lineup" on Twitter.

Here he is again at the 60-41 win versus Bellarmine on November 29.
After the Wildcats fell behind to the Gamecocks 13-2 with 15:34 left in the first half, Renzenbrink did what teachers usually only do during school hours.
He grabbed an expo marker.
"I wasn't planning on going to the game that night because I've kind of been down on the season and it wasn't a great game," Renzenbrink explained. "I was at home, and my brother had tickets if I wanted them. So then, like five minutes into the game, we were losing by like 10 to the worst team in the league. So I grabbed an Expo marker, and wrote on the back of the poster 'Please go to Texas' because there were rumors that Texas might be wanting to hire Calipari. So then I drove over to the arena, got in there like right when halftime started, got into the seat, [and] held it up."
It was then that trouble ensued.
"There was one lady and gentlemen in front of me (in front of me, so I was not blocking their view), that wasn't happy with the sign. It was clear that they weren't happy with the sign because they thought it was offensive and unfair. At one point they said 'You are blocking the people behind you,' which was a reasonable thing [to say] even though nobody behind me ever said anything about that. Next to me, there were actually two open seats, so I sat the sign in those seats where they weren't blocking anybody, and it was still an issue because after that, that lady tried to take it from me, and I said 'No, thank you, I worked really hard on it,' and at that point… one of the ushers came up to me. At first, he said, 'You need to put your sign away. You can't have something that says something like that,' and I [said] 'Okay,' and I put it down on the ground; it was out of the way. The usher went back down to the floor, and then came back up after talking to security and said 'Actually, we have to take the sign.' Where it was that other sign that I've used before, which was well made- it wasn't just expo on the back of a poster and had been signed by Oscar Tshiebwe- I was like "I don't want to give it up. I'll hold onto it, but I'll just leave. And even [with] me offering to leave, he said 'You still have to give me the sign,' and was trying to take it from me."
As things carried on, more event staff became involved.
"I was walking up [the stairs], just trying to avoid anything bad happening. The staff threatened [me, saying] 'You might be detained by security,' and I said, 'I'll just leave, it's not that big of a deal.' So then once I finally got outside the door, I had been escorted by two event staff, one manager guy, and then two police officers. So I had five people walking me out," Renzenbrink continued.
In an article, WKYT reported that "According to UK Athletics, nearby fans complained the sign was blocking their vision of the court. They say Rupp Arena policies prohibit signs that 'cause any disturbance with other fans.'"
Their report can be viewed here.
Renzenbrink had hoped that he would be able to de-escalate the situation by leaving.
"It was my idea of a compromise that like I'll leave and keep the sign, but even when that was happening, they were trying to take it from me. So I wasn't that upset about having to leave. And honestly, I think them escorting me out made it a much bigger story than it would've been. It wasn't that great of a game to watch. [As for] my message of  'We are not happy with Calipari.' I think [the situation] helped that message come across."
But what happened once he was finally kicked out?
He took a picture.
"I got outside, took a picture of the sign with Rupp Arena outside, replied to Matt Jones' tweet, and said 'I said please.' to show the fanbase that I am responsible for the sign. Then I FaceTimed my friends saying, 'So I just got kicked out [of Rupp Arena].' and that's when my phone started blowing up with notifications," Renzenbrink told The Times. "After that, it was sitting back and watching, and it got way bigger than I had ever imagined."
Renzenbrink says that his friends and family find the situation to be hilarious, but that his mom has encouraged him to "not add fuel to the fire."
He told The Times that his frustrations with Coach Calipari and his leadership of the Wildcats were the motivation behind the signs.
"My earliest frustrations, like with the lineup sign, I really just felt that if you play more guards- more people that can shoot- you'll have better success. But he insists on playing very big centers that have no shooting skills and it's just not working in today's game."
But Renzenbrink's frustrations aren't just harbored on the court; they're also on press row.
"Then, he was questioned about that by media; there is an arrogance to Cal's comments [where he is like] 'I know what's right. You guys don't know what's going on,' and he doesn't even hint at the possibility of change. And that's where like, as a fan, I feel helpless. [Coach Cal] doesn't think anything is wrong and it motivates me to go and try and peacefully protest and say 'It's not as okay as you guys think.'"
Despite the signage and frustration, Renzenbrink says that if he had the chance to speak with Calipari, he would first thank him.
"[If I could say anything to Coach Cal], the first thing I would say is that I would thank him for everything he did from 2010-2017. The Wall/Cousins year, the Davis championship, the undefeated season with Towns and the Harrison twins, and even the Fox/Monk/Bam year in 2017, that was very very good."
Unfortunately, that's where the thank-yous from Renzenbrink end.
"Since then, which, COVID was involved as well so there's been some weird seasons, it's not been as good as Kentucky basketball should be," he lamented. "If this was one bad season, I wouldn't be doing this, but it's felt like [this has been happening] for five years, and it seems to me, and what I would tell him, is that there is a trend. There is a reason why [Kentucky Basketball] hasn't been as good for five years. [Those seasons] are not outliers."
Renzenbrink says that his advice to Calipari would be to follow in the footsteps of the football team, who recently announced the return of Liam Coen as their offensive coordinator.
"I would suggest him to hire an offensive coordinator like they do in football. Have someone else that is responsible for making gameplay decisions on the court because I think the way he views the game is not necessarily wrong but it's just outdated. It's from an older version of the game that's no longer useful," he explained. 
If Renzenbrink's wish of Calipari departing for Texas were to come true, he has his sights set on one man to succeed him, who is unfortunately now retired.
Former Villanova Head Coach Jay Wright.
"Absolutely, without a doubt, Jay Wright. I would do anything. I think in one of my tweets I said I would donate a kidney to get Jay Wright as the next Kentucky coach," he expressed. "He did retire kind of out of nowhere, and I know a lot of national media thinks that he's not interested at all in another coaching job. So it is a bit of a pipe dream, but I think it's a more realistic pipe dream than some people who say like Brad Stevens or Billy Donovan in the NBA. I think there's a chance. I would make him say no, and then after that, I think there's probably 8-10 people out there who aren't as high as Jay Wright, but I'd be happier with than Cal."
UPDATE (January 13, 2022, 11:30 AM): The Lafayette Times initially could not find a tweet from Renzenbrink about donating a kidney, but Renzenbrink contacted The Times and provided the tweet. It can be seen below.
Since the incident went viral on social media, Renzenbrink has been heralded by some as a legend, king, or hero for his efforts Tuesday night. However, Renzenbrink doesn't agree.
"Hero is definitely not an accurate term. I think it's way too much. It's not accurate at all. And to be honest with BBN, I feel like I just voiced what they were thinking," he said.
His parting message, however, is one that spans beyond the sport of basketball.
"If there's a message to share from it… as a teacher, I think using what I did as an example of, as trivial as basketball is, like if there's something you believe in that you think is wrong, do something to enact change, but do it in a peaceful manner. Don't do anything that makes you look like a bad person or harms anyone else in any way. All I did was hold up a sign. I was asked to leave, [and] I left and let it speak for itself. If any students, or anyone else- BBN if they have anything- sports or not sports related that they feel like is unjust or needs change, try to go about it in a way that gets the message across, but also in a fairly peaceful, non-controversial way."
As for the sign?
According to Renzenbrink's roommate, it got home safely.
About the Contributor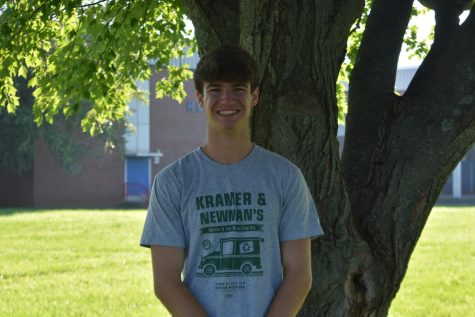 Josh Smith, Editor in Chief
Josh Smith is the Co-Editor-in-Chief of The Lafayette Times. Before heading The Times, Josh spent two years as the lead sports reporter. He has four younger...