Multicultural Fair 2023
Since 2017, Lafayette has hosted the Multicultural Fair every April- a beautiful festival with students displaying their wonderful cultures and sharing their foods, music, games, and fun. While the festival is sponsored by Mr. Mitsumori (one of Lafayette's ESL teachers), it is mainly student-led. The idea of a multicultural fair was brought up by one of Lafayette's 2017 graduates, Oraida Bakoush.
The Lafayette Times spoke with Mr. Mitsumori ahead of the fair.
"I was chosen as the staff member [to run the Multicultural Fair], but it was…a student initiative," Mitsumori told The Times. "[It was the organizers of the first Multicultural Fair that] talked to the administration [and] the students. In those days, the political situation was such that it was very unwelcoming for…immigrants."
Mitsumori also explained the backstory of the Multicultural Fair.
"We had a student named Oraida Bakoush who decided that she wanted to do something constructive to help bring awareness and understanding," Mitsumori shared. "[Oraida] had gathered a group of friends, and they had done protests downtown, all peaceful stuff. But they also felt, 'Look, we need to do something here in the school.' We are a diverse school, and yet, there is nothing for people from an international background."
Lafayette's Multicultural Fair is not the only one in Fayette County.
"Once [the students] decided they wanted to [host a multicultural fair], I was told by the administration that other schools have them. The associate principal at the time told me that Dunbar also had one, and I went and observed what they did," explained Mitsumori.
However, Lafayette does their fair a little differently.
Mistumori said, "Over there, they divide into teams, and they pick countries. But we decided ours would be a little different, and we wanted to represent the countries here already. What we always try to do is to try to involve as many students from different countries."
The Multicultural Fair was first a faction of the International Tutoring Club. The International Tutoring Club is a place for students who come from a non-English speaking background to get the help they need on school and homework. Not only that, but it is also a place for students to grow a community and learn. They also go on field trips, do group volunteer activities, and have a place to belong. They meet every Monday and Wednesday from 3:15 to 5:00.
This school year, the Multicultural Association was formed.
"The experience of doing [the Multicultural Fair] was such a great thing for people who participated so much that they wanted to do something throughout the whole year. They didn't want it to be just that one event. That's where the Multicultural Association was born," explained Mitsumori.
The Multicultural Association celebrates all the different cultures at Lafayette and allows students to have a safe space and bring understanding to Lafayette as a whole.
"We realized that Lafayette [did] not have a diversity club where people could come and we could promote diversity and inclusivity, talk about different cultures, [and] learn about different cultures," stated Tasnim Bushaala, co-founder and fundraising coordinator of the Multicultural Association, event coordinator of the International Tutoring Club, and second-time participant in the Multicultural Fair.
"I think the idea of the club came from the Multicultural Fair because we saw how amazing that was and how many people really enjoyed that. We wanted something permanent at our school."
During the first semester, they did a game night for all students to have fun after school and hang out and eat some cultural foods. This semester, just on February 2nd, they held an equity forum on approaching solutions to discrimination and equity. Equity forums aim to help students talk about their experiences and help find solutions to make everyone feel welcome at Lafayette. They are also in charge of planning and organizing the Multicultural Fair. They meet two Thursdays a month from 3:15 to 5:00.
The Multicultural Fair was held for three years, from 2017-2019. Unfortunately, when the COVID-19 pandemic hit, the 2020 and 2021 fairs were canceled. Last school year was the first time the Multicultural Fair had opened its doors in three years.
Over 16 counties will be on display this year, from Brazil to Zimbabwe, with over 40 students working to put on the best fair possible. Representatives from each country meet, create boards with information about their country, and make cultural foods.
"[This year], I'll be doing my own country, Libya," Bushaala said. "I and a couple of my other friends who are also from that country will personalize our board and we'll make it all nice and pretty. We [also include] facts about our country and pictures. We will also dress in our cultural attire and we will make our cultural foods. It takes a lot to plan."
"I brought food, I put some pictures of the most pleasant places [you can visit] in Zimbabwe, like Great Zimbabwe…the people who were living in Zimbabwe before colonization happened, Victoria Falls, and the national parks where all the Big Five animals are," commented Tapiwanashe Kunaka, member of the Multicultural Association, International Tutoring Club, and second-time participant in the Multicultural Fair, at last year's fair. "[I also explained] what were the activities in Great Zimbabwe."
The Multicultural Fair aims to educate and celebrate the cultures here at Lafayette. Lafayette is a very diverse school, with more than 25 countries represented in our halls. It's an opportunity for students, teachers, and parents to learn about cultures they may not know about and experience their food and traditions.
"The experience that I had with the multicultural fair last year was that [I was able] to learn about different cultures we have in Lafayette," added Kunaka. "We are used to walking around the school, and you don't really know [student's] culture or background, what they believe in their culture, what they have experienced, what are the cultural foods that they eat. So, it was something good so that people can experience their culture [ and help them] feel more comfortable in their culture around the school setting…."
Bushaala shared, "I moved here last year so it was my first year here, my first year of high school; that's always scary. I didn't have a lot of friends, but once I joined the Multicultural Fair, I had [so many] friends. I think that's one of the biggest things I'm grateful for the friends I made they are my [life-long] friends. It's such a fun experience when you stay after school every day… to work on your board, you get to talk, you get to converse about your country…it's a fun process in my opinion and I really enjoyed it.".
The Multicultural Fair is in its planning stage and has started forming country teams. If you are interested in helping out for the Multicultural Fair, please talk to Mr. Mitsumori in Room 205.
The 2023 Multicultural Fair will be after school on Friday, April 28th, from 5:30 to 8:30 in the Lafayette gym. The entrance is free, but you pay for food and games. All revenue made from the fair will be donated to the Kentucky Refugee Ministries. All the hard work of these students has paid off in the past, making the Multicultural Fair a staple of Lafayette. We cannot wait to see the wonderful fair our Multicultural Association has planned.
About the Contributor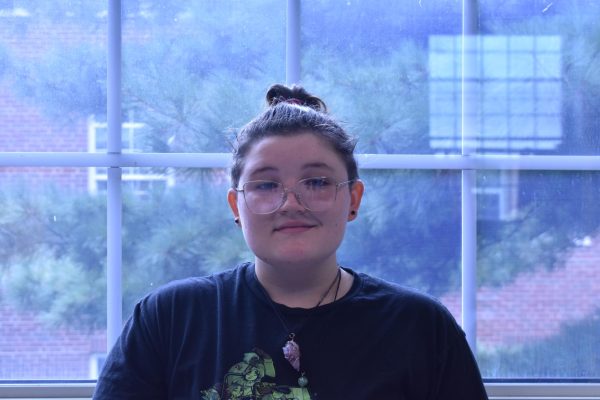 Joey Hester, Copy Editor
Joey Hester is a junior and returning writer to the Lafayette Times. They enjoy writing about clubs, events, and politics. They are a member of the General...