The Death of Pope Emeritus Benedict XVI
Pope Emeritus Benedict XVI died on Saturday, December 31, 2022, at 96 years old. He was the first pope to resign from his position in over 600 years and the first in 200 years to be blessed by the reigning Pontiff before his burial, according to Vatican News. Benedict XVI retired in 2013 due to issues with mental and physical health, and, like many retired popes before him, entered into monastic life until his death.
Pope Francis reportedly had a very close relationship with him, entreating the crowd at his papal audience on December 30 to pray for Benedict, as he was in poor health. Although Pope Francis is suffering from a knee ailment that has caused him to prepare a resignation letter in the event of impairment (CNN), he was the celebrant of the Pope Emeritus' Requiem mass. He stood from his seat at the end to see the coffin off.
The Requiem is a type of Catholic mass held for the deceased's souls. The name is a shortened form of the opening antiphon, Requiem aeternam dona eis Domine, which means "Eternal rest grant unto them, O Lord." This stands as a symbol of Christian hope and the belief in the resurrection of the body, firmly professed in the Catholic faith.
The ceremony was held on Thursday, January 5, 2023, and was attended by a crowd of over 50,000. As his casket was carried out of St. Peter's Basilica, people were heard yelling "Sancto subito!" in Italia, translating to "Declare sainthood now!" This rallying cry was also heard at the funeral of Pope John Paul II, who was canonized as a saint in 2013. Many of the heralders of this call gave their testimony to PillarCatholic.com. Many were touched not only by his pious life but also by his many writings published worldwide. He was known as a scholarly pope, having published many works as Joseph Ratzinger before his pontification, where he took on a papal name. Most of his work focused on God's theology in our lives, especially in the realm of faith-based hope. He was also very concerned with the safety of those in the Church, pushing for reforms in the face of abuse scandals and taking the first steps himself as soon as he came into office with the firing of Marcial Maciel. According to Roberto Regoli on Rome Reports, Maciel had seemed untouchable in his power, despite his history of abuse, until the moment Benedict XVI rose to power.
Due to these great contributions, Pope Emeritus Benedict XVI touched many lives and will be sorely missed by those he has affected. He now awaits the opening of a canonization process to declare him a Saint, so his legacy will carry on and be immortalized in the veneration of the Church.
About the Contributor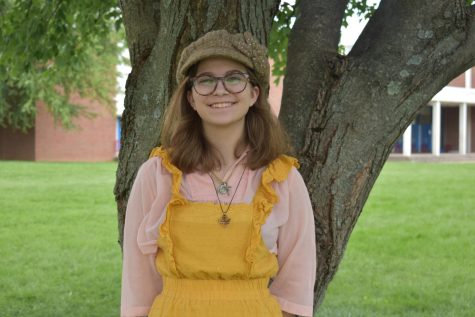 Claire Cornett, Staff Writer
Claire Cornett is a junior at Lafayette interested in student-led stories and events. She's involved in choir and history club. She is also heavily involved...