Behind the Scenes: Beauty and The Beast
Lafayette Theatre performed Beauty and the Beast in front of an audience for the first time on Thursday, January 26th, for the school show. Lots of work and effort from students around Lafayette went into this production. So many after-school hours and dedication from students were what made this school show incredible. To fully appreciate the show, The Times went behind the scenes and spoke to cast members and set designers. We spoke to Chloe Beers, a set designer and director for the play. We also spoke to William Briggs, who helped build the set and played Belle's father, Maurice, and Brady Earnst, who played Gaston's assistant, Lafuo.
Times: How long have you been working on the play?
Chloe: "We started in October with auditions; they lasted about two weeks. After that, we just went straight into rehearsals and building the set. [So about four months.]."
Times: What were tech auditions like for Beauty and The Beast?
Chloe: "We sent in our resumes and wrote about our top choices. Occasionally we have to do an interview as well, but we didn't do that this time around. It just shows all the stuff we have been a part of, set design-wise."
Times: About how many people are involved in the play?
Chloe: "I think at one point everyone was involved, even if it's just putting a leg on a table or holding something for someone. I think there were around 70 actors, and a good amount of them were also in tech. And around 30 tech people as well, so a lot"
Times: What were some of the technical struggles you had to overcome? William: "The set was very challenging, especially with the revolving piece."
Chloe: "We had to lift it up very high to put wheels and casters on it, and I think that was a very challenging thing because we had so many people helping and putting them on. Even though it was pretty complicated, it was really rewarding when we were done."
Times: How smoothly do you think the debut of Beauty and The Beast went? Brady: "I think everything ran very smoothly, there were a couple of things that would break and we'd have to fix, but for the most nothing tragic had happened."
Chloe: "I honestly think everything went smoothly compared to The Old Man and The Old Moon. Because [The Old Man and The Old Moon] was a competition piece, there was a lot of complicated adding on as we went that we didn't have for Beauty and The Beast."
Thank you to all the people who contributed to this production and supported the Lafayette Theatre by watching the play. If you enjoyed that theatrical production, watch the upcoming play Newsies in April.
About the Contributor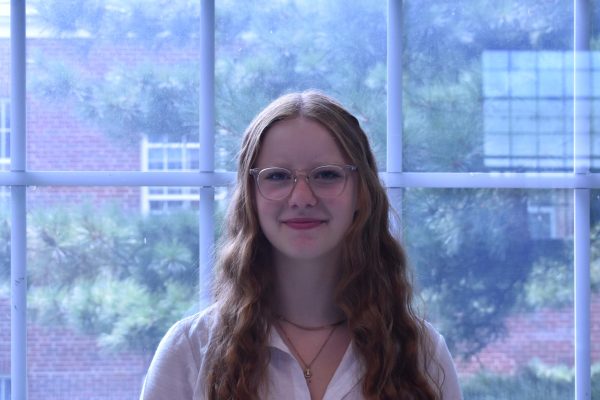 Mirabel Anderson, Staff Writer
Mirabel Anderson is a sophomore at Lafayette and is writing for The Times for a second year. Her favorite genre of articles to write are arts and features....