SZA Embarks Her SOS Tour
Solána Imani Rowe (SZA) is a neo-soul singer who has just released her highly anticipated second studio album: S.O.S. The album features Don Toliver, Phoebe Bridgers, Travis Scott, and the late Ol' Dirty Bastard. SZA worked with songwriters such as Babyface, Jeff Bhasker, Benny Blanco, Rodney Jerkins, DJ Dahi, Gabriel Hardeman, Ant Clemons, and Lizzo.
The album debuted at number one on the Billboard Hot 100. The album spent 9 consecutive weeks at number one, making it the longest-running female album of the decade. It was also the first R&B album to spend its first seven weeks atop the chart since 1987. With high anticipation for the tour, she is on her first arena tour with 19 stops across the United States. Tickets were hard to get, but anyone with them is in for a show.
Each night of the tour, she gives around 90 minutes of music with 30 or more songs, with slight differences between each. On social media, SZA has said that her shows are inspired by Disney movies with ethereal, mystical things. The stage is inspired by her album cover, with her being alone at sea with visuals of lightning, storms, tons of water and waves, and boats and birds. The show begins with her sitting on a diving board as the stage's screen rises to reveal her singing the opening song, "PSA." The screen welcomes the crowd to the concert with an animation of the words "The S.O.S Tour: Starring SZA." Tons of flashing lights and sounds play while spelling out the S.O.S call in morse code as the anticipation rises before they perform the next song.
After her song "F2F" plays in the background, the screen shows a stormy sea where she and her dancers act out a scene of them being scared and worried, so she retreats to a life raft. The life raft then floats up over the crowd with her on it, where she sings her more emotional ballad songs to get closer to her audience, which is very emotional. As she is on the raft, a lighthouse rises from a closed-off section of the crowd, where it seemingly leads her back to shore, and she gets back on the main stage to finish the show.
SZA will continue to grow, and our love for her will too. We can send her our best wishes through social media and hope she has a great tour. Videos of the concerts are posted all over the internet from all angles. SZA is an incredible grammy-winning artist who is loved all over the world. Her love and power shine through in her music, and she is a very approachable, humble, sweet person with a kind soul. She deserves this successful sold-out arena tour.
About the Contributor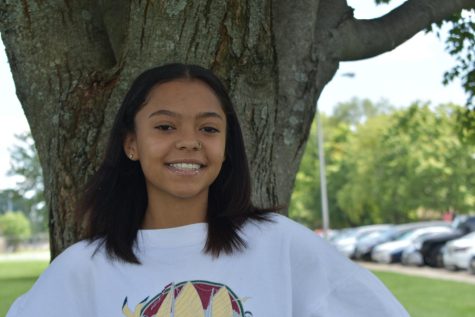 Neveah Gray, Staff Writer
Nevaeh Gray, a student at Lafayette high school, is a very caring person with many great personalities. A story writer for Lafayette's journalism class....