Lady Generals Reunite With Class of '79/'80 at Reunion Game
In 1979, the Lafayette Lady Generals finished as runners-up at the KHSAA State Tournament to Laurel County. In recognition of the 44th anniversary of that team, the Girls from the 1979 Basketball team were talking. They decided it would be a great idea to come back together and see the new generation of the Lady Generals Basketball team. The game they decided to come to was January 27, 2022, game against Madison Southern. This game was called off due to icy roads, so the team came to the rescheduled February 2, 2023, game instead.
The people attending the game:
Class of '78- Amy May
Class of '79- Lea Prewitt, Brenda "Boo" Smith, and Cheryl Gardner
Class of '80- Debbie Beidlemen, Glenda Kenton, Tami Farris, Lynn Hill, Jennifer Lewis Jones, Valerie Miller McGrapth, Melissa Boland, Lynn Moore Hill
Class of '81- Sheri Whatenbarger Aubrey and Maureen McSorley Johnson
Class of '82- Alesia Miller
Along with the players from the 1979 team, Coach Kathy Neal also attended the event.
During the game, the girls were announced at halftime. They announced each player from the 1979 team, and the current Lady Generals gave flowers and a gift to each 1979 player. After being announced, the 1979 team and the 2023 team posed for photos together.
After the game, both teams gathered in the cafeteria, where they had cake and reminisced while looking at old uniforms and pictures. While looking at old memories, they enjoyed catching up with each other and introducing family members to teammates.
After graduation, Lea Prewitt went on to play for the UK and was a coach for Montgomery High. Currently, she is a volunteer assistant at Transylvania, where they are undefeated and are ranked #2 in the country.
"[My] advice to give to the new generation of girls… is to get a good foundation and work on your game, but you also need to remember to be a good team player and that its a team game," said '79 graduate Lea Prewitt
Prewitt was considered the "star" player over the years on the team and still to this day has basketball in her everyday life.
Jennifer Lewis Jones, class of '80, started the Foundation of the Lexington African American Sports Hall of Fame with her husband, Bobby Jones. This Foundation raises money for athletes and sports lovers in need.
When interviewed, she was asked how being on this team has helped her in her current career. "Being on the team has taught me how to have good leadership skills, and this really shows how getting along plays into the work world when you need good communication skills," said Jennifer. After graduation, Jennifer went to the University of Kentucky, where she graduated with a degree in Journalism.
These women accomplished many things in their years at Lafayette and are still accomplishing great things today. The school is honored to have such great women say they went to Lafayette High school and were a part of the Lady Generals Basketball team.
About the Contributor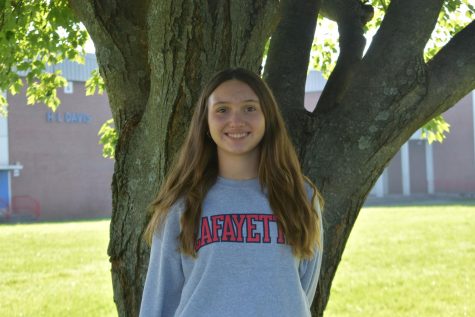 Madi Hatfield, Staff Writer
Madi Hatfield is a freshman at Lafayette. She is on the Lafayette Bowling team. She enjoys bowling, drawing, and journaling in her free time. When Madi...