Lexington Children's Theater's Charlie and the Chocolate Factory
Lexington Children's Theater (LCT) is preparing to perform its annual spring show, Charlie and the Chocolate Factory. Auditions were held in late January for the show, and the first rehearsal took place on February 1st. With a cast of 21, rehearsals are in full swing as tech week approaches.
The show is directed by Heather Branham, who recently returned to directing at LCT. She offers a new creative perspective at the theater, perfect for a show like Charlie and the Chocolate Factory.
Charlie and the Chocolate Factory is the most recent show at Lexington Children's Theater, with the first show being held in 1939. According to LCT's season history. The theater's very first show was a production of Noah's Flood. Since then, they have held at least one production almost every year. This season for their discovery shows, productions which kids 9-18 can audition for, they have already performed A Hundred Dresses and Rudolph the Red-Nosed Reindeer. With Charlie and the Chocolate Factory almost being stage ready and the Summer Family Musical slowly being revealed over on the company's TikTok, the theater has many upcoming events!
Assistant Director Cerise Archer, a Sophomore at Lafayette, spoke on how she thought the show was progressing. She stated, "I think rehearsals are progressing pretty well! Right now, we are in tech week, the week before performances, so we have 4-hour rehearsals each night. Our cast sometimes has trouble focusing for that long, which can be frustrating for everyone, but overall, things are going really smoothly. " Tech week is often known amongst actors as "hell well," so Archer's optimistic perspective is very refreshing.
Cassidy Phillips, an actor cast as a narrator and Oompa Loompa in the show, also spoke about how they thought the show differed from others. "[Lexington Children's Theater's] Charlie and the Chocolate Factory is different from any other show because of the inclusiveness."
Lexington Children's Theater has always prided itself on its diverse cast. Roles are often gender-swapped, and there is no type-casting. Phillips continued how this was true to Charlie and the Chocolate Factory as well, "For example, Oompa Loompas are of all shapes and sizes, and are referred to as 'they' rather than anything else. The girl power factor is a big thing as well, considering Wonka and Charlie are both female in this play."
Phillips and Archer also discussed their favorite parts of putting together the show. Archer spoke from the perspective of an Assistant Director giving a unique perspective. "My favorite part of this process has probably been seeing the actors learn and grow…The progress is so evident, and it really makes the show come together." In the interview, Archer also spoke about how she enjoyed watching actors take her notes and apply them in the show, "A big part of my job as Assistant Director is giving actor notes, so when I see the actors taking those notes and applying them, it makes it all worth it and is awesome to see."
Phillips also spoke on their favorite part of the entire process, "My favorite part was developing the characters I was [cast as]. We had a lot of freedom in that, as long as we stayed true to the storyline."
With the show dates quickly approaching, Phillips shared a few words about the show and how it turned out. "I think the show will be amazing, especially with the extraordinary cast! I'm excited to be a part of the result!"
The first performance of Charlie and the Chocolate Factory takes place on March 18th, and the show has its last public performance on the 26th. For tickets and show times, visit the Lexington Children's Theatre website.
About the Contributor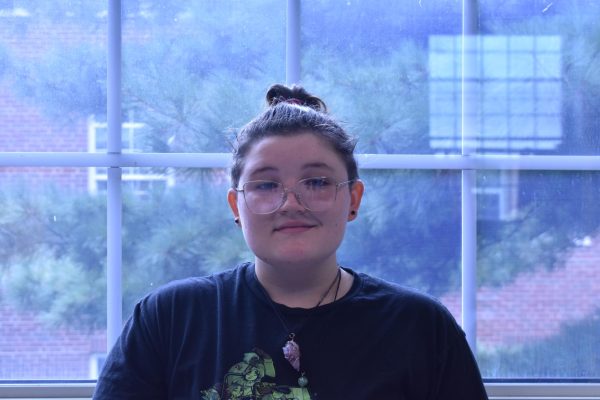 Joey Hester, Copy Editor
Joey Hester is a junior and returning writer to the Lafayette Times. They enjoy writing about clubs, events, and politics. They are a member of the General...