Lafayette Theatre's Upcoming Production of Newsies
Lafayette Theatre put on a production of Beauty and The Beast in late January and early February. Sadly, some shows were canceled due to the bad weather Fayette County experienced. If you enjoyed that show and want to see another, or if you missed it and want to see a different Lafayette production, you're in luck. Lafayette Theatre is putting on a production of Disney's Newsies this April on prom weekend.
Newsies was originally a Disney musical film that was released in 1992. It later had a Broadway debut and became a musical performed on stage. It was performed on Broadway over 1,000 times before closing in 2014. Newsies is a play based on a story about Newsboys who went on strike in 1899. Boys and girls from New York sold newspapers to make money on the street. When their pay was lowered, they went on strike. The play shows the story unfold throughout their experience.
The Times spoke to the play's director, Mrs. Lab, to get inside information about Newsies and the process of creating this work of art. The SCAPA Lafayette program has worked hard with rehearsal, sets, costumes, and props to create Newsies. "SCAPA Lafayette, a gifted and talented program within Lafayette High School, produces newsies. The cast consists of regular Lafayette students and those enrolled in the SCAPA with majors like theatre, vocal music, visual art, instrumental music, and dance." Mrs. Lab says in an interview with the Times.
Newsies will be performed at the Lexington Opera House in late April. Mrs. Lab expresses how performing plays outside school is more challenging than school showings. "It takes a great deal of pre-planning during those multipurpose room rehearsals to get our cast and orchestra ready for the three rehearsals on the actual Opera House stage before we have a paying audience." Says Mrs. Lab. "Within those three days at the Opera House, we load in the sets, costumes, props, lights, and sound, as well as rehearse the whole show with a live orchestra. This experience is truly invaluable to those interested in pursuing a theatre career."
Newsies public showings will be held at the Opera House at 7 pm from April 19th to April 21st and on April 22nd at 1 pm. If you want to see Newsies, save the date and get tickets soon online at the Lexington Opera House website or Ticketmaster.
About the Contributor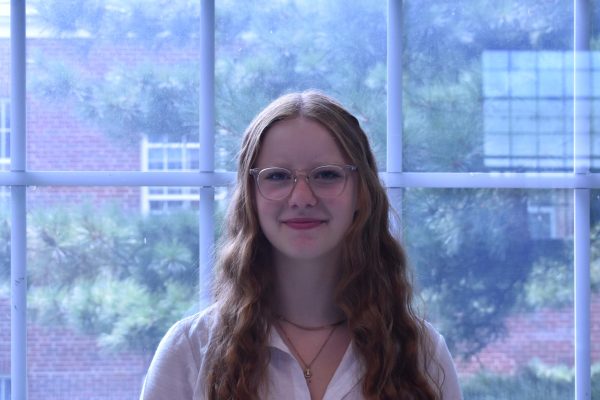 Mirabel Anderson, Staff Writer
Mirabel Anderson is a sophomore at Lafayette and is writing for The Times for a second year. Her favorite genre of articles to write are arts and features....