Good Foods Co-op Cafe is one of the main hubs for Lafayette students to sit down, get some work done, and grab a bite to eat after a long school day. The Co-op is located at 455-D Southland Drive, Lexington, KY 40503. On any day of the week from 3:20-6:00, you can go into the Co-op and see many Lafayette students shopping or sitting in the dining room. The Co-op is known for its locally grown products, welcoming atmosphere, and food. They have many different things to indulge in that are for anyone. I'm sure you could find what you want from deli sandwiches to sushi. This is a review of some of the best items at Good Foods Co-op Cafe.
Co-Op has a huge display of pastry and bakery items. The three items listed below are all from the bakery case. Some items change seasonally or weekly, but some stay the same.
Raspberry Crown ($2.99):
We gave this an overall 8/10. It was a subtly sweet, Danish-like pastry with a delicious jam filling. It was moist and flaky, but some parts were bland and not fully coated. A Lafayette sophomore, Julia Finley said, "This was my favorite pastry. It had a simple and sweet taste with a very natural flavor." We recommend this for pastry and Danish lovers.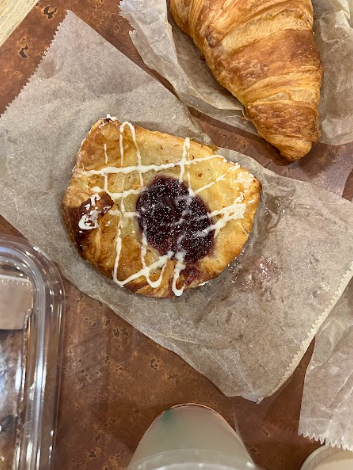 Butter Croissant ($2.99):
The croissant gets a 7/10. It was slightly dry and very doughy. The reason for its lower ranking is due to the lack of flavor. Ethan Abrams, a sophomore at Lafayette, said, "The croissant was pretty good, but would be a lot better if it was freshly served from a warm oven." There are better options from the bakery case, but if you're in desperate need of a croissant, you may find yourself grabbing for this one.
Blueberry Banana Muffin (Vegan) (3.99):
We gave this a 7.5/10. This is a great bang for your buck when filling grab-and-go snacks for a good price. The banana flavor comes through and has a banana bread feel to it. There are whole blueberries in it, giving a nice flavor change every couple of bites. It is a bit gritty and can leave a weird feel in your mouth, but it is good. Sophomore Alyssa Lucas said, "I liked the sugar coating on top, and it was a dense but well-baked muffin. My only downfall was that it left behind a grainy consistency in my mouth." They have great muffins for good prices; this is another highly recommended option.
The Co-op has various savory menu options, like pizza, sandwiches, and burgers. Their fresh deli sandwiches are a popular choice among shoppers. We tried two of their most popular items that were highly recommended. Here are our opinions.
The Co-op Club ($10.99):
As a group, we devised a 9.5/10 for this sandwich. It was the perfect club and had all the aspects of one of the Co-op's amazing sandwiches. It had layers upon layers of meat and fresh vegetables. All textures were balanced, and everything was evenly laid out on the sandwich. The main thing we observed was that the bread was dense but stayed together and didn't get soggy, which helped hold it together.
Falafel (Vegan) ($8.99):
We were a big fan of this, and we gave it an 8.5/10. The Co-op has a very good reputation for using fresh ingredients and vegetables, making all their items stand out. It has a good sauce that goes well with the chickpea-based falafel. We were all big fans of this and would recommend it. The only negative we found of this item was that it didn't have enough salt, but we recommend putting on hot sauce to bring out the flavor. Lafayette sophomore Mirabel Anderson said, "The falafel was one of my favorite items we tried. It was really delicious but a little dry and needed some more flavor."
While on the subject of Co-op's menu, they also have a wide variety of drinks. We tried two drinks that we were recommended.
16 oz Lavender Lemonade ($2.99):
We decided that the lemonade was an 8/10. It is super tart but also sweet with a good lavender taste. Isabella Dietzel, a sophomore at Lafayette, said, "Very lemony, very lavendery, very yummy. It was a smart combination to sell due to the well-blending of the flavors." This is an excellent option if you want a fresh lemonade.
16 oz Chai Tea ($3.49):
This was an easy 9.5/10. We all agreed this was one of the best Chai Teas ever had. It was creamy and delicious. The cinnamon stood out and was just overall a great Chai Tea. There is nothing else to say about this other than if you like chai, you have to try theirs.
The final category we reviewed was the refrigerated section of the store. They have many diverse options and delicious items, with their most considerable section being their sushi.
Spicy Cooked Salmon Roll with Brown Rice ($8.49):
We all liked this sushi roll, and because of that, we gave it an 8/10. They have an excellent sushi section, and everything there is delicious. This sushi was a great combination of cucumber, salmon, and carrots. The sauce that came on top was very delicious as well. Lucas said, "This sushi was really good and some of the best store-bought sushi I have ever had. The soy sauce really elevated the flavor."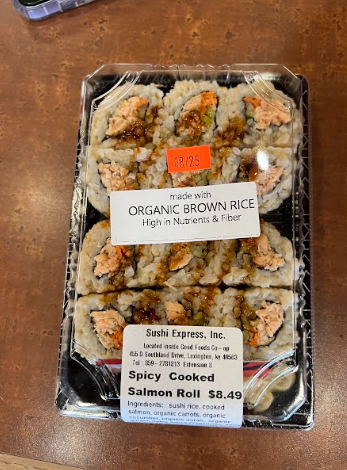 Tofu Nuggets with Southwestern Sauce (Vegan) ($6.19):
These nuggets got a 4.5/10. The breading was flavorful, the tofu had a great meat texture, and the sauce was delicious. We decided this was a great vegan option but found some things that needed to be fixed. The tofu was too thick, which led to a very flavorless taste inside, and some people said that the texture was close to chicken nuggets but still weird. We recommend this as one of their delicious vegan offerings, but non-vegans have better options.
Good Foods Co-op Cafe is one of Lafayette student's favorite spots to sit down and relax after school, and the food is a big factor in that. As Lafayette students, we are glad we have such a great place nearby. Their food is delicious, and there are many options for everybody. Of course, more options than what we reviewed are just as delicious. If you have or haven't been, we recommend you stop by and visit them to try something new.
Thank you to all of the taste testers, Mirabel Anderson, Alyssa Lucas, Julia Finley, Isabella Dietzel, and Ethan Abrams, for helping with the ratings on this article.