Lafayette vs. Dunbar and Christian Academy-Louisville Game Preview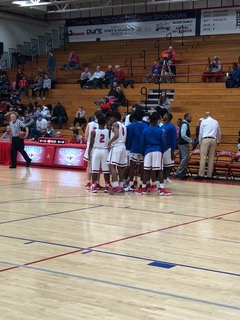 This past Tuesday night, Lafayette played a tough opponent in Dunbar at home. It was promised to be a great game, and it lived up to the hype! Dunbar had the upper hand at first; leading 27-23 at the end of the 1st quarter, then leading 47-38 at halftime. Then Lafayette came out guns blazing in the 2nd half, going on to outscore Dunbar 26-17 in the 3rd quarter to be even at 64 going into the 4th quarter. Lafayette kept the momentum up when they outscored Dunbar 22-9 in the 4th quarter to win an electrifying game 86-73! After being down 47-38 at half, Lafayette outscored Dunbar 48-26 in the 2nd half. Ray Surratt led Lafayette with 25 points, and 8 Rebounds. Eric Powell added to that with 19 points, and 6 rebounds. Dunbar was led by JaQuice Gray with 18 points, and 7 rebounds, Michael Allen of the Bulldogs led scoring with 25 points, and 3 rebounds.
On Saturday, Lafayette will be playing a 2-1 Christian Academy-Louisville at Model, in Richmond, Kentucky. Lafayette looks to continue the hot start to their season by improving to a 3-1 record.